Book Review: Innovating at the Top: How Global CEOs Drive Innovation for Growth and Profit
By: PDMA Headquarters on Oct 04, 2013
Book Review: Innovating at the Top: How Global CEOs Drive Innovation for Growth and Profit
By: Roland Berger, Soumitra Dutta, Tobais Raffel, and Geoffrey Samuels, Houndsmills, UK : Palgrave Macmillan , 2009 . 196+x pages.
Review by: George Castellion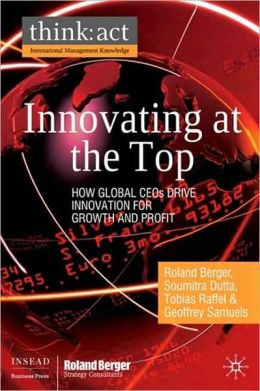 Innovating at the Top presents interviews with chief executive officers (CEOs) at nine international corporations: 3M, Bosch, Genentech, Infosys, Nokia, Research in Motion, SAP, Toyota, and Unilever. The authors' intention was to gain the CEOs' candid views on how to encourage and support innovation.
An open-minded reader of the interviews' transcripts will find this objective fulfilled. However, you should go directly to the transcripts and skip p. 1, where the authors condense lessons learned from the interviews into 10 one-sentence-long "Key Innovation Drivers." The authors use trivial business language and jargon for the drivers in contrast to the authoritative language used by the CEOs.
3M's CEO, George Buckley, speaks bluntly about his predecessor's implementation of Six Sigma across the company. Excessive use of dashboards and measurements characterized this five-year period. Buckley philosophically agrees with the notion that anything not defined can't be measured, anything not measured can't be controlled, and anything not controlled can't be improved. This notion, captured in approaches such as "lean" or "Six Sigma," can eliminate bad practices that damage quality or waste money. However, Buckley believes there has to be a sense of freedom if you want people to invent and be creative.
In his view, innovation and creativity can be almost like a religious quest: "Innovators have to balance conviction that what they are doing today is right, but also a conviction that what they did yesterday can be bettered. That is a deep psychological and sometimes conflicting burden to carry" (p. 63).
Buckley mentions that the early leaders of 3M realized that creativity and imagination had to be managed differently from other business functions. Buckley says that creativity cannot be made into a process; instead, it's more about controlling uncertainty: "So risk management and the acceptance of risk is an incredibly important element of growth and faster innovation" (p. 69).
Bosch's CEO, Franz Fehrenbach, says the most important reason for his company's innovative performance is that an innovation mindset has to start at the top. The CEO must champion innovation, and the senior management must display innovation values in everyday business practice. These values must be communicated consistently. An innovation culture permeates the whole company—level by level—if these values produce good results.
All nine executives stress that innovation culture must start at the top if a company wants to be innovative. This could be a self-aggrandizing emphasis. However, keep in mind Buckley's interview where he describes how his predecessor's Six Sigma initiative hobbled 3M's renowned innovative culture.
Another CEO in the automotive industry, Fujio Cho of Toyota, advances innovation by clarifying the set of current customer needs so Toyota's research and development (R&D) can identify what future product Toyota has to supply. He believes his role is to extract from Toyota's R&D department the technologies they can incorporate into a prototype that can be test-driven for evaluation.
Arthur Levinson, CEO of Genentech, says the reason for Genentech's innovative performance is "luck. That doesn't' sell books, does it? But that's part of it always" (p. 153). According to Levinson, the best thing senior management at Genentech does is to remove obstacles to creativity and innovation. Levinson tries to make sure the people Genentech hires have the right motivations and intentions and are not afraid to question conventional wisdom. He sets an atmosphere for people where they challenge everything.
Seven people launched Infosys in 1981 with a capital of $250. It now has R&D centers in six countries and revenues of $4.3 billion. The present CEO, R. Narayan Murthy, is one of the seven founders. Murthy describes himself as the elder statesman for innovation in the company.
He believes a major reason for Infosys' success is that necessity is the mother of invention and gives an example. When Infosys first approached software companies in the United States with a new software delivery model to improve cycle time and value for money, their prospects said:
"Look you are as different from us as day and night because literally when the United States wakes up, India goes to sleep and vice versa." So, we came back to India very disappointed. Then, we started thinking how we can convert what is apparently a big disadvantage into an advantage. That is when we came out with the concept of the 24-hour workday. We went to our customers and said, "Look we will combine your prime time in California with our prime time in India. So, when your people go home at 6 o'clock in the evening, mentally and physically tired, they can pass on the problems of the day to us in software maintenance and software development through electronic mailboxes. We will come to our offices bright and early at 7:30 in the morning. We will open our electronic mailboxes, look at those problems, and start solving them …. Thus, by providing you a 24-hour work day, we are compressing the cycle time for solving your software problems. (P. 173)
SAP's CEO, Henning Kagermann, says he has a direct influence on the culture of innovation at SAP: "As a CEO you send signals even if you don't want to. I refer very often to customers, to our reputation of making success happen for our customers. This sends a signal in terms of quality, reliability, engagement, and so on. I could deliver different speeches, and tell stories about the guy who wakes up at night and comes up with this brilliant idea that helps him build a company from scratch right out of his garage. That would send a different signal …. The question is where your priorities are: my priorities are quality and customer satisfaction" (pp. 127–128).
When CEOs were asked whether they had any advice for other CEOs to improve innovative performance, two in the global mobile communications industry (at Research in Motion, or RIM, and Nokia) gave different answers. Jim Basillie, Co-CEO of RIM, which produces BlackBerry mobile devices, said, "I think if you're not innovative, you should look at the processes, how is information shared, how is the collaboration? Are people telling you what you want to hear, versus absolute adherence to facts? … There is a natural tendency in big companies and people who are new to a job, or not comfortable with things, to pull back from that …. But are you really doing your job, are you really driving value, moving the company forward? Or is it a charade to indulge you?" (p. 49).
Nokia's CEO, Olli Pekka Kallasvuo, highlighted culture's importance of in his advice: "When it comes to culture, I would take up two items: One is you can fail, that's not punished (unless you keep making the same mistake!). And two, external orientation is so important when it comes to innovation. Big companies so easily become internally driven. And very often when you get internally focused, you lack the diversity as well, which is so important because that positive friction, like I said is extremely important" (p. 149).
Patrick Cescau of Unilever's advice to other CEOs has three points. First, the CEO needs to show the organization that innovation is important—that he or she is the champion. If the CEO isn't passionate about growth through innovation, then it is not going to be important for the organization. Second, and most important, is to set a direction, to clarify the strategy, and to define expectations. Third, innovation needs to be managed from the top, because if the CEO doesn't then you're not all pulling in the same direction.
Innovation management practitioners at all levels of experience may find the brief quotes in this review as appetizers to a rich spread of insights on innovation. Even practitioners in the entrepreneurial, cubical-warrior levels can apply some of these insights productively. By successfully applying these insights to their product, service or business model innovations one might even boost their career up a level or two.
Released:
October 4, 2013, 10:40 am |
Updated:
October 30, 2013, 11:50 am
Keywords:
PDMA Blog
1521837382
Feedback:
0 Comment(s) — Latest:None