Book Review: The Handbook of High-Performance Virtual Teams
By: PDMA Headquarters on Oct 04, 2013
Book Review: The Handbook of High-Performance Virtual Teams: A Toolkit for Collaborating across Boundaries
By: Jill Nemiro, Michael Beyerlein, Lori Bradley, and Susan Beyerlein, San Francisco : Jossey- Bass , 2008 . 764+xxxv pages.
Review by: Carla Kuesten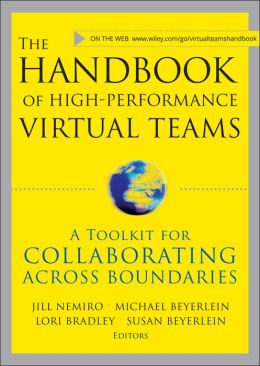 This high-performance virtual team book is a thorough resource that provides suggestions, tools, strategies, and case studies for effective virtual team work. The insightful wisdom of over 40 contributing authors and four editors helps to prepare team leaders and members with high-performance principles and awareness of potential barriers. Surprisingly, technology is not considered the most important factor for successful virtual team performance; rather, relations and "human" elements (i.e., shared understanding, communication, and trust) are emphasized throughout the book for building and sustaining cohesive teams.
This book is well organized into principles and best practices for high-performance virtual teams. Also, free Web materials in the form of surveys, practical tools, and references supplement the information provided in the book (available athttp://www.wiley.com/go/virtualteamshandbook; for an instructor's manual with suggested assignments and class activities go tohttp://www.wiley.com/college). The book is arranged with many lists, steps, and checklists that organize the material for the reader.
Part 1: Working Collaboratively
Part 1 of the book delivers the framework for working across boundaries and shares 10 design principles that "connect heart and head," enabling team success (pp. 80–83). Important for the reader to appreciate is a clear understanding of the major challenges for virtual teams: (1) distance; (2) time; (3) technology; (4) culture; (5) trust; and (6) leadership. Initially I expected the book to be about processes and support systems that would help to mitigate these challenges to facilitate knowledge management and transfer, but the emphasis throughout the book was on the importance of trust and how to build trust among virtual team members. The aha moment is that knowledge sharing and collaboration don't happen (as well anyway) without trust.
The curious reader will not want to miss the 10 design principles aimed at engaging the team and creating collective collaboration. These principles are provided for educating team members in working across boundaries and teach how to establish work harmony. Best-practice approaches for teams with multiple managers and managing invisible behaviors or intangible contributions are offered.
Part 2: Building a Collaborative Culture
Part 2 includes emotional bandwidth, keys to successful collaboration, sensemaking, and building trust online. While the main message here seems obvious and intuitive, the authors do not omit or take it for granted. We are advised that people-centricity, networks, and employee commitment are needed to develop sustainable connection and caring among the team. Ways to develop deeper relationships among team members and additional ways for how individual team members can promote virtual collaboration are cited (pp. 93–103, 106–124). Empowerment and team work with trust, shared understanding, and depth of relationships are considered notable to achieve optimum virtual collaboration. We are again reminded that building trust online should be a primary focus for virtual teams.
Worth mentioning is the discussion on sensemaking. Sensemaking is a continuous cycle of learning and action with the approach emphasizing conversations and relationships (sizing up a situation, both cognitively and socially). Obviously, the social context is different for virtual versus face-to-face teams—with the related virtual challenges that may require more intension and involvement. Sensemaking is a relevant topic for further research and application as more global efforts with virtual teams, for which many members may never meet face to face, are called on to synthesize, integrate, and solve problems.
Part 3: Leading Collaboratively
Part 3 contains transformational leadership, leading change, and leading virtual teams. Helpful to this discussion is the characterization of transactional versus transformational leadership (p. 183). Transformational leaders demonstrate people skills; in contrast, the transactional leadership style consists of a social system that works with a clear chain of command, possibly impeding rapid knowledge flow within virtual teams.
The leadership action model (p. 198) shows that influencers have responsibilities to the virtual team (as a whole), to individual team members, and to themselves. Justice or fairness of decisions and outcomes is a central concern to team members. Types of justice and concerns associated with each are summarized in a table (p.202)—helping leaders to decide on their course of action. Suggested actions for how to lead change for virtual teams are provided. This chapter clearly demonstrates that building team capability and collaboration can be facilitated and is tangible and actionable.
Part 4: Setting Up a Collaborative Team
Part 4 deals with team composition and member selection, generational differences in teams, assessment of training needs, and design concepts for virtual work systems. Valuable steps in team staffing strategy (smart strategies) are provided. We learn how significant generational differences (cohorts of veterans, baby boomers, Gen Xer's and Nexters) impact relationships, adoption of technology, and approaches to change management. Understanding generational groups, education, and training are recommended to ensure success for virtual teams. Efficient interactions and use of technologies are crucial for team success. A useful example of an organizational needs analysis is discussed for a comprehensive and targeted process of assessing effective training needs. Discovering the tools for assessments and training (available online) as well as the best practices and recommendations for virtual collaboration needs gives a sense of confidence to those of us relying on a communication-based virtual team effort.
Part 5: Working on a Collaborative Team
Part 5 discusses supporting technology, training, combating confusion, problem solving, and decision-making problems. Collaborative technology can be classified as to what degree the tool offers asynchronous or synchronous interaction, social presence, and media richness (p. 334). Types of collaborative technology include electronic message systems and audio and video systems; supporting systems involve electronic whiteboarding, softboard, team Web template, discussion database, and group decision support systems. Supportive options in the absence of face-to-face interaction are summarized (p. 341).
A focus on collaboration and decision-making processes for problem solving highlights a strong theme found in this book—a defined, structured way of thinking that offers a cohesive path for the many minds put to task. A discerning problem-solving process is offered for simple problems (p. 397), and a complex (or wicked) problem is characterized with guidelines for "taming" the problem. Developing a common understanding, identifying information, and obtaining thoughtful ideas from team members to generate a greater understanding among team members were suggested to lead to potential success of the group's problem solving.
Part 6: Tools for Effective Virtual Team Meetings
Part 6 brings useful tools and assessments for effective virtual team collaboration, start-ups, team meetings, VEtiquette, creativity techniques, assessments to predict performance, and construction of a business case for executives. This part of the book will be particularly beneficial to those looking to strengthen their virtual team toolbox. Helpful guidelines for virtual team meetings are provided including useful checklists for actions to take and VEtiquette meeting skills. The creativity techniques, selected specifically for virtual teams, cover linear as well as intuitive approaches, when to use them, and criteria for selection (pp. 491–527). Assessments for virtual collaboration performance cover an informative discussion of reliability and validity and the advantages and disadvantages of benchmarking. The business case serves as a reminder that winning and sustaining support from top management is a necessity (p. 565). Many could likely enhance the ability of their team by applying these tools.
Part 7: Case Studies
Four real-world case studies are offered in Part 7. Each case study offers a unique, inside look at how leading companies are using virtual teams to drive results. Here we appreciate that the virtual team vision can be realized.
Part 8: Conclusion
Part 8 of the book summarizes for a quick read the previous seven parts and then provides a section on the benefits of self-managed teams: distinguishing between what makes a virtual team and a high-performance virtual team. The answer? Collaboration.
This comprehensive guide of strategies, tools, techniques, and knowledge in achieving high performance is recommended for virtual teams—either those newly embarking on their journey or those who may be established and wishing to strengthen or improve their work environment and business results. I've already successfully adopted methods and principles that have resonated successfully for my virtual team involvement on committee work and business-related activities. And I'll remain mindfully attentive to the human aspects of team collaboration—empowered by ways to build shared understanding, communication, and trust within teams. While this 700+ page book covers many important and useful aspects of team building and performance, it is not a concise resource. It contains common-sense advice and redundancy throughout the pages—an indication the many authors of diverse backgrounds and disciplines are in agreement on what is essential for winning virtual teams. Anyone willing to explore this body of work will find the time well spent and the adventure worthwhile and will advance his or her virtual team through the complexity and richness of human understanding toward the future.
Released:
October 4, 2013, 10:25 am |
Updated:
November 20, 2013, 10:24 am
Keywords:
PDMA Blog
1516551500
Feedback:
0 Comment(s) — Latest:None