Book Review: Going Lean
By: PDMA Headquarters on Oct 04, 2013
Book Review: Going Lean: How the Best Companies Apply Lean Manufacturing Principles to Shatter Uncertainty, Drive Innovation, and Maximize Profits
By: Stephen A. Ruffa, New York : AMACOM , 2008 . 263 + xi pages.
Review by: Carla L. Kuesten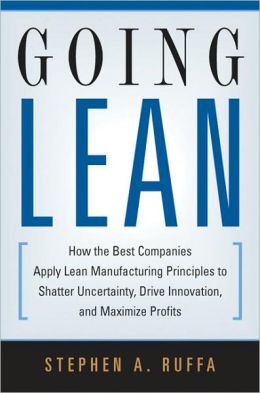 Introducing his book, Stephen Ruffa cautions that America's management practices that once made it the envy of the world with a focus on efficient operations and innovations may no longer work under current business environments. Ruffa advises that growing uncertainties in the business environment and the increasingly dynamic marketplace and unstable conditions require adoption of lean dynamics that protects operations against change and uncertainty. Ruffa says we should accept that "reality is chaotic" and should build a system of management around it instead of accepting that business is generally predictable and stable (p. 6). He counsels on something new: a set of principles and practices of lean dynamics, which involves turning what could be or have been overwhelming circumstances into tremendous advantage.
Building on known quality principles as a foundation, Ruffa begins with a simple example using Deming's (1993) classic experiment of cause and effect using 50 marbles and a funnel to illustrate the principle and "risk" of tampering (adjustment without first understanding the contributions of underlying causes). The lesson is that the greater the gap between cause and effect (i.e., lag), the greater the potential for actions to amplify variability. Lean dynamics (a different set of principles and practices) maximizes resources with less waste, delivers strong innovation, applies dynamic business strategies for operational agility, and leads with profitability, market capitalization, and growth.
Ruffa shares the Taguchi loss function (p. 39) to discuss systems with variability—covering the acceptable range and lower and upper tolerances and how variances can have serious implications on overall outcomes and loss. The author encourages corporations to adopt a focus on value and to avoid presumption of stability (citing Henry Ford's dilemma that simply preserving hard-earned efficiencies in bringing the Model T to the customer was not enough); success now requires more cost-effective, faster-paced innovation into the marketplace. Ruffa extends the quality principles from Deming by providing an unconventional tool for mapping and tracking components of value.
Drawing on his past aerospace engineering work with the American Defense Department, Ruffa shares the analogy to what he terms the value curve for business and the power curve of an airplane flight (p. 47). The value curve consists of two parts: (1) value required, or sum total of loss from individual activities that must be overcome; and (2) value available, or what the customer pays. The value curve helps lean business practices by mapping out firms' capabilities to create value and offers insights into dynamic flow—how well they sustain positive results even in response to dynamic conditions. Using the value curve, Ruffa illustrates through comparison and contrast how each of the following managed through change (the prior successfully, the latter not so successfully): (1) Southwest Airlines vs. the airline industry; (2) Wal-Mart vs. Kmart; and (3) Toyota vs. Ford. The power curve for Southwest versus the airline industry (p. 58) shows volume (% passenger load) versus value (dollars) and emphasizes the success of Southwest against competitors to achieve stellar results while other airlines grounded aircraft and slashed fares. The power curve for Wal-Mart versus K-Mart (p. 61) shows volume ($M sales per store) versus value (dollars); Wal-Mart leveraged operational efficiency and expansion into new offerings against K-Mart's negative value margin, bankruptcy, and subsequent restructuring. The power curves for Toyota versus Ford (p. 62) highlight Toyota's stable and growing value margin in contrast to Ford's declining and fluctuating value margin; Toyota is credited for the worldwide revolution in lean manufacturing (p. 61). Each example shows how traditional business rules no longer apply; firms like Southwest, Wal-Mart, and Toyota operate differently using lean dynamics for success.
Ruffa then characterizes what distinguishes this new lean dynamics system of management (Chapter 4), summarized as follows:
Planning for chaos as the norm; preparedness for crisis versus planning for stability (p. 66).
Managing for "a rising tide," building on a broad, underlying foundation and putting in place needed enablers for smooth flow (p. 67).
Creating dynamic stability, adapting activities to fluctuations and external disruptions, and minimizing internal variation (p. 68).
Overcoming the "culture of workarounds," shifting actions that bring real value versus frantic activity by constantly dealing with workarounds (p. 71).
Mitigating the perception of risk, preparedness for change (p. 75).
Ruffa continues by describing how Toyota, Wal-Mart, and Southwest Airlines apply lean dynamics principles through measurements of value and how they define their value streams. The concept of the value curve is illustrated by showing how to sustain great value to create a competitive advantage. For example, successful companies define their value beyond what is visible on the surface, building a strong underlying foundation (i.e., no quick fixes) rather a broad, more basic system of management, overcoming "workaround culture" (p. 71). This enables mangers to focus attention to real value—defined as a product or service that satisfies a customer need or desire even as it changes over time (p. 224). By knowing customer needs and what matters to those who buy it and by measuring the value (dollars or cost) of products or services, companies ensure success: Toyota by creating reliable cars; Southwest by focusing on maximizing the time its planes spend transporting customers; and Wal-Mart by giving attention to its "everyday low pricing" policy, to stability, and to certainty.
Lean dynamics goes beyond applying targeted initiatives such as targeting quality without creating meaningful bottom-line benefit; managers are urged to accept and make changes that address the lag embedded in traditional ways of business. Corporations are warned not to accept any internal efficiency-oriented metric as a sole guide for making decisions and to remain focused on achieving their real target: strong value for the customer and corporation. Corporations must refine what value means and what measurements need to be revalidated to be sure they truly support their underlying objectives.
Ruffa endorses integrating operational, organizational, information, and innovative flow. Measurement systems are critical for decisions and actions; the best solution is to keep measurements as close to the decision makers and the action as possible. Complexity of information flow can be minimized if measurements are built into daily activities; also, this broadens worker insights, and managers can be left to manage rather than to mind day-to-day problems and issues.
Ruffa also uses lean dynamics to tackle supply chains (a firm's extended enterprise—chain of suppliers that supply raw materials, parts, and components advancing completeness to end products and services). To build value through leveraging the supply chain, firms are encouraged to break down organizational barriers. Rather than asserting a competitive mindset with suppliers, corporations are encouraged to work toward common goals to achieve competitive advantage for themselves and their supply chain.
Ruffa introduces the concept of variation leveling to dampen the disruptive effects of operating within a dynamic external environment—using mixed-production operation to offset peaks and valleys in capacity or inventory and streamlining activities from planning to production. This requires a broadened span of worker responsibilities and insights to benefit the corporations' end-to-end creation of value. Ruffa converses about optimizing consistently strong results through either pushing (i.e., scheduling activities based on internal plans and schedules) or pulling operation at a pace driven by customer demands. Resilience and synchronization between strategy and execution were cited as key in creating greater margins of customer and corporate value.
Throughout the final chapters of his book, Ruffa proposes a vision and structure for managing a transformation to going lean, listing the required elements, keys to successful implementation, and common pitfalls. He closes the book with a caution against complacency and a challenge to adapt and compete on dynamic value. Product developers would benefit from the action plan outlined: building the case for change; assessing the challenge; choosing the path; and creating a vision that has a customer focus, integrates execution with innovation and strategy with constraints in the foreground, and develops and assigns executive and stakeholder ownership. To structure the transformation, Ruffa advises laying a foundation of success through quantifying objectives, building a knowledge base, and using asensei—someone with previous success in rolling out lean dynamics.
While the analogy of the power curve of an airplane flight is entertaining and a novel way to conceptualize the value curve for business, the book does not provide sufficient explanation to convert this easily into application. Significant work would be required to translate this model into meaningful metrics for any given business (i.e., specific value available and value required vs. measure of flow of value for the customer). The general examples provided are not likely to be sufficient. Those who are well versed in Deming's quality principles may not gain significant new insights from this book, and it is not recommended for the savvy product development practitioner. However, practitioners not familiar with quality management principles will better understand how to apply them to product development.
Released:
October 4, 2013, 9:51 am |
Updated:
November 20, 2013, 10:49 am
Keywords:
PDMA Blog
1521837947
Feedback:
0 Comment(s) — Latest:None