Book Review: Tuned In: Uncover the Extraordinary Opportunities that Lead to Business Breakthroughs
By: PDMA Headquarters on Oct 04, 2013
Book Review: Tuned In: Uncover the Extraordinary Opportunities that Lead to Business Breakthroughs
By: Craig Stull, Phil Myers, and David Meerman Scott, Hoboken, NJ : Wiley , 2008 . 203+iv pages.
Review by: Vanessa Ratten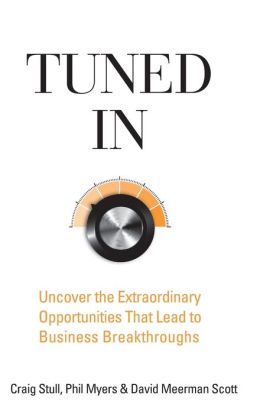 I was particularly interested in reviewing this book as it examines different types of innovations in business. The purpose of this book is to teach and let businesspeople understand how successful innovations can be commonplace in the business world. The innovation approaches described are applicable to all product and service organizations. The book is divided into 11 chapters, with the first chapter beginning with a discussion of the importance of concentrating on communicating ideas and the steps that businesses need to go through to create positive outcomes with new products and services. The authors state that being tuned in is a "six-step method for creating a resonator: a product or service that so perfectly solves problems for buyers that it sells itself" (p. 3). The six steps, each discussed in a separate chapter from chapters 4 to 10, are (1) find unresolved problems; (2) understand buyer personas; (3) quantify the impact; (4) create breakthrough experiences; (5) articulate powerful ideas; and (6) establish authentic connections.
The essential value of the book is that it demonstrates through numerous business examples how a successful business is the result of a creation of a resonator. A resonator is something that people associate with. Each chapter includes a number of case studies discussed from an anecdotal perspective, figures depicting the process of being tuned in, and then a summary stating the most important points. The authors discuss a number of different product and service categories, including consumer and high-tech products and business-to-business services. The book is novel as it takes a different approach from other books on the market by debunking such myths as innovation is crucial to firm survival, profit should be the driving force of new product ideas, and the customer always knows best. The book is unusual in that it shows in a practical way how it is important for businesses to be a resonator by tuning in to changes that are happening both in a business's internal company environment and the global economic environment. This is similar to traditional new product development theory as it shows the importance of connecting a new product or service to an audience through marketing. By doing this the book takes the reader on a self-discovery journey in learning about how companies such as Zipcar, Remote Locator, and Intuit came up with products and services that were fueled by existing companies not listening to or understanding needs of their existing customers.
The book takes a new perspective by discussing how innovations in business have occurred by understanding buyers and what they want in their products rather than focusing on how to increase a company's bottom line by decreasing costs and quality of existing products. The example used in Chapter 5 is the Nalgene brand water bottles, which were initially created for lab use but through word of mouth began being bought by hikers and other outside sports enthusiasts. Another example in Chapter 5 is GoPro, a camera designed and sold specifically for the surfing market. As the authors discuss in the GoPro example, many new products come into the market because larger businesses do not devote enough time and resources to niche markets like surfboard riders who want to use a camera while out surfing.
The impact of innovations and their market appeal is discussed and analyzed in Chapter 6, which shows how some products like the Blackberry can have a high impact on the way business is conducted. There are also plenty of useful practical examples throughout the book. For example, the authors state that a tuned-in business proposal should answer the following questions (p. 99):
What detailed unresolved problems are you solving?
Who will your solution impact (what buyer personas), and how many such people are there?
What product or service will you create to solve the problem?
How does your product or service impact buyers?
How will buyers quantify that value?
What will it take to convert prospects into customers?
After the discussion on each of the steps needed to create a tuned-in culture, the remaining chapters discuss how to cultivate a tuned-in culture (chapter 10) and how to unleash your resonator (chapter 11). In discussing how to unleash a company's resonator by becoming and remaining a market leader the authors provide examples of tuned-in companies. For example, ESPN started by resonating with sports fanatics who wanted live news with a personal touch. The nicknames given by ESPN commentators to athletes such as Joseph "Live and Let" Addai and Bert "Be Home" Blyleven further illustrates how it is important for customers to feel a connection with what a company is saying. Nicknames of sporting identities create a connection between people who watch ESPN and the commentators, as it makes them feel friendlier.
This book has few weaknesses, since it is very well written by knowledgeable experts in their field. However, as with most books, there is room for improvement. There could have been a more practical application of the steps needed to take a tuned-in approach by stressing in the introductory chapter how to write a business proposal and then discussing with the reader each of the steps with more practical examples of what a businessperson can do to satisfy each of the steps. I think the websites in the acknowledgment section at the end of the book should have been included earlier in the book to alert the reader to additional reference materials and also to show how much research was conducted in compiling the book. Giving the Internet websites at the end of the book undervalues the significant contribution of the book to new thinking of innovative product and service developments. Tuned In met my expectations as it had a lot of very relevant and current business examples of new product innovation. I highly recommend this book to anyone interested in learning more about how both product and service innovations lead to business breakthroughs.
Released:
October 4, 2013, 9:37 am |
Updated:
November 20, 2013, 11:54 am
Keywords:
PDMA Blog
1516550958
Feedback:
0 Comment(s) — Latest:None