Book Review: Triple C Model of Project Management: Communication, Cooperation, and Coordination
By: PDMA Headquarters on Oct 04, 2013
Book Review: Triple C Model of Project Management: Communication, Cooperation, and Coordination
By: Adedeji B. Badiru, Boca Raton, FL : CRC Press , 2008 . 204+xvii pages.
Review by: Gerald M. Mulenburg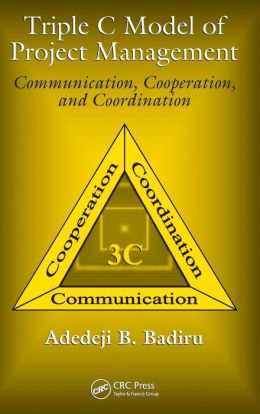 This book provides some unique insights that are equally applicable to product management and project management. The Triple C model of project management involves three key facets of good project management: communication, cooperation, and coordination. It focuses on the issues of dealing with people in project management: "This book presents the soft side of project management which is not necessarily the easiest [and] requires more managerial care because no mathematical prescriptions are available to manage people" (p. 2). Speaking to managers, Adedeji Badiru emphasizes the relevance of project management to organizational goals: "Project management, as a body of knowledge, is reshaping business practices" (p. 3). He describes the three factors named in the title and their application to management by project: "Management by project (MBP) facilitates an application of the multidimensionality of factors that influence the accomplishment of organizational goals" (p. 1). Although he references the Project Management Institute's approach outlined in the Guide to the Project Management Body of Knowledge (PMBOK; Project Management Institute, 2004), the book's content goes beyond the PMBOK to the author's own approach. The author is clear about what makes projects successful. For example, he addresses the relationship of leadership and conflict to communication, cooperation, and coordination. A brief description of each of the three components sets the stage for a later, more detailed explanation of each in its own chapter.
Describing communication as "… the basis of everything" (p. 47), the author says it "makes working together possible" (p. 33). The objectives of communicating include an outline of techniques for doing so effectively. Cooperation, the author says, is to "… organize into effective teams to accomplish work" (p. 61). The Triple C model provides three levels of cooperation in projects, flowing from the highest or supralevel to the next lower macrolevel and, finally, to the lowest microlevel, accompanied by graphs explaining their meaning. He also provides guidelines for managing the challenges of cultural, technology, social, and ethics issues. Coordination, he says, "… refers to working with other people" (p. 81). "Coordination" (Chapter 5) is the largest of the Triple C chapters and clearly emphasizes the need for flexibility and adaptability in managing increasing project complexity. Essential elements of coordinating include control, performance, and integrating knowledge to build value. The text closes with a template for implementing the Three Cs components.
A weakness of the book is its academic writing style, which makes some of the material a bit ponderous. Perhaps of more benefit to the reader would be additional thoughts about communication and cooperation. The book does, however, provide new and interesting approaches to understanding the needs of projects, beyond those of the project manager and project team, and includes a number of creative approaches to managing projects.
Released:
October 4, 2013, 9:35 am |
Updated:
October 30, 2013, 11:46 am
Keywords:
PDMA Blog
1521581972
Feedback:
0 Comment(s) — Latest:None