Book Review: Customer Visits: Building a Better Market Focus
By: PDMA Headquarters on Oct 04, 2013
Book Review: Customer Visits: Building a Better Market Focus
By: Edward F. McQuarrie, Armonk, NY : M. E. Sharpe, Inc. , 2008 . 213+xviii pages.
Review by: Carla Kuesten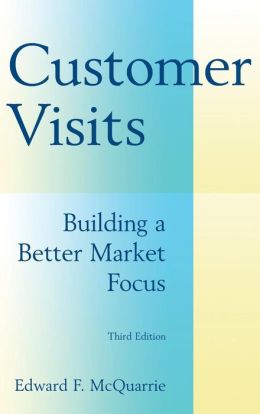 This third edition of Customer Visits by Edward McQuarrie offers readers a clear definition and understanding of the what, where, when, why, and how to conduct customer visits—with emphasis and perspective throughout on the insightful value of cross-functional team market focus. Those who will glean the most value from this book recognize that focus on customer needs is a critical success factor in business and desire to understand how to achieve market focus where real user needs are addressed and employees take responsibility for customer satisfaction.
McQuarrie lets us know early on that the "primary purpose of this book is to identify and explain best practices in the conduct of customer visits designed for listening and learning with special attention to the unique needs of business to business (B2B) and technology markets" (p. x). However, others can also benefit from the advice offered for the conduct of customer visits, as it is written as a kind of market research technique and functions as a how-to manual. The book is targeted to research and development (R&D) project managers, engineers or scientists, marketing managers or strategic planners, market research, quality managers, executives, and instructors.
A program of customer visits (12 or more buyers or users) is outlined with the following benefits identified: better information on customer needs, closer relationship with customers, a common shared vision across the organization, and greater commitment from all functional areas to satisfy customer needs. The place for customer visits within the market research toolbox is described as a practical, voice-of-the-customer (VOC) front-end-focused technique.
Developments since the last edition include the following:
Continued attention to in-person visits to customers by cross-functional teams
Tools and techniques for obtaining customer inputs
Focus on the practical side of research with budgets in mind
Continued advances in broadband video technology—replacing in-person on-site visits with video contact
More emphasis on ethnographic and the observational potential of customer visits
Three foundational rules for effective practice in customer visits are highlighted: (1) Key decision makers must participate personally; (2) visits must be conducted by cross-functional teams, and (3) visits should be organized as a program with objectives, customer selection, a discussion guide and report plan.
A seven-step procedure for planning a program of customer visits is provided (p. 68) from setting objectives to developing a log of customer profiles to share and discuss and development of a visits and profiles database for recording, reviewing, discovering, and analyzing. The reader is prepared with discussions covering budgets, recruitment, coordination, team preparations, and timelines.
Customer sample selection is discussed, elements of a discussion guide and preparation are covered, and a road map is outlined for the interview. Good tips and strategies for questionnaire construction and delivery during the interview with the customer are offered.
Chapters on completing the visit program are included—covering debrief, analysis and reporting, and dissemination of results, storage of results, and closure with the customer and field staff.
Including customer visits in your toolbox would surely enhance the additional benefits McQuarrie indicates are derived from practicing this technique—organizational harmony and stronger relationships with your customers.
Released:
October 4, 2013, 9:28 am |
Updated:
November 20, 2013, 9:59 am
Keywords:
PDMA Blog
1521837734
Feedback:
0 Comment(s) — Latest:None