Book Review: X-Teams: How To Build Teams That Lead, Innovate, and Succeed
By: PDMA Headquarters on Oct 04, 2013
Book Review: X-Teams: How To Build Teams That Lead, Innovate, and Succeed
By: Deborah Ancona and Henrik Bresman, Boston : Harvard Business School Press , 2007 . 260 + xi pages .
Review by: George Castellion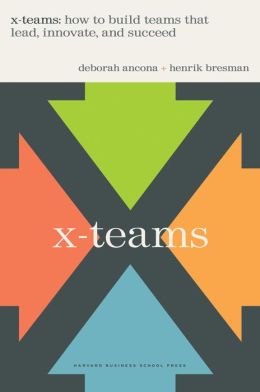 Why do new product development teams start off with talented individuals and clear goals and end up failing? A convincing answer springs from the authors' 20 years of field research on teams in a wide range of industries. Their research found that bad things often happen to good teams created using a model of team behavior that is too inwardly focused. This model focuses internally, on its own process and on each other as team members. The internal focus causes the team to build a wall between itself and the rest of the outside world. The team members act as if only they have the answers and anyone who disagrees with them—either inside their company or outside—is wrong or has questionable motives.
The authors propose a new model—X-teams. An X-team balances internal focus with an external focus. The first part of the book, chapters 1 and 2, describes the internally focused and self-reflective model. This model works well when the team's task is clear and not changing and when there is commonsense support within the organization. However, it's a changing world, one in which X-teams can be a valuable tool. The book's second part outlines three X-team principles—external activity, extreme execution, and flexible phases. The third and final part describes how to build effective X-teams.
Chapter 1 summarizes the observations of 45 new product teams that triggered the X-teams concept (Ancona and Caldwell, 1992). "Teams that scouted out new ideas from outside their boundaries, received feedback from and coordinated with outsiders, and got support from top managers were able to build more innovative products faster than those that dedicated themselves solely to efficiency and working well together" (p. 24). X-teams manage outside the team's boundaries as well as inside the team.
Before outlining the three X-team principles the authors devote the second chapter, "A Changing World: New Kinds of Organizations, New Kinds of Teams," to why X-teams are needed. "Competition has become increasingly fierce, in part because growth has ground to a virtual halt throughout many markets. The time has passed when firms could coast with burgeoning market, leaving plenty of room for everyone to grow. Today growth is reliant on innovation, and competitive survival hinges on new products and ideas … . In this new environment, firms are facing three core challenges: to be entrepreneurial; to track and act on critical knowledge that is complex, specialized, active, and scattered; and to coordinate and create synergies across increasingly complex, interdependent, and fast-moving tasks" (p. 42).
X-teams deal with this new environment by taking major responsibility for understanding the current technology, the market, and competitors. They become the business unit's interpreters of the environment and respond to it with strategic decisions. The old internal-focused model of teams still works well when technology, market, and competitive state of affairs are not changing and when teams have the information they need inside the team. However, in the current fast-changing environment lack of real-time information about technologies, customers, and competitors can add up to bad things happening to good teams.
Part II, "What Works," begins with a chapter on the three external activities needed by X-teams: scouting, ambassadorship, and task coordination. Like a group of scouts for a pioneer party in the wilderness, team members need to get the lay of the land early on—to see the rough spots ahead and to figure out how to traverse them. It means discovering up-to-date information on the marketplace and potential customers and putting it together in a common map that makes sense of the terrain. It also means uncovering expectations that others in the business unit or the corporation have for the team. Surfacing what others expect the X-team to do and within what period of time helps build a reliable map.
The authors warn that some teams stay in the scouting activity too long and then experience difficulty with ambassadorship, the second external activity. Ambassadorship manages up the business unit's chain of command. In dialogue, up and down the chain, the team communicates its up-to-date view of customers and the marketplace and lobbies resource decision makers.
Task coordination, the third external activity, starts by identifying the external groups the team must depend on. Once the team identifies a group and determines the team's dependency on that group, then the team can figure out ways to coordinate the work flow between them. Sometimes an X-team must take the lead in shaping strategy, and it does this by managing effectively across boundaries.
High levels of external activities combined with extreme execution inside the team help balance the work of an X-team. Psychological safety, team reflection, and knowing what others on the team know underlie extreme execution. Psychological safety means all members feel free to express their views and can voice doubts or share bad news even though it may involve conflict. Team reflection occurs when team members pause and make sure their actions are aimed in the right direction given changes discovered in the teams' scouting of technology, marketplace, and customers. Teams characterized by low levels of reflection ask questions of others to confirm what they already know rather than to explore what they may not know. Knowing what others on the team know is transferred in an early team meeting devoted to the issue. In this meeting the questions are not just about subject matter knowledge each member brings to the team. The questions also cover political connections the members have and their networks of external experts.
During an X-team's lifetime it will shift gears through three phases, each with a different focal point. In the exploration phase the team scouts, thinks in new directions, and considers options. In exploitation team members choose one direction and organize to bring about effective action in that direction. In one last phase, exportation, they shift focus to others who will bring the new product into the larger organization and the marketplace. Some teams studied by the authors pushed to get moving fast and erred by skipping the exploration phase. They moved into exploitation and then exportation—often in the wrong direction—with the first choice that came to mind. Other teams developed a shell around themselves. They never wanted to move out of the exploitation phase and focused too much on the details and not enough on why others should care at all. Eventually they found their work rejected or ignored by the larger organization or the marketplace.
In the final part of the book, three chapters cover "How to Build Effective X-Teams." Chapter 7 provides concrete steps and checklists for moving a team from an internally focused model to one balancing both internal and external focus—X-teams. These guidelines reference the authors' observations of real teams introduced earlier in the book and recent research by others on effective teams and decision making. The details of how to build and launch a series of successful X-teams is illustrated in Chapter 8 with case studies of X-teams in 2004 at BP and Merrill Lynch. X-teams helped these companies solve four basic dilemmas that confront organizations today:
How can we innovate and gain competitive advantage when our people are already overworked with day-to-day activities?
Top managers have a vision, but how can they get the rest of the organization to carry out the programs needed to realize it?
Local line managers have ideas about what is not working in the firm and what customers want, but they feel powerless to make change happen.
Leadership is centralized at the top, trying to solve problems alone, while the full power of the organization is underused in solving complex problems, carrying out new solutions, and coordinating initiatives.
In the final chapter the authors again caution that X-teams may not be the best choice when teams are required. Inwardly focused teams work well when innovation, flexibility, and coordination are not needed. However, the authors believe X-teams are the perfect vehicles for connecting and aligning multiple people inside and outside the organization to solve the challenging and complex problems new product developers currently face.
Released:
October 4, 2013, 9:02 am |
Updated:
October 30, 2013, 11:39 am
Keywords:
PDMA Blog
1516551588
Feedback:
0 Comment(s) — Latest:None