Book Review: Do It Wrong Quickly: How the Web Changes the Old Marketing Rules
By: PDMA Headquarters on Oct 04, 2013
Book Review: Do It Wrong Quickly: How the Web Changes the Old Marketing Rules
By: Mike Moran, Upper Saddle River, NJ : IBM Press , 2008 . 377+xxvii pages .
Review by: George Castellion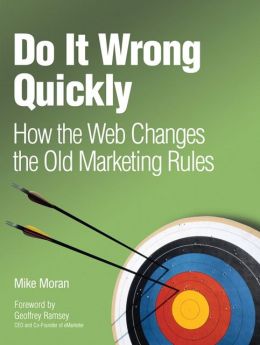 Some innovation managers will bristle when they read this book's title. In their mind is a self-talk monologue similar to, "Our new product idea is so valuable we can't afford to do it wrong (and then have to redo it)."
The author, an IBM distinguished engineer, explains that he wants to do it right, too: "But the way to eventually do it right is to admit that what you are trying right now is probably wrong. That's why you are trying it, see? … We need to accept the fact that our first try will stink on ice, and then we'll start making it better—so that it stinks a little bit less each day"(p. xx).
Accepting the author's point, the innovation managers' self-talk might continue as follows: "Look at Mike Moran's subtitle—he's talking about the Web. When you use a Web-based product platform, it's easy to experiment and test while controlling for risk. However, in my industry—for example, chemicals, biotechnology, medical devices, or semiconductors—rapid-prototyping is expensive." These managers could profit by reading a recent article written by three developers in the pharmaceutical industry (Bonabeau, Bodick, and Armstrong, 2008). These authors describe a do-it-wrong-quickly approach named Chorus at Eli Lilly that divides new product development into two distinct stages: a truth-seeking early stage and a success-seeking late stage.
Chorus's truth-seeking early stage does it wrong quickly—and then fixes it. Reducing uncertainty quickly and inexpensively is the goal in this stage. The early-stage team is small, and none of its members are allowed to follow development into the late stage—a rule devised to promote objective truth seeking. Similar early-stage approaches are used at a global chemicals company and a global semiconductor company (Bonabeau, Bodick, and Armstrong, 2008, p. 102).
The first third of Moran's book, "Part 1: That Newfangled Direct Marketing," combines his marketing insight and technology instinct to show how the Web has redefined marketing. At the end of Part 1, the reader will understand how marketing's role needs to change. It is not that the old ways don't work anymore; rather, the new ways are beginning to work better, and their potential to give higher-quality answers with quantifiable business impact is starting to be realized.
In Part 2, "New Wine in Old Bottles," Moran stresses that there is only one purpose for marketing: to evoke a response from a potential customer. His advice is to put together a simple set of metrics that measures what you need to decide about customers' responses.
There is a long-standing tension in many companies between the marketing role and the technology role in the front end of new product development. This strain often shows up when gathering, listening, and understanding the voice of the customer. In my experience, once technologists understand a simple set of metrics that measures what prospective customers value in the product idea and after having training in interview skills, they gather and understand what customers are saying better than many marketers do. I know marketing executives whose attitude is, "There is no need to waste time gathering voice of the customer. I am the voice of the customer." When you do it wrong quickly, you will learn just how far off you are from understanding prospective customers for your new product idea.
Moran touches on this fear of metrics in marketing: "You see, marketing has always set its own rules. Marketing is something we've done because, deep down, we believe it works. We can't prove it, no, but we fervently believe in marketing's effectiveness. We have faith in it. But that's treating marketing as a religion instead of a business" (p. 108, italics in original).
The final part of the book is titled "That Newfangled You." It contains three chapters valuable to innovation managers in any industry. The chapters provide self-help tools that work through the objections to doing it wrong quickly. Chapter 7, "This Doesn't Work for Me," explores where a manager's personal resistance to doing it wrong quickly comes from. Moran provides practical answers to the reasons for inaction that emerge as self-talk inside your mind. Some of his examples are as follows: "That's not my job" (p. 259). Remind yourself you are the person who does more than expected. "I don't have permission" (p. 259). Admiral Grace Hopper, a computer pioneer, said, "It is better to beg forgiveness than to ask permission" (p. 259). "I can't stand being wrong …. You need to take guesses and see what customers do. They'll tell you what is working and what should change. If it bothers you to think of yourself as being wrong, then just treat every decision as a guess" (p. 265).
Do-it-wrong-quickly new product development works in companies where what the customer says and does drives decision making. Chapter 8, "This Won't Work Where I Work," covers what to do if you don't work at such a company. You need to persuade powerful people who are adaptable to start listening to what customers say and do and then to change what your company does in response. You also need to recognize that some people will not adapt to this new approach. Many cannot handle "wasted time" and hate throwing away completed work because customers do not like the way you tackle your idea; however, "tossing out losing approaches is the price of gaining better understanding" (p. 282).
"This Stuff Changes Too Fast" is the book's final chapter. We still need to use marketing to get the prospective customers' attention to our new product idea. However, now we have to watch what customers do in response. Moran states, "Treating your customers as collaborators for your marketing is your least-hassle route to rapid improvement. That's what 'do it wrong quickly' is all about. But it's not easy" (p. 316). In addition, Moran encourages, "As with anything you try, you'll assess it against the metrics you chose, and you'll keep tweaking it so that you continuously improve—or you'll drop it in favor of a new experiment" (p. 319). A 28-page glossary completes the book.
I bought this book because I was involved a few months ago in helping design the PDMA Foundation's New Product Institute website. We needed a clear and reliable guide for discovering customers prospective sponsors, and essential features for New Product Institute (http://www.newproductinstitute.org). We assembled a panel of practitioners and began a rapid conversation with them using a Web-based collaboration software, BaseCamp, by 37 Signals (http://www.37signals.com), as we tweaked the beta version of the site. After a month of iterative changes against a simple set of metrics, we went live with an improved version aligned with our sponsor's needs. This version was noticeably different from what the foundation's board members and the professional Web designer originally thought was needed.
What Moran does is provide a frame and self-help tools for new product developers, in any industry, who want to improve their work in the truth-seeking front end. His data-driven approach accepts that you will not always know the right thing to do, but just try something and let your prospective customers tell you how wrong it is—then fix it and try again.
Released:
October 4, 2013, 8:32 am |
Updated:
November 20, 2013, 10:05 am
Keywords:
PDMA Blog
1516551910
Feedback:
0 Comment(s) — Latest:None