Book Review: Human Factors in Project Management
By: PDMA Headquarters on Oct 02, 2013
Book Review: Human Factors in Project Management
By: Zachary Wong, San Francisco : Jossey-Bass , 2007 . 351+xiv pages. . .
Review by: George Kingston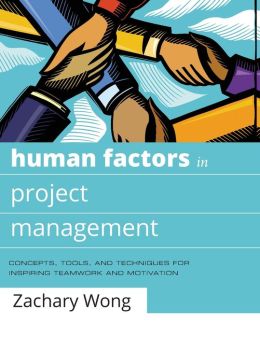 Human factors, by which Zachary Wong means the interactions among people and management systems, often make the difference between a successful project and one that fails. In this book, the author not only summarizes the essential elements of human factors but also shows how to harness them to improve team performance and to increase the chances of project success. This book should be required reading for any project team leader.
Wong is both a manager at Chevron Energy Technology Company and an instructor of human factors and team dynamics at the University of California at Berkeley Extension. This combination of industrial and academic experience allows him to present the results human factors research in a way that is directly applicable to project teams. He enlivens the book with case studies taken directly from his corporate experience.
The book is written as a tutorial in 17 chapters that build from the basics of human factors to a final synthesis applying everything presented to project management and personal leadership. This structure allows Wong to show how the different concepts and techniques discussed relate to each other. Each chapter begins with a short description of the concepts to be presented and finishes with a summary. This makes it easy to go back and refresh your understanding of the key concepts when they reappear in later chapters.
After an excellent introduction in which he explains the structure of the book and how to use it, Wong begins with a brief history of human factors in project management. He then introduces his Three-Space Model of project management, which he uses throughout the book as his basic model for understanding and managing team interactions. This model proposes an Organizational Space, which comprises the environment external to the team, especially the management systems in place in the enterprise; a Team Space, which comprises the team processes and behaviors that make up the team dynamics; and a Personal Space, which includes the diverse individual human factors that each member brings to the team. The interaction of these three spaces must be understood and managed to achieve success.
Wong devotes separate chapters to each of the three key elements of team performance: Content, Process, and Behavior. These are associated with the three spaces. Content is an output of Organizational Space because the team charter and goals are usually set by management. Process is an output of Team Space. It is the way teams work to produce the content. I differ with the author on one aspect of his approach to process, however. Wong proposes that each team should decide what processes to use, and he surveys the many team processes that have been employed over the years. My own experience is that processes work best when they are uniform across an organization. This provides a common language of team process across the enterprise and allows subsequent teams to build on the process experience of previous ones. Behavior is an output of Personal Space, and the second half of the book is devoted to this aspect of human factors. Wong then integrates the three elements in a chapter on how to manage them together.
Having discussed the key elements, Wong next reviews the stages of team development as originally defined by Tuckerman (1965) and later refined by others. These stages are forming, storming, norming, and performing. Having established a solid understanding of the stages, he then devotes a chapter to team facilitation, discussing how to move the team forward from one stage to the next and reducing the time needed to get the team to the performing stage.
The next eight chapters are devoted to Personal Space. This is the aspect of human factors that is most challenging for many team leaders. Chapter 9 begins by discussing the factors that influence individual behavior. Wong proposes that behaviors are based on values, which themselves are the product of culture, experience, and personality type. Therefore, it is important to understand individual values if you want to understand behavior. This is a key chapter, because in it he introduces the model of personality types that he will use throughout the rest of the book. Though he discusses the Myers-Briggs Type Indicators (Briggs and Meyers, 1957), he chooses to use the simplified model of four main temperament types introduced by David Keirsey (1984). These are the Idealist, the Guardian, the Rational, and the Artisan. A good understanding of the definitions of these four types is critical to comprehending the remainder of the book.
Using the framework of the temperament types and the concept of value-driven behavior, Wong then analyzes team conflicts, discussing how they arise and how they can be managed. However, he takes it a step further and devotes an entire chapter to discussing how conflicts affect the personal space of the people involved. This leads to a deeper understanding of how to manage conflict, with a concentration on how to expand the personal space of both your team members and yourself. He introduces the concepts of upper- and lower-level behaviors, with upper-level behaviors being positive and lower-level ones being negative, and he shows how this can be used to manage good and bad behaviors in others and ourselves.
Chapter 15 is a somewhat evangelistic call to raise your own behavior to the upper levels and keep it there, but it is followed by a chapter that gets into the details of the intellectual and emotional needs of the different temperament types and the way an appreciation of these can lead to behaviors that motivate people to move to a higher level. The final chapter is a recap of the entire book in outline form, which is a useful way to refresh your understanding of the concepts presented.
This book is an excellent introduction to human factors in project management and is full of practical suggestions and techniques that can be applied immediately in team leadership situations, but it goes well beyond a simple handbook of practices to demonstrate how and why these techniques work, based on an understanding of people as individuals with a diversity of needs and personalities. It will be especially useful to technical project leaders who have had little exposure to the concept of human factors. I highly recommend it.
Released:
October 2, 2013, 2:38 pm |
Updated:
November 20, 2013, 12:31 pm
Keywords:
PDMA Blog
1521581998
Feedback:
0 Comment(s) — Latest:None