Book Review: Putting Hope to Work
By: PDMA Headquarters on Oct 02, 2013
Book Review: Putting Hope to Work: Five Principles to Activate Your Organization's Most Powerful Resource
By: Harry Hutson and Barbara Perry, Westport, CT : Praeger Publishers , 2006 . 199+xx pages .
Review by: Beebe Nelson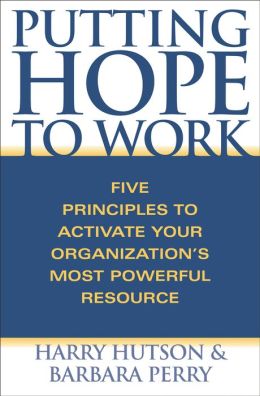 When we describe ourselves or someone else as "hopeful," we mean that we or they have positive anticipations, that their orientation toward the future is open and affirmative. Hope is a defining orientation for innovators and product developers, who live in the anticipation that this next project will produce something better than the one before. "Innovation," Harry Hutson and Barbara Perry tell us, "is a hopeful act in and of itself, an act of … believing in the future" (p. 97). I have been impressed and moved over the years I have worked with product developers by the extent to which they labor on, even in conditions where the evidence is telling them that success is getting more and more unlikely. And I'm referring here mostly to internal evidence—that they won't get the resources they need, that the new chief executive officer (CEO) is likely to cancel the project, that the company may be sold, and that they may be up for losing their job. Even in these conditions they often continue doggedly to pursue the project. A product developer with an ingrained bleak view of the future is almost a contradiction in terms.
Product developers will enjoy this book because they will recognize a lot of what it is that motivates them. The executives and managers who lead the companies where product developers work will gain insight from this book that may help them to put one of their product developers' core assets to work.
It's an interesting thought that a group of people in your company bring, along with their skills and experience, an emotion or attitude that can be described as an asset that, in Hutson and Perry's words, can be put to work. Hutson and Perry draw on their combined experience in a wide variety of organizations; on their own life experiences; on research, philosophy, and literature; and on ethnographic research that they have carried out. They have put together a fascinating book that tells us something we already know: Hope feels good; it is contagious; we and others are more productive when hope is there too. They quote from a manager at Wrigley who says, "Hope is magnetic. You're drawn to it like a bug to a zapper" (p. 20).
In their research, the authors found that it was hard, in the beginning, to get people to talk about hope. Many people in industry, and in particular those in leadership positions, at first push talk of hope aside, saying it is vague and wishy-washy. One CEO said, "Hope is not an emotion we want in our business" (p. 11). But once people do begin to talk about hope, a recognizable atmosphere begins to emerge. We've all experienced work situations where hope abounded, and we've all experienced situations where we and others felt hopeless; there's no question which one we'd choose to be in.
Many people confuse hope with unjustified positive beliefs about the future, and this is probably one reason why talk of hope is hushed in many work spaces. Hutson and Perry distinguish wishes, which are mostly passive, and prayer, which leaves the agency to someone else, from hope. They underscore the fact that hope goes along with engagement and work. This reminds me of a sign on a friend's wall: "Pray toward heaven, row toward shore." If you have the hopefulness to both pray and row, you are much more likely to get there. (I'm writing this in the Blackburn Tavern, once owned by the shipwrecked Gloucester, Massachusetts, hero who froze his hands to the oars and rowed toward what he hoped was shore. He made it.)
Section 2 of Putting Hope to Work spells out what the authors found in their research to be "hope's five principles": possibility, agency, worth, openness, and connection. Five chapters tease apart the meaning of these principles and offer suggestions for how to increase them in your company. It is not always clear to me where to draw the line between the research on hope and advice on good practices to increase, for example, openness in your company. At bottom, however, it may not matter. The company that takes the advice to heart and implements the authors' suggestions will find that its hope quotient rises.
In Section 3 the authors provide advice for leaders. What do you do, what do you say, and how do you keep hope alive? The vignettes that describe leaders' actions in instilling hope are enlightening even as they are relatively obvious. For example, instead of lecturing the team on how stupid they were, try engaging them in a dialogue about what they learned (p. 149). Another example is this: Instead of pretending that you knew the answer, try saying "three little words": "I don't know" (p. 148). Many of the pages in this book—particularly in this section—should be dog-eared for future reference, like for when you wake up in the morning and feel anything but hopeful. The authors give us these hopeful words: "The good news is that hope does not arrive on a tablet from the mount. Hope is welcomed in a steady stream of interactions for which there are many opportunities every day. Hopeful leaders make the most of those opportunities" (p. 157).
Although product developers won't learn much about the specific practices and processes that make innovation thrive, there are a few nuggets. Effective innovation frequently allows customer data to include paradoxes. Hutson and Perry describe how hope can help people to stick with paradox instead of trying to find the easy answer, to "resist making grey things black and white" (p. 173). One of the CEO's that participated in their study asserted that "paradox opens doors. It provides hope when things are stuck" (p. 173). Hutson and Perry tell us that "hope encourages leaders to consider complexity as an ally" (ibid.). I was reminded of the customer requirements that Toyota laid out for the Lexus, which included "luxury feel vs. exciting ride" (Liker, 2004).
Best Buy, one of the companies in the survey, "gives [their employees] a sense of hope" by encouraging them to devise ways of serving customers better; their employees use measurement tools that enable them to "create a customer hypothesis in a day and determine whether it improves sales or service" (p. 170).
Peter Erickson is vice president for innovation, technology, and quality at General Mills. His comments clearly show the relationship he has forged between hope and innovation:
We're all about change; it's our lifeblood. If we don't change, we become irrelevant. We must have a vision of the future that's hopeful, positive, engaging. It's especially critical when you're going through tough times. The innovation process is fraught with challenges. The vast majority of innovations don't succeed, so you have to create an atmosphere of hope and aggressive aspiration. (P. 149)
Hutson and Perry quote Jerome Groopman, who says, "Hope can flourish only when you believe that what you do can make a difference" (p. 69), and Theodore Roosevelt, who says, "Far and away the best prize that life offers is the chance to work hard at work worth doing" (p. 78). Product developers have the best chance of putting hope to work when their portfolios include projects of real merit and significance.
Released:
October 2, 2013, 2:29 pm |
Updated:
October 30, 2013, 2:00 pm
Keywords:
PDMA Blog
1516551224
Feedback:
0 Comment(s) — Latest:None