Book Review: The Elegant Solution: Toyota's Formula for Mastering Innovation
By: PDMA Headquarters on Oct 02, 2013
Book Review: The Elegant Solution: Toyota's Formula for Mastering Innovation
By: Matthew E. May, New York : Free Press , 2007 . 237+xv pages.
Review by: Katherine Radeka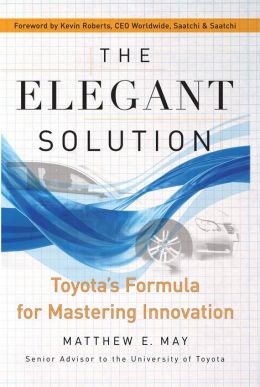 The Elegant Solution is a breezy introduction to Toyota's process of innovation. Matthew May was a consultant working with the University of Toyota as the company sought to expand its success with the Toyota Production System into other areas of the business. From this vantage point, May has distilled 3 principles and 10 practices that he claims differentiate Toyota's approach to innovation from all others.
At first glance, it may be difficult to understand why this book was published at all, given that in the last four years authors from academic researchers to former Toyota employees have produced more than a dozen books about the experience of working inside Toyota. However, Toyota's reputation as a consistent market leader has generated plenty of interest in the company's inner workings.
The interest in Toyota has several sources. In 2007, Toyota took over the number-one spot for worldwide market share in the automotive industry, completing the steady climb begun in 1958, when they released their first automobile design for the American market. They have long led the auto industry in profitability and innovation, creating the Lexus luxury brand from scratch in the early nineties and releasing the first commercially successful hybrid car. The Toyota Production System contributed heavily to the development of lean manufacturing and world-class manufacturing, which have become almost mandatory for any manufacturing company that wants to cut costs and increase throughput.
May's perspective is valuable because of his position as an American consultant working directly with Toyota's American business operations. Unlike the other authors, May's position focused on learning how to transfer their internal thinking processes from one part of the organization to another. He has clearly learned how to distill the essence of the Toyota thinking process and present it in an approachable manner.
Rather than copy Toyota's activities, May seems to ask his readers to internalize the underlying thoughts and then to develop their own activities. The early chapters each close with reflection questions that lead the reader into the heart of the principles and then let the actions flow from that internal experience. The later chapters on practices follow a similar pattern. They do not outline Toyota's internal processes in depth. Instead, May uses stories from Toyota and other leading companies to describe the practice and then provides exercises to give the readers a way to begin experimenting with them.
May has distilled the Toyota Way down to three basic principles: (1) the art of ingenuity; (2) the pursuit of perfection; and (3) the rhythm of fit. In this manner, he stands in stark contrast to the best-known of the Toyota authors. For example, Liker (2004) provides stories and data from Toyota to back up 14 principles that he claims infiltrate the organization. Liker's principles are much more specific. Principle 5 is "Build a culture of stopping to fix problems, to get quality right the first time" (p. 128). In that chapter, Liker goes into great detail about how Toyota implements this principle, describing Toyota's error-proofing, line-stopping systems and quality control on the line. Someone working in a manufacturing environment would finish the chapter with many ideas, but someone working in a dealership, for example, would not really have the understanding to transfer the ideas to the service office.
In May's framework, Liker's Principle 5 falls under the pursuit of perfection. Rather than detail the specific things that Toyota does to pursue perfection, which may not apply outside of Toyota, May attempts to convey the spirit of this principle with the story of the first Lexus alongside inspiration from Tiger Woods and Lance Armstrong and a quote from Michelangelo. May's reflection questions guide readers to place this principle into their own perspective for their own work.
The book has three key strengths. First, May's passion and enthusiasm for his subject comes through without distracting from the core message. He has taken care to use his informal style in service of the subject matter. Though he sacrifices depth and detail for broad-brush strokes of description, he has chosen his examples carefully to keep readers on target as they build understanding. The book conveys sophisticated ideas while remaining a pleasure to read.
Second, May does not limit himself to pulling examples from Toyota. Most of the books written about Toyota strive to make it seem exceptional and distinct. May understands that Toyota has borrowed relentlessly from others and that many of its core principles are common to any high-performance company. He pulls examples from iconic American companies such as Apple, Dell, Google, and IDEO to illustrate that the concepts themselves are not unique to Toyota.
Third, he chooses the practices that truly distinguish the Toyota mindset and describes them in a way that is accessible and clear. For example, genchi gembutsu is the Japanese term for learning about something by going directly to the source. If there is a factory floor problem, don't solve it in the corporate office. Go to the factory floor, observe it there, and solve it there if at all possible. In English, the term is often translated as "go and see" or "go to the source" (Liker, 2004, p. 223).
In May's work, this becomes the practice of "Learn to See" with an example of how the New York Police Department improves the observational skills of new officers by sending them to a museum to analyze paintings (pp. 85–94). There are subtle nuances that are important to the story behind "Learn to See." May captures and describes these nuances so as to make them accessible to Western minds.
This book will surprise those who are familiar with the writings on lean manufacturing or lean product development. Lean topics occupy only a single chapter. Depending on one's vantage point, this is either a strength or a weakness. The weakness is that it is hard to place May's conclusions within the existing body of work on Toyota, and many core lean practices are missing altogether. The strength is that May's unique perspective provides a fresh look at some core lean principles, such as customer value and perfection.
However, this book will frustrate anyone who has already undertaken a serious study of Toyota's internal practices. May uses many of the same stories as Liker does in The Toyota Way, such as the introduction of the Lexus and the Prius development program. May's treatment of these stories is in the same cheerleading style, which makes them seem superficial next to the more serious treatments.
If Liker (2004) is the investigator, asking and answering questions, May comes across as the motivational speaker, sharing stories as if to say, "They can do it and you can, too!" For example, Liker's (2004, pp. 42–50) treatment of the development of the Lexus takes up an entire chapter and goes into depth about the development team's internal workings as they set out to develop the car that would dethrone BMW and Mercedes at the top of the luxury market. In May's book, the same story takes up a mere four pages (pp. 43–47).
After reading this book, a question arises: "Why is it focused around Toyota at all?" With so many other books containing detailed treatments of Toyota's work, May might have had greater success with a book providing the same principles and practices but with Toyota as only one of a much larger set of examples. This book capitalizes on May's experience with Toyota, but it downplays the significant work May himself has done to understand, internalize, and synthesize an approach to innovation that draws on a wide variety of examples from high-performing companies.
In general, this is an accessible introduction to Toyota's innovation approach, best suited for those who are new to thinking about Toyota and curious about how they might adapt some of the same ideas to get better. It contains practical suggestions for how to get started and will serve to whet the appetite for more detailed treatments. It may also help break down the notion that the only way to succeed with these ideas is to become a carbon copy of Toyota.
It is also a valuable read for lean trainers and consultants, who need occasional reminders that Toyota is neither the originator nor the only company using many of the practices found in the lean literature. For those in the business of helping others to internalize the principles of lean thinking, this is a valuable source of relevant examples from places outside Toyota to help enrich their ability to transfer the spirit of lean thinking.
Released:
October 2, 2013, 2:06 pm |
Updated:
November 20, 2013, 9:56 am
Keywords:
PDMA Blog
1521581667
Feedback:
0 Comment(s) — Latest:None