Book Review: Think, Play, Do: Technology, Innovation, and Organization
By: PDMA Headquarters on Oct 02, 2013
Book Review: Think, Play, Do: Technology, Innovation, and Organization
By: Mark Dodgson, David Gann, and Amon Salter,New York : Oxford University Press , 2005 . 254+xiv pages .
Review by: Laurence P. Feldman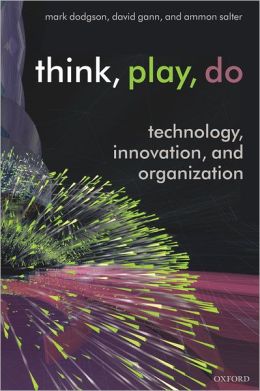 Every once in a while a book comes along that does a good job of pulling a varied array of elements into a coherent, useful whole. That is the accomplishment of this book, which, despite the simplicity of its title, deals with the complexity of the product innovation process as it applies across a broad spectrum of projects.
As defined by the authors, these elements fall into three groups:
Information and communication technology (ICT), described as "an enabling technology for innovation" (p. 7)
Operations and manufacturing technology (OMT), concerned
with the implementation of innovation
Innovation technology (IvT), which is the technology for creating innovation
The application of the third of these groups is the primary focus of this book. IvT includes simulation and modeling tools, virtual reality, data mining, and rapid prototyping.
The aim of IvT is to facilitate thinking, playing, and doing (TPD) as a different and superior approach to the innovation process. Instead of dividing that process into discrete functions, for example, research and development (R&D) and engineering, TPD results in more fluid boundaries between them. The authors argue persuasively, using their research on a wide variety of in-depth examples of the application of IvT, that its use "has the potential to alter radically the ways in which innovation occurs, and to ameliorate many of the uncertainties associated with it, bringing greater predictability and direction to the process" (p. 3).
These advantages are illustrated in the widely varied examples that were the subject of the authors' research. It should be noted, however, that in the opinion of this reviewer, TPD is not so much a replacement for the multiple stages usually thought of as defining the innovation process as it is a superior approach to their consideration and execution.
At its essence, the book consists of three parts. The first three chapters provide the background for understanding TPD. Chapter 1, "Innovation Technology," establishes the basis of the TPD approach to innovation. The material in Chapter 2, "Understanding Innovation," will be familiar to those working in the product innovation area.
Chapter 3, "Using Innovation Technology," illustrates the value of IvT for innovation using two very different examples: Procter & Gamble and Arup, an international engineering and design services company. Arup Fire division, for example, uses simulation and modeling techniques to design buildings for speedy emergency evacuations. For one tall London building, Arup Fire concluded that, contrary to expectations, evacuation using elevators would be almost twice as fast as using stairways (p. 75).
Chapters 4–6 constitute the heart of the book, with a chapter devoted to "Think,""Play," and "Do," respectively. Thus, Chapter 4 examines the extent to which IvT technology has provided new aids to thinking about innovation. Two cases are used to illustrate the importance of these developments that aid thinking and the definition of the problem to be solved. One of these involves GlaxoSmithKline's search for new pharmaceutical compounds. The other is the process surrounding the imposition of an innovative congestion charge on automobile drivers in central London.
The focus of Chapter 5 is "Play," which allows the use of collaborative and iterative processes among specialists and experts that helps them make design choices. Designers and engineers, in particular, engage in problem solving that draws on ideas from the think stage and connects them to execution in the do stage.
Various aspects of IvT are used "to explore, play games, and critically select solutions" (p. 119). Their application is illustrated by examples that range from the development of a new method to stabilize the Leaning Tower of Pisa to the design of a new bra. New developments in virtual reality (VR), in particular, enable designers and engineers to create different versions of a virtual object. For example, Lockheed Martin uses VR headsets to place prospective purchasers "inside" a virtual prototype of a fighter plane that can be modified, virtually, to accommodate needed changes (McConnon, 2007, p. 50).
The culminating activity of thinking and playing is doing, which is the subject of Chapter 6. Some background relating to standardization and modularization arising from the move from mass to lean production introduces a discussion of innovation technology for doing, especially with regard to rapid prototyping: "The 'doing' phase … connects information from design with that of production and use, enabling engineers and technologists to prototype, test commercial viability, predict likely market and production requirements, and thereby implement new ideas" (p. 163).
Computer-aided design/computer-aided manufacture (CAD/CAM) is one example of IvT technology that facilitates the do function by linking design with manufacture. Another, described in considerable detail, is rapid prototyping, which permits the creation of three-dimensional objects directly from CAD data. Instead of the painstaking creation of a single model or prototype at considerable expense, rapid prototyping allows the consideration of several variations, with the prototype fostering communication between such functions as design and development and engineering. Furthermore, not only the object desired but also the tooling to manufacture it can be designed and prototyped the same way. The overall effect is to reduce cost and shorten time to market.
Examples of the application of rapid prototyping include its use in a Formula One racing team and in the development of the Palm V handheld computer, which involved the well-known IDEO design firm.
Chapter 7, "The Strategic Management of Innovation," is concerned with the impact of IvT on competencies and capabilities. When used effectively, IvT can lead to the development of specific, difficult-to-replicate competencies. Arup Engineering, which for many years was purely a structural engineering company has, over time, developed an array of distinctive competencies based on IvT. These have served not only to expand greatly its area of expertise but also to do so in a way that would be difficult for competitors to emulate. It also has facilitated internal communication and the integration of its far-flung activities.
Chapter 8, "A New Innovation Process," provides not only a summary of what has gone before but also includes such important topics as the implications of IvT and TPD for management and its impact on the organization of work and on public policy.
This well-written book provides useful insight as to how a wide variety of companies can use new technology (IvT) to facilitate the innovation process. However, it contains so much meat that it is not something to be dipped into or skipped through lightly.
The authors intend it to have broad appeal to managers concerned with the innovation process, industry analysts, researchers in business and innovation studies, and students. For those concerned with the innovation process, but who are unaware of the powerful technology becoming available to facilitate it, this book will be very helpful. Researchers and students, in particular, will also benefit from the wealth of information contained in the appendix titled "Research Methods," the endnotes, and the 20 pages of references.
Released:
October 2, 2013, 1:58 pm |
Updated:
October 30, 2013, 12:15 pm
Keywords:
PDMA Blog
1516532103
Feedback:
0 Comment(s) — Latest:None