Book Review: Results without Authority: Controlling a Project When the Team Doesn't Report to You
By: PDMA Headquarters on Oct 02, 2013
Book Review: Results without Authority: Controlling a Project When the Team Doesn't Report to You
By: Tom Kendrick, New York : AMACOM , 2006 . 262+ x pages .
Review by: Ruediger Klein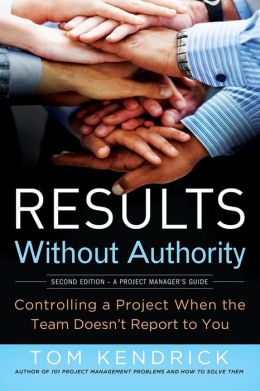 Today's corporate organizational structures may still bear a resemblance to a clean hierarchy with clear reporting lines and functional groups within divisions, but organizational change and collaboration within and across companies seems to have made these structures fleeting at best. How does one cope when deliverables depend largely on other professionals over whom one lacks formal authority?
A number of books have attempted to answer these questions over the past 10 years (see, example, e.g., Bellman, 1999; Cialdini, 2006; Cohen and Bradford, 2005; Fisher and Sharp, 1999). In Results without Authority, Tom Kendrick answers these questions in the context of a professional project manager. The scope of projects is not limited to new product development projects, but since the author's background is in an electronics manufacturer (Hewlett-Packard), his examples are often applicable to new product development.
The book is structured in two parts, the first one describing three elements of project control: process, influence, and measurement. The second part shows when to use these three elements of control throughout the life of a typical project, following the five process groups defined by the Project Management Institute's (PMI, 2004) A Guide to the Project Management Body of Knowledge (PMBOK).
Project control through processes involves using the processes already defined and in use by the organization as well as addressing key project infrastructure-related questions early in the project before team members are occupied with project execution. Appendix A provides a long list of questions broken into planning, execution, and control. Working through these sample questions with the project team or sponsor should be immensely valuable for project managers either beginning a new project or taking over an existing project. Kendrick repeatedly points out that gaining commitment from project stakeholders as early as possible before collecting on these commitments is vital in getting things done through others.
In "Control through Influence," Kendrick first walks through well-known methods and frameworks, such as the source of organizational power, communication as the foundation of effective project management, and Hertzberg's theory of motivating and hygiene factors. Then, he reaches a 10-Step Process for Influence (pp. 39–48):
Document your objective.
Identify who could do the work.
Evaluate your options and select the best person.
Consider the other person's perspective.
Consider possibilities for exchange.
Meet with the other person.
Verify your assumptions and determine what to exchange.
Request a commitment.
Document the agreement.
Deliver on your offer and track the work to completion.
Item (5), possibilities for exchange, includes a long list of potential reasons the other person would cooperate. For additional exchange "currencies," the reader is referred to Cohen and Bradford (2005).
The metrics discussion applies some useful fundamental ideas to the selection and monitoring of project metrics. There is the behaviors/measures/objectives framework, which states that introducing measures into a project should help in aligning behaviors with stated objectives. Metrics can be of three types: predictive, diagnostic, and retrospective. For designing individual metrics, Kendrik advocates the use of the goal question metric approach and the balanced scorecard approach. The first approach aligns metrics to goals through the use of questions, which might be posed with regard to attaining a goal. The second approach sets up metrics for users, sponsors and stakeholders, teamwork and development, and project processes. These metrics are set up in tension to force objective evaluation of trade-offs. Refreshing in the metrics discussion is the section on potential unintended consequences and testing of metrics, as this reviewer has seen many well-meaning metrics being abused and leading to adverse side effects.
Project management principles apply best to work that can be well understood and controlled, which are activities that recur project after project. New product development projects straddle the known, recurring project space and the high-innovation project space. Project control in the planning phase revolves around building a bottoms-up, detailed work breakdown structure (WBS). For innovative projects, Kendrick advocates separating the knowns from the unknowns and then assigning the known activities to owners and managing them as in any other project. Having narrowed the scope of the unknown, the project manager then can focus on identifying the key questions and managing the work to create responses, on identifying options with separate WBSs, or on splitting projects with excessive unknowns into two projects.
The author introduces the concept of a project box. It plots the planned project cost versus planned project time. Showing the minimum and maximum for each metric creates the box. The project objectives for both metrics could also be shown and will lead to a stakeholder discussion of feasibility and resources. Tracking the center of the box over time according to Kendrick is a reasonable assessment of whether the project remains in control.
Kendrick also suggests using a project plan review with the stakeholders and the project team. In new product development projects, reviews of requirements and specification documents are often used. Applying the same methods to the project plan might indeed lead to a better understanding of project objectives, deliverables, and time frames as well as lead to better project execution.
Though Results without Authority follows the five PMI process groups, Kendrick does not advocate an unequivocal use of formal, PMBOK-inspired project management. An example is the use of earned value management (EVM) for tracking project progress. According to the author, two requirements for EVM make it problematic for some projects: (1) EVM requires creating cost estimates for all activities identified in the WBS, or at least apportioning 100 percent of the project budget; and (2) the project manager must collect actual cost data for each activity from the beginning to the end of the project. Although EVM may lead to early identification of project overruns, it can also represent quite a bit of management overhead.
The author proposes an alternative to EVM in form of the activity closure index, relying on the rough assumption that all activities have the same cost and are spread out uniformly over the project timeline. Though the index will be very imprecise, especially in the beginning of a project, according to Kendrick, after about a third of the project duration it will provide a very good prediction of potential schedule overruns. This reviewer remains skeptical that this method will work well for a new product development project, as activities are generally not spread out linearly in new product development projects.
The book features numerous checklists, case studies, and references. The key points of every chapter are summarized at the end, which, together with the detailed table of contents and a full index, makes finding specific sections a snap.
Project control is a primary concern for project managers, as they rarely have full authority over all of the collaborators, contributors, and suppliers in a project. Monitoring and controlling therefore is one of five process groups PMI defines in the PMBOK guide, and it spans all project phases. The others, for completeness, are initiating, planning, executing, and closing. Because project control is such an integral part of project management, good step-by-step project management books cover it well (see, e.g., Rosenau, 1998). Results without Authority stands out by methodically and thoroughly exploring the issue of control throughout the project life cycle, but overlap with these other project management books is inevitable.
Overall, this practical project management reference brings together a lot of ideas and concepts worth considering for readers who are confronted with projects over which they have little to no formal authority.
Released:
October 2, 2013, 1:53 pm |
Updated:
October 30, 2013, 2:10 pm
Keywords:
PDMA Blog
1516551348
Feedback:
0 Comment(s) — Latest:None