Book Review: The Innovation Killer: How What We Know Limits What We Can Imagine
By: PDMA Headquarters on Oct 02, 2013
Book Review: The Innovation Killer: How What We Know Limits What We Can Imagine and What Smart Companies Are Doing about It
By: Cynthia Barton Rabe, New York : AMACOM , 2006 . 220+xx pages
Review by: S.S. Pal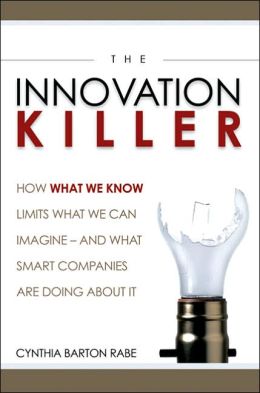 This book is positioned on the human side of bringing about innovation at a microlevel in any organization. Cynthia Barton Rabe definesinnovation as the application of an idea that results in a valuable improvement. She addresses questions of how innovation should arise and be dealt with. For the experienced innovators reading this journal this will be yet another study of do's and don'ts of innovation, but it is nevertheless interesting reading, as this is what they live and breath every day. Innovators know how killer forces were circumvented in the process of their innovating. When this book presents us its perspective of some such killer forces identified during the author's tenure at Intel Corporation, followed by her consulting practice as an innovation strategist, it provides us a good opportunity to compare our experiences as innovators and to validate our observations under similar circumstances.
The author expresses concern about why innovation eludes the organization when people in it know very well how vital innovation is to the success of their companies and when they all are quite conscious of and active regarding innovation. Rabe encourages us to consider our innovation experiences and the lack of them together as our enemy number one: Experience restricts us to the world of the known, but lack of it may lead us to reinvent the wheel. The author's killer theory considers experience to be analogous to a gravitational force that denies us creativity as we seek it. These devastating gravitational forces include groupthink and expert-think, where the pressure toward conformity suppresses or wipes out minority opinions. Groupthink is well known in industrial management practice. Expert-think is defined by the author as the way organizational experts exert their weight in presence or in absentia regarding how they would have liked something to happen. For enhancing innovation then, Rabe suggests using the services of zero-gravity thinkers from outside the situational world at hand that would not have the same burden of expertise gravity to handicap them. Three distinct characteristics of such zero-gravity thinkers are (1) psychological distance from the problem area, (2) renaissance tendencies of having wide-area cross-spectrum interest, and (3) related expertise, such that an appropriate intersection could be chalked out about the direction likely to be productive. Furthermore, as this book notes, like for success of any organizational activity, it should be supported by the top leadership.
This book emphasizes the collaborative role for zero-gravity thinkers over their doing role. The doing role is distinguished from the collaborative role in its basic approach. Rabe classifies the roles that outsiders, with or without zero-gravity thinker characteristics, can play on a team into five categories: teach, facilitate, inform, collaborate, and do. Whereas the first three short-duration engagements do not require zero-gravity thinker capability, the do role, on the other hand, is envisaged only where the task proficiencies are not available internally or are beyond the scope of their operations, for example, advertising campaigns, outsourced manufacturing, or software. According to the author, a zero-gravity thinker can best perform in a collaborative role as "both a partner in developing innovative ideas and as catalyst for stimulating the team to think about a challenge from a different perspective" (p. 108). A zero-gravity thinker can certainly think, can also work with others to help them to think differently, but can perhaps contribute little or nothing to materializing an idea. I have no issues with brilliant ideas per se, but I think their conversion into realities is the actual challenge in innovation, which the insiders will continue to shoulder in any case. Moreover, the effort and capabilities required for generating an idea with and without the responsibility of its conversion into reality are simply incomparable because the basic premises in these two cases remain poles apart. In practice, the doing role in innovation may be more difficult than the collaborative one because it must carry through to commercial success. The characteristics of zero-gravity thinkers as outlined by the author here may be quite suitable for the collaborative roles but perhaps may fall far short of the mark in completing an innovation. Amabile (1998) emphasizes that within every individual, creativity is a function of three components: expertise, creative thinking skills, and motivation. Qualities of a zero-gravity thinker or a creative innovator include all these factors for facilitating innovation at the operational level. In addition, Kanter (2006) shows that innovation tends to get lost in a whirlpool of mistakes.
This book suggests that time pressure is another deadly weapon that kills innovations in the bud. It might not have been well settled yet whether the time pressure actually constricts or compels one for being extra-innovative. So, it may not be the time to pronounce the last word on the time pressure and its adverse effects on innovation. The present reviewer, however, has often found that time pressure has actually instead fostered creativity. See Silverthorne (2002) for additional information on time pressure and creativity.
Although the book includes a chapter on do-it-yourself zero-gravity thinking, zero-gravity innovators should be hired for the duration of the problem, Rabe suggests, and not be recruited for full time, lest they also fall prey to the killer experience syndrome. However, worthwhile innovation may not be possible without experience. The crux of the matter then will be to leverage the experience available to the advantage of the respective process owners having the innovation challenge. There may be several opinions about how to identify an opportunity for improvement and how to satisfy it. Along with brainstorming sessions, Kaizen, and organization-wide small group activities, the author's introduction of a zero-gravity thinker is yet another variation in this regard.
The author emphasizes that before attempting to solve a problem, it should be defined as sharply as possible to remain on the right solution path. Experienced managers do this well. Specifying a problem for innovation is difficult. This difficulty can be overcome by reinforcing the organization with zero-gravity thinker types, as the author suggests, for marked innovation improvement.
This book is quite attractive and reader friendly. It incorporates personalized narratives, anecdotes, and several examples. However, the author's personal style is overdone at times. Otherwise, the book is a good read. I recommend this book to readers for improving their innovation.
Released:
October 2, 2013, 1:44 pm |
Updated:
November 20, 2013, 10:39 am
Keywords:
PDMA Blog
1516551173
Feedback:
0 Comment(s) — Latest:None