Book Review: Making Innovation Pay: People Who Turn IP into Shareholder Value
By: PDMA Headquarters on Oct 02, 2013
Book Review: Making Innovation Pay: People Who Turn IP into Shareholder Value
By: Bruce Berman, Hoboken, NJ , John Wiley & Sons , 2006 . 201+xxi pages .
Review by: Reardon Smith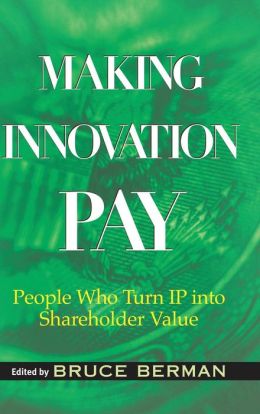 All of us in the new product development (NPD) world are acutely aware of the importance of thinking about patents during the development process, both to protect the intellectual property (IP) in our inventions adequately and equally importantly to ensure that we do not infringe on someone else's IP. But if that is as far as we go, then we are forfeiting some lucrative business opportunities while at the same time putting our competitive position at risk. If this seems counterintuitive to you, the authors of Making Innovation Pay have some solid arguments to back their cases. "A patent is a Constitutional right that manifests itself in the form of personal property. A patent can be sold, pledged, transferred, or inherited—just like a car or a piece of real estate" (p. 109). In other words, a patent is potentially a product in itself. How many of us consider the IP of product development in that light? Not enough, according to the authors.
In this volume, editor Bruce Berman has collected contributions of 11 experts in the IP world to discuss current and future issues concerning patents, trademarks, and trade secrets. They do not always agree with each other, but on most things they are in concert: (1) the revenue-earning potential of IP in today's corporations is huge; (2) top management does not begin to pay enough attention to their IP; (3) licensing IP is a terrific business model; and (4) the global patent and trademark system is broken.
Jim Malackowski says, "The U.S. economy that once resembled a three-legged stool—manufacturing, services, and invention—now has only one leg to stand on. Manufacturing has effectively moved offshore, and services are quickly following suit. Today, only invention and the revenues that it generates remain to support the standard of wealth that we in developed nations have come to enjoy. Intellectual property now dwarfs all assets in value-at-risk. Intangible assets now account for more than 75 percent of a company's market capitalization" (p. 87). Huge, indeed.
Yet, even faced with that kind of value proposition, most of today's chief executive officers (CEOs) pay little attention to IP, instead assigning its management to either the accountants, the lawyers, or the research and development department (in order of increasing futility). It is rarely considered a revenue-earning business unit and consequently is thought a necessary evil: an operating cost you must have to protect to keep your crown jewels from your competitors. If we can help CEOs and chief financial officers realize the error of this approach, we can have an enormous impact on a company's bottom line. Remember that IP revenue is almost all bottom line.
Contrary to popular opinion, it is not the dusty old forgotten patents—the "Rembrandts in the attic" (p. 36)—that make money for the IBMs and Texas Instruments of this world. Counterintuitively, the patents and trade secrets being used to make them money today, in current products and services, are also the most valuable as licenses. Daniel McCurdy, ex-Lucent IP director, says, "When a company discovers and perfects a technology, substance, or process, rather than keeping everything to itself, that company should immediately give thought to licensing the invention to others (at the right time, under the right terms). If you won't share your most useful innovations … the market will share them for you and without rewarding you" (p. 44). In this regard, the authors of Making Innovation Pay are expanding onChesbrough (2003) when they discuss the importance of having a solid business plan associated with every useful piece of IP. You may elect to allow someone else to execute the business plan, for a fee, but it is the plan that determines the real value of the innovation.
Some companies have figured this out. IBM, Texas Instruments, Hewlett-Packard, and Intel each make billions of bottom-line dollars by licensing IP to competitors and partners alike, one interesting consequence of which is that some shareholders of other corporations have figured it out too and are demanding higher levels of management responsibility for using more effectively this huge asset in which they have ownership. CEOs would be wise to address this issue proactively before a shareholder measure puts it on the agenda for them. As NPD practitioners, we should so advise them.
How badly the system is broken is described by the authors in several ways. For a start, we might consider that a patent is a pretty secure way to prevent someone from using your idea without your permission, right? In fact, nothing could be farther from the truth. Do we have the $4 to $10 million it will take to file and fight an IP suit? Is our patent well-enough written that it is watertight? Are there perhaps other patents that are counter to ours that may not be valid but that we would have to challenge? The uncertainties are very high in IP cases. Very few cases actually go to trial, and of those even fewer are successful. Most are settled by negotiation, which, according to the authors, does not make it any less expensive. Many of the problems are due to the enormous workload of the U.S. Patent and Trademark Office (USPTO). And a lot of that workload is due to filings by foreign companies seeking to protect their IP in the United States. Out of the top 20 company patent filers at the USPTO, 13 are foreign corporations (p. 130). If there were a global patent treaty that would allow for secondary international filing, this workload would be reduced dramatically. As it is, Bruce Lehman, ex-commissioner at the USPTO, says, "Without any relief, the number of unexamined patent applications will rise from the current level of 457,000 to 1,489,000 by 2010. This will mean an average of 36 months to first office action and 43 months to allowance, with no end in sight. This will result in an unhealthy marketplace for innovation-centric companies and their shareholders" (p. 133). But resolving this requires strong action by some involved CEOs at the highest government level—which brings us back to the problem mentioned earlier: Top management does not begin to pay enough attention to their IP because they have yet to realize the potential business opportunities it offers.
There is less of a consensus among the contributors to Making Innovation Pay when it comes to the subject of patent trolls. "A patent troll is somebody who tries to make a lot of money off a patent that they are not practicing and have no intention of practicing and in most cases never practiced" (p. 57). Are they a good thing; are they evil; do they even exist? The answer appears to be—it depends. Consider, for example, that the inventor of the term in 2001, Peter Detkin (of Intel at the time), a contributor to this book whose patent troll definition has already been given here, has moved on and is now managing director of Intellectual Ventures, a company that some would consider is setting itself up to be a major patent troll itself. So clearly it depends which side of the financial fence you are on, and too much of the book dwells on unwinnable arguments for or against the troll.
The authors of Making Innovation Pay are telling us that IP management is going through an evolution as the emphasis shifts from defensive to revenue earning. That, in itself, is a message we should all be taking into our companies. In addition, it is apparent that with the system in as much disorder as it is, it is ripe for a revolution. This will be a fascinating process to watch and to take part in over the next few years. This book provides a firm grounding in the issues. I strongly recommend it to NPD practitioners, consultants, and senior managers.
Released:
October 2, 2013, 1:21 pm |
Updated:
October 30, 2013, 11:51 am
Keywords:
PDMA Blog
1521837496
Feedback:
0 Comment(s) — Latest:None