Book Review: Manage for Profit, Not for Market Share
By: PDMA Headquarters on Oct 02, 2013
Book Review: Manage for Profit, Not for Market Share: A Guide to Greater Profits in Highly Contested Markets
By: Hermann Simon, Frank F. Bilstein, and Frank Luby, Boston : Harvard Business School Press , 2006 . 232 pages
Review by: George Castellion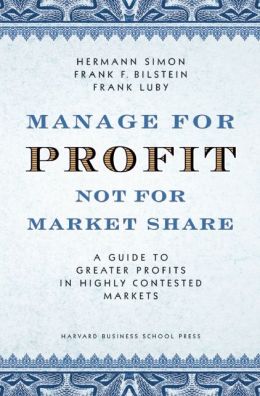 The authors dedicate this book to managers of mature products in highly contested markets. These managers produce most of an established firm's revenue. "[B]ookshelves overflow with guidance on how to manage innovation. This book does not serve as a replacement for this type of strategic guidance, but instead serves managers in mature markets, who cannot afford to wait for a mythical breakthrough product …. The dream of the big breakthrough—and the near monopoly status and pioneer returns that accompany it—remains just that, a dream" (p. 6).
Managing mature products for profit is important for Journal of Product Innovation Management (JPIM) readers. Three thousand copies of this issue of JPIM—more than three fourths of the total—go to subscribers who are Product Development and Management Association (PDMA) members. More than 60 percent of PDMA members work in product management in firms whose markets are mature and highly contested.
In Chapter 1, "Choose Profit over Market Share," the authors challenge conventional wisdom about market share's importance: "What's wrong with market share as a guiding principle for strategy? …. When companies make it the centerpiece of their 'profitable growth' strategies it gives rise to cultures and behaviors that destroy profit rather than boost it" (p. 3). Armstrong and Green (2007) list 12 recent studies showing negative correlation between the profitability of a firm and the importance of market share.
The remaining chapters in the book expand on three assertions by the authors:
Product managers can extract a huge profit potential—equivalent to 1 to 3 percent of revenue—by pursuing a profit orientation instead of market share. In the United States the current average after-tax margin is 4.1 percent (p. 5).
Managers can implement the program in this book by relying on currently available resources and without long-term innovation efforts.
This program requires many small but powerful steps rather than one big thing (p. 26).
They base these assertions on recent academic research and persuasive insights from their consulting assignments with more than 500 companies around the globe.
Chapters 2–5 build the reader's understanding of how to discover and measure the added profit potential in mature products. Some of the tasks and tools covered, such as voice of the customer and conjoint analysis, are familiar to JPIM readers who prepare the business case for new product concepts. Other tools such as building a competition map (pp. 32–38) in Chapter 2, "Learn to Compete Peacefully," are not as common.
Competition maps first create a set of cells with the products on one axis and customer segments or end-use applications on the other axis. In the second step, the map builder decides how attractive each cell is for the firm. Finally, the builder matches each of the firm's competitors to the cells using comparative advantage to assign a competitor to a cell. Only one competitor can occupy each cell based on where they put their resources to best use even though they may not be best in class. The map highlights cells where the firm's managers should defend share and cells where investing in a defense will erode profits.
The most important first step in uncovering profit opportunities, in the authors' view, is covered in Chapter 3, "Change the Way You Form Your Assumptions." Questioning and changing existing assumptions about customers is not easy. People in established firms competing in mature markets tend to decide using a small and selective store of information. Often they amass this information in the same way from the same sources and miss seeing the obvious.
The authors use a case study (pp. 48–50) of a large manufacturer of testing devices to show how fresh facts and insights drawn from the market can change assumptions. The manufacturer was struggling to make inroads with a digital device. When questioned by the authors about the benefits of the device, the firm's lead scientist placed the device on the table. He then looked straight at the consulting team and stated with all the restraint he could muster, "This is protected by seven patents." The firm's engineers received monetary incentives to file patents. Their culture's rule of thumb was, the more patents a product has the better it must be. They believed that their customers' decision-makers used the same rule of thumb.
When the consulting team questioned these assumptions in interviews with current and potential customers they found that most customers did not care how many patents the product had. What the team did uncover were sharp differences between how the most profitable potential customers planned to use the new digital device and how the developers expected them to use it. Once the manufacturer's assumptions changed to align with these customers' needs, a hidden profit opportunity opened.
A business unit's internal data on sales, volume, profit, and costs offers a rich source of information to change the way product management forms assumptions. Chapter 4, "Use Internal Data to Find Profit Opportunities," covers the two sources of data: source data and response data. Source data provide basic facts on what happened. Analysis of this data can reveal where the business unit can earn the most profit and what market share the unit can afford to let go. Response data provides managers with information on "what would happen if …?" Such data need a mental investment to uncover and to understand the effect of changes in prices or product features on sales. Although internal data can help uncover fresh insights on responses, the authors recommend gathering fresh information directly from current and potential customers.
Seasoned product managers know they also need to gather information directly from customers. Seven research approaches are discussed in Chapter 5, "Uncover Preferences and Willingness to Pay." The approaches are split into three categories—directional, methods, and quantitative—and help answer the following questions: Why do your current high volume customers buy as much as they do? Why do certain customers not buy more? Regardless of how product management decides to continue, the authors strongly recommend using at least two external approaches to cross-check results.
Chapter 6, "Optimize Your Marketing Mix to Capture the Highest Additional Profit," and Chapter 7, "Raise Your Prices to Get the Profit You Deserve," explain how to extract the profit from the opportunities identified. Chapters 8–10 cover the three major pitfalls to managing for profit, not-for-market share. The authors present persuasive evidence for not overindulging customers in Chapter 8, "Don't Ingratiate Yourself with Customers." Other researchers found no significant link between customer loyalty and customer profitability (Reinartz and Kumar, 2002).
To retrieve the higher profits their products deserve, firms need to make the transition from volume-based sales incentive systems to profit-based systems (Chapter 9, "Align Your Incentives to Focus on Profit.") When there are internal goal conflicts and mixed messages from senior management, it is unrealistic to expect salespeople to convince customers to pay higher prices. Preserving profitability by controlling market communications is illustrated by a case study, "How to Respond When a Competitor Enters Your Market" (pp. 197–9).
The final chapter, "Epilogue—It's Time to Cash in on Your Profit Opportunities," of this insight-filled book summarizes the authors' recommendations. In their view, smart competitors earn higher profits by exercising restraint and by distinguishing themselves through value rather than through aggressive pricing to build market share. Smart competitors also rely on objective evidence and fact-based assumptions rather than on anecdotal evidence and industry conventional wisdom.
Released:
October 2, 2013, 1:05 pm |
Updated:
November 20, 2013, 11:49 am
Keywords:
PDMA Blog
1516551926
Feedback:
0 Comment(s) — Latest:None