Book Review: Leading Project Teams: An Introduction to the Basics of Project Management and Project
By: PDMA Headquarters on Oct 02, 2013
Book Review: Leading Project Teams: An Introduction to the Basics of Project Management and Project Team Leadership
By: Anthony T. Cobb, Thousand Oaks, CA : Sage Publications , 2006 . 178+vi pages
Review by: George Kingston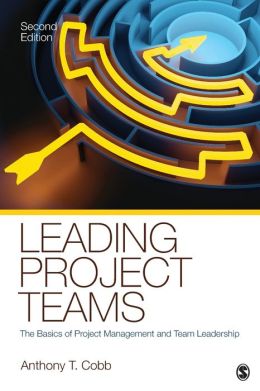 One of the keys to successful new product development (NPD) is having effective project team leaders. Yet many people, on being named to lead their first project team, feel like they are drowning in the many demands and details that team leadership requires. Think of this book as a life preserver for these people. It covers the basics of both the task- and the people-oriented aspects of the assignment and is a valuable resource for both new and experienced project team leaders. The book can also be used as a training manual.
The book is not specifically focused on NPD projects, but its more general approach is applicable to NPD. In the introduction, Anthony Cobb adopts the Project Management Institute's definition of a project as "a temporary endeavor undertaken to create a unique product, service, or result" (p. 3). He then discusses the fundamentals of projects as they relate to this definition, giving as the defining characteristics of projects that they are unique and temporary. The basic parameters of a project are scope, costs, and time. The author gives equal, but separate, weight to the two major dimensions of leadership: the task dimension and the social-psychological one.
The book developed out of Cobb's college and graduate school teaching and so is organized as a textbook. Each chapter begins with an overview and ends with a summary, review questions, exercises, and endnotes. Most chapters include a helpful checklist of questions a team leader should be asking when carrying out the activities of the project phase being discussed. For example, the project initiation checklist asks, "What is the mission or purpose of this project? What are the key project objectives?" (p. 29).
Before getting into the mechanics of running a team, Cobb spends an entire chapter on the critical subject of determining the direction and initial specifications of a project. He goes beyond the usual mission statement, objectives, and deliverables to consider the need to identify and to understand the requirements of the numerous official and unofficial stakeholders in a project. Here he discusses the potential political issues that can arise from conflicting concepts of the project's mission. He emphasizes the importance of determining the project scope, budget, and deadlines in advance. Finally, he recommends that a preliminary project plan and a written project charter be developed and agreed to prior to the actual project launch.
In the next two chapters, Cobb gets into the details of developing work breakdown structures and project schedules and of using these to control the progress of a project. The concepts are explained clearly in a generic way that does not rely on a single method or software product. He compares and discusses the basic methods of Gantt charts, critical path method (CPM), and program evaluation and review technique (PERT), and he defines the individual components of schedules, such as dependencies and milestones. Cobb then gives a more detailed example of how to develop a work breakdown structure and project schedule using Gantt charts. Because the focus is on the fundamentals, these chapters should be supplemented by additional training in the specific methods used at a particular company, but the necessary background to allow someone to learn such methods rapidly is here. One confusing inclusion is a passing reference to earned value analysis (EVA), to which he later devotes an eight-page appendix before concluding that EVA has a number of problems that limit its usefulness.
Having covered the basic mechanics of running a project, Cobb then turns to the more people-oriented subject of developing project teams. Unlike some team leadership books that focus on team building as an end in itself, the author discusses how team development should be driven by the nature of the project and the specific needs of the project team members. He points out that in many cases, the same people will serve together on a series of teams over time and that the effort devoted to developing both individuals and groups is an investment that has returns beyond the results of a single project. Cobb discusses the basics of team structure—including size, governance, identity—and interactions are discussed. One interesting item is the discussion of what Cobb calls team ideology (p. 89), a term he uses to include team norms, roles, and goals. He then explains the classic team development cycle of forming, storming, norming, performing, and adjourning, developed by Tuckman and Jensen (1977).
The author devotes an entire chapter to a discussion of the team's interaction with stakeholders and its internal and external communication networks, which Cobb terms the team environment (p. 101). This is an often overlooked and sometimes confusing subject, but Cobb's use of network diagrams clearly explains the importance of structuring communications, both within the project team and externally, for successful project execution. He discusses the nature of social capital, its importance in dealing with other team members and external stakeholders, and also how to develop it.
Cobb then discusses the roles of the team leader in detail, including the evolution of the leadership role as a project progresses, matures, and finally comes to a finish. He notes that a project leader has both internal and external roles, which can be very different and which may need different skills. He also discusses how, even in dealing with individual team members, different approaches may be necessary for each person, depending on their personality and interactions with other team members.
Finally, Cobb covers the basics of report writing, including determining the audience for the report, the standard report structure, how to write an executive summary, and what to include in each of the report sections. This material may be very familiar to some readers but completely new to those who have never had formal training in the subject. It provides an excellent reference and refresher on this important communication tool.
If the book has one weakness, it is the lack of actual case studies. Cobb tries to get around this by using invented scenarios to illustrate his points, but the book would have been livelier and somewhat more relevant if he had cited actual projects. Overall, this book is an excellent introduction to project team leadership, and I recommend that every newly appointed team lead receive a copy of it.
Released:
October 2, 2013, 12:32 pm |
Updated:
October 30, 2013, 12:06 pm
Keywords:
PDMA Blog
1521581558
Feedback:
0 Comment(s) — Latest:None