Book Review: Kellogg on Branding: By the Marketing Faculty of the Kellogg School of Management
By: PDMA Headquarters on Oct 02, 2013
Book Review: Kellogg on Branding: By the Marketing Faculty of the Kellogg School of Management
By: Alice M. Tybout and Tim Calkins (eds.), Hoboken, NJ : John Wiley & Sons , 2005 . 334+xvii pages
Review by: George Castellion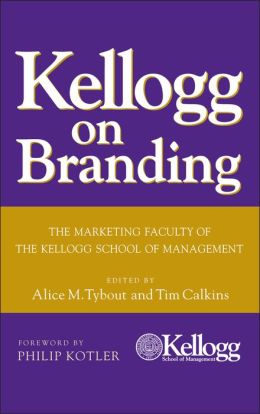 New product practitioners, especially those working in business-to-business (B2B) products, may doubt the value of branding analysis early in the product development process. However, a skeptical practitioner who reads Kellogg on Branding will gain a working knowledge of practical branding actions that, if employed in the front end, can ensure a new product's success.
In the foreword, Philip Kotler lays out the reasoning for using branding when creating a new product. "Branding is much more than attaching a name to an offering. Branding is about making a certain promise to customers about delivering a fulfilling experience and a level of performance. Therefore, branding requires that everyone in the supply chain—from product development to manufacturing to marketing to sales to distributor—work to carry out that promise. The brand becomes the whole platform for planning, designing, and delivering superior value to the company's target customers" (p. ix).
Both seasoned and inexperienced practitioners will discover insights in this authoritative book on which they can profitably capitalize. The book includes 20 chapters, an introduction on the challenges of branding, and a seven-page index.
Kellogg faculty members wrote the introduction and chapters 1–13 of sections I–III. These chapters skillfully meld sensible applications and academic theory. Gathered in section IV are seven chapters written by senior managers, a few of which are not forthright and in which the authors wrap observations in shopworn platitudes. Most, however, preserve the high quality and ease of use of the introduction and chapters 1–13.
The book's section I, "Key Branding Concepts," contains chapters on "Brand Positioning,""Designing Brands," and "Brand Meaning." Section II, "Strategies for Building and Leveraging Brands," contains chapters on "Competitive Brand Strategies,""Brand Extensions," and "Brand Portfolio Strategy."
There are seven chapters in section III, "From Strategy to Implementation." I discuss two of these chapters—chapter 9, "Brand Strategy for Business Markets" and chapter 11, "Branding in Technology Markets"—later in this review. Other chapters in this section cover topics such as services branding, effective advertising, relationship branding, measuring brand value, and building a brand-driven organization.
In section IV, "Branding Insights from Senior Managers," Gary A. Mecklenburg, president and chief executive officer (CEO) of Northwest Memorial HealthCare, wrote an exemplary chapter, "Branding and Organizational Culture." Though the chapter is short, Mecklenburg clearly describes how to build a successful brand for an organization that had lost its sense of direction and sense of purpose. He learned these lessons in the health-care service industry. However, his experiences are applicable for new product practitioners in B2B product companies and in consumer packaged goods (CPG) product companies.
Branding looks easy. However, inexperienced new product practitioners soon learn that creating and building brands encompasses three key challenges: cash, consistency, and clutter. Tim Calkins discusses these three C's of branding in the Introduction.
The challenge of cash occurs because brands, like new products, are long-term assets. Much of a brand's value lives in the future. But many companies reward managers for delivering short-term financial results. Calkins reminds, "And in a supreme bit of irony of business, a manager who boosts short-term profits while damaging the long-term health of a brand is often rewarded, while a manager who invests in a brand at the expense of short-term results is often penalized. Managers who invest in branding without setting achievable expectations, may—if short term results are weak—not survive to see the benefits of their investment" (pp. 4–5). The second challenge of branding is consistency: getting the organization to own the brand. Mecklenberg's chapter is a reliable guide for showing how to manage an organization so it lives up to its brand promise over time. The final challenge is clutter. A product concept's brand positioning statement must be distinct, focused, and unique. It must be grounded in evidence-based judgment about the goals and views of a targeted group of prospective customers.
CPG companies understand that building strong brands is important. However, some B2B companies are ambivalent about the importance of branding. Skeptical B2B practitioners are urged to read chapters 9 and 11.
Mohanbir Sawhney, author of chapter 11, points out that it is hard for technology companies to embrace branding. These companies act as if success in marketplace is driven solely by technical innovation, product feature improvements, and improving price performance. He then points out,
Yet, the concept of using brands to develop and sustain competitive advantage has never been more important for technology firms. Competing based on feeds and speeds—a relentless improvement of price performance—quickly becomes a competitive rat race with no winners. As technology markets mature, product differentiation becomes difficult to sustain because competitors can often imitate new features quite rapidly. And adding new features to products produces diminishing marginal returns beyond the point where technology products become good enough for most customers. Technology firms must look elsewhere for ways to set themselves apart from competitors and to inspire loyalty among their customers. Building strong brands offers an attractive avenue for technology firms to insulate themselves from competition and commoditization pressures." (p. 201, italics in original)
A hierarchal brand architecture is suitable for a technology company. At the top is the corporate brand; just below is platform branding—product families built on a common technology or service platform. The bottom level in the hierarchy contains ingredient, or product-specific, brands. Many B2B product-specific brands are incorporated into host products sold by other firms. If the host product is new or commoditized, using an ingredient brand with high brand equity can benefit the host product.
Chapter 9's authors, James Andersen and Gregory Carpenter, discuss the challenges of managing brand strategy for business markets. In B2B markets, brands only recently became of interest. As a result, compared to consumer goods, the benefits of devoting time, effort and money to brand building are less well understood. Buying new B2B products also, in contrast to CPG products, may involve many individuals in a prospective customer company taking part in the buying decision.
Anderson and Carpenter outline how to create powerful B2B brands. "Indeed, brands are strategically endowed with value through the actions of the organization. In developing a unique value proposition, by communicating that position within the organization, and by implementing a strategy to deliver the promised value, an organization's actions convey a brand's value to customers" (p. 170). In their view, the foundation of branding new products is positioning. From positioning flow certain branding actions. The items of positioning are the target market, the product's concept, and the concept's value proposition.
Compelling value propositions for new products share three characteristics: (1) They focus on value important to the target customers and express it in language familiar to these customers; (2) they disclose the value of the brand crisply and effectively; and (3) they provide the foundation for the next development stages. "Brands are intellectual assets—the thoughts, feelings, and images that a brand evokes in customers' minds. Brand value, or brand equity, is derived from the impact that those thoughts, feelings, and associations have on customers' behaviors and ultimately their purchases" (p. 180, italics in original).
Branding is an industrial-strength tool in a practitioner's product management and development toolbox. There is no shortage of books giving advice on branding: A search on Amazon.com uncovers 604 titles containing branding in their title. Kellogg on Branding, based on an executive education offering successfully launched at the Kellogg School in 2003, is the one for new product practitioners to read.
Released:
October 2, 2013, 12:09 pm |
Updated:
November 20, 2013, 12:23 pm
Keywords:
PDMA Blog
1521581420
Feedback:
0 Comment(s) — Latest:None