Book Review: Accelerated Product Development: Combining Lean and Six Sigma for Peak Performance
By: PDMA Headquarters on Oct 02, 2013
Book Review: Accelerated Product Development: Combining Lean and Six Sigma for Peak Performance
By: Clifford Fiore, New York : Productivity Press , 2005 . 210+xiv pages
Review by: Ruediger Klein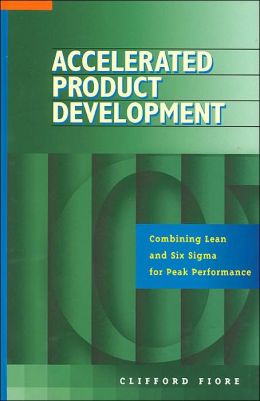 Shortening product development cycle times to gain time to market has long been an interest of the new product development community (see, e.g., Cooper, 2001; Smith and Reinertsen, 1997). As with many fields of study, specialties emerge and techniques from other fields are applied to solve its thorniest problems. Now, three new books contribute solutions in very different ways.
Accelerated Product Development applies the methods aggregated in Six Sigma and lean methodologies to new product development.Fast Innovation, while also applying concepts from the lean movement, extends the subject to cover voice of the customer (VOC), open innovation, quality function deployment (QFD), and balanced scorecard in the context of new product development. Finally, Projects at Warp-Speed with QRPD focuses on making a single new product development project successful by applying most of the concepts the other books outline. The three books overlap in some areas while emphasizing others.
Accelerated Product Development introduces readers to the application of lean concepts and Design for Six Sigma (DFSS) to product development processes. The target audience is business managers. This book is divided into five parts: (1) a description of the opportunity in the product development area; (2) an approach for launching process improvements in product development; (3) how to stabilize the process; (4) streamlining the process; and (5) how to improve product quality in the product development process.
Applying a new framework to a discipline offers opportunities to see things differently, to question commonly accepted wisdom, and to improve areas overlooked by the discipline's experts. The author succeeds in uncovering such improvements throughout the text. Two examples are his discovery that testing and validating the product is nonvalue added per the definition of the lean methodology (p. 33) and his assertion that high product cost and poor design quality are a result of both product variation due to limited reuse and excessive process variation (p. 117). Methods from the factory have been applied to new product development before (Reinertsen, 1997), but the lean and Six Sigma movements present new perspectives on the subject.
The book offers practical suggestions on how to effect change in an organization, how to conduct baseline assessments, and how to assess the maturity of each phase of your product development process. The treatment of product development systems, portfolio management, and design strategies is too light for this reviewer's taste.
The emphasis on defining newly introduced terms is a strength of the book, which helps the reader greatly in staying with the author. However, the utter lack of references is a weakness (see p. 22 referring to Five S (5S) methods, which are described, e.g., in Hirano, 1995, by the same publisher). The author also does not produce substantiating evidence for claims, such as the one on p. 5 claiming that nearly 70 percent of the product costs are locked in by the time the concept enters the design phase. Although some readers may be familiar with possible sources such as McGrath (1992), others may mistake this as the author's own data.
Fast Innovation follows a series of books on lean Six Sigma by Michael L. George and is coauthored by two of his colleagues at George Group Consulting LP. It is targeted at chief executive officers and managers to provide an overview and update to two top-of-mind topics: lean and innovation. As such, many of the concepts and methods such as disruptive innovation, ethnography, or open innovation will be familiar to professionals immersed in new product development and have been explained in more depth elsewhere. However, the main point of the authors is that to sustain high rates of growth, companies must institutionalize innovation, which means being innovative reliably as opposed to merely occasionally.
Fast Innovation is divided into three parts. Part I, "An Executive's Guide to Fast Innovation," provides an overview of the theory of fast innovation; part II, "Building Corporate Innovation Capacity," deals with organizational issues; and part III, "Deploying Fast Innovation Projects," advises on putting things into practice. Though on surface this seems like a clean structure, the book at times appears disorganized, as topics such as VOC, reuse, and ideation are repeated in the three parts.
One helpful aspect of the book is the addition of three appendices for readers who are interested in the mathematical underpinnings of task variation and its impact on lead time, time buffers, and feedback systems, as well as innovation and information creation. This, together with the extensive references throughout the text, allows readers to deepen their understanding of the introduced topics, a welcome distinction from Accelerated Product Development. On the other hand, the extensive references and use of well-known large-company case studies also makes one wonder about the actual experience base for the recommendations (see Projects at Warp-Speedfor a different approach). The liberal use of equations in a text targeted at executives is somewhat surprising or perhaps a sign of the times.
Projects at Warp-Speed with QRPD is unlike any other book. No one in his or her right mind, other than this reviewer, would ever read this book cover to cover. Not only does it weigh in at over 4 pounds, with over 700 8.5- by 11-inch pages; also, by page 100 the same graphic featuring a space shuttle rocketing into orbit three times has appeared. This book is intended for several distinct groups or uses, each of which only requires reading a portion. The inside front cover provides a quick reference by the reader's role. One role conspicuously missing is that of students, as the text contains many exercises at the end of each part.
Few items in parts I through III, covering methodology, paradigm, and toolkit, will be new to any avid reader of new product development literature. See, for example, the catch phrases of QRPD (p. 21): (1) Do Less Sooner; (2) Slow Down to Speed Up; (3) Blow Up Early and Often; and (4) Spend Now to Save Later.
In 2006, hardly anyone would disagree with these tenets. Another example is the objectives of product development (p. 40): (1) performance (project vision); (2) time (milestones); (3) costs (product, project); and (4) risk (risk list). Compare these to the four objectives from Smith (1997): (1) product performance; (2) market introduction date; (3) product unit cost; and (4) development project expense. Seeing the level of risk as a product development objective may bring the right level of focus but is hardly a new idea.
In part II, "QRPD Toolkit," the author first provides a checklist for each of the 10 commandments of QRPD and then provides readings and exercises for each one. The commandments are as follows (p. 49):
Focus: Focus on a clear, limited, and on-target vision.
Right team and leader(s): Assemble the right team and leader(s).
Cross-functional: Initiate early cross-functional cooperation.
Synergistic: Create a synergistic, mission-oriented, productive environment.
Reward: Reward all participants commensurably.
Innovate: Use innovative, parallel, iterative design strategies.
Invest: Invest money to buy time and tools and minimize risks.
Prototype: Prototype and test key design concepts early.
Flow: Follow the flow process to meet milestones, manage risk, and ensure quality.
Early feedback: Get early feedback and pinpoint defects quickly.
Again, other authors have made these points many times before. Part III provides a good overview of project leadership and teams with some handy forms and review of such things as the Myers-Briggs Type Indicator and the four phases of team development: forming, storming, norming, and performing. The conclusion then is that this book is a reference to good practice instead of introducing truly new ideas.
Part IV, "Flow: The QRPD Step-by-Step Process Guideline," is a 200-page treatment of every process step from concept through development and delivery. Visualize your company's process documentation enhanced by readings and exercises. This reviewer has never seen anything quite like it in book form. For a new start-up team without a common language and process to follow, this section alone is golden. For established companies it is easy to compare the deliverables and process steps against their process to uncover potential deficiencies.
The book is in its ninth edition, but the cover still bears a 1980s style. Some graphics in the book are straight from the clip-art collection bundled with Microsoft Office. This substance-over-style appearance could be intentional as it endears the likely readers—product developers and managers—to the roll-up-the sleeves, hands-on content.
These three books, though distinctly different in their approach, clearly deal with the very same topic of how to develop new products faster. The surprise favorite for this reviewer is Projects at Warp-Speed for its depth and detail.
Released:
October 2, 2013, 11:52 am |
Updated:
October 30, 2013, 12:40 pm
Keywords:
PDMA Blog
1521838097
Feedback:
0 Comment(s) — Latest:None