Book Review: Leadership, Management, and Innovation in R&D Project Teams
By: PDMA Headquarters on Oct 02, 2013
Book Review: Leadership, Management, and Innovation in R&D Project Teams
By: Leon Mann, Westport, CT : Praeger Publishers , 2005 . 335+xiv pages
Review by: Palie Smart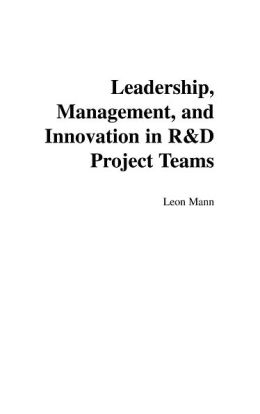 Although the role of research and development (R&D) in the innovation process is something most managers might take for granted, competitive pressures often lure investments away from this vital function and its productivity. Leon Mann, editor and university professor, elaborates on some important distinguishing factors of an R&D organization, which have implications for its leadership, management, and innovation. This book was written in collaboration with his team of research colleagues, who contribute to various chapters, and is based on their empirical research work. The audience for this book includes managers and leaders of R&D, marketing, and business development in organizations and academics and master-level students in the fields of new product development and innovation management.
Mann's personal interest in R&D teams appears to stem from the changing nature of teamwork and his curiosity about how individuals put aside individualism for the sake of collaborative success. He clearly recognizes the crucial role of R&D and addresses the differences between R&D teams and other types of teams. This book must not be mistaken as a technical script on R&D management, as it provides a management and organizational account of activities of R&D leaders. In particular, it explores the role of leadership in the context of R&D project teams. Some basic premises in the book suggest that the notions of centralized R&D and the sole innovator have diminished over previous decades and that innovation has become more of collaborative affair. This important trend was similarly observed byChesbrough (2003). Mann and other chapter authors make an important distinction between the research and development components of R&D and highlights how projects in these different camps can vary in design, operation, and outcome.
The book centers around Mann's research study titled "Effective R&D Project Leaders," (Mann et al., 1994), funded by the Australian Research Council and sponsored by industry. This study is claimed to have been conducted at a time when few studies had adequately addressed the role of the project leaders in R&D project teams. Mann believes that some of these early studies portrayed R&D project leaders as individuals with good technical skills yet lacking in important commercialization skills such as customer relationship management and leadership. This was an important stimulus for Mann to initiate a systematic study to track a sample of 58 new and experienced leaders for approximately two years to investigate how they dealt with the challenges of R&D project management and leadership.
The author capitalizes on the growing interest in the characteristics of highly creative and innovative teams, such as hot groups, top teams, and elite teams, and the organizational conditions that drive peak performance. Mann and his colleagues differentiate R&D teams from non-R&D teams by observing that R&D teams have a special mandate for innovation rather than implementation. Consequently, R&D teams are likely to have broad autonomy and an extended team life span yet will vary depending on whether or not they are found in university labs, pharmaceutical companies, automobile companies, or other research-intensive organizations. Furthermore, Mann's reflections on the term R&D emphasizes the twin aspects of science and technology, and he goes on to advise that the distinction between research and development has implications in terms of organization, customer expectations, and especially the risk of failure. In acknowledging that R&D teams are therefore different from other types of teams, Mann clearly articulates his position by stating that "R&D teams are quintessential knowledge teams" (p. 3). Often the outcome of their work is new ideas, technical procedures and products, patents, publications, and technical reports.
The book is suitably laced with captivating stories and episodes of R&D leadership success, using case-study examples with relevant academic references. Mann and his research team use project journey as a metaphor to relate a project to a journey of many stages with milestones to be met and with obstacles to be overcome. The meaning woven into this metaphor suggests that good teams pass milestones, deal with obstacles, and so move forward, while troubled teams often lose their way. I enjoyed the use of metaphors as a way of introducing new meanings, particularly around organizational factors that are often intangible yet significantly impact high performance.
The book is organized according to the key learnings from the researchers' study of leaders and their teams in R&D settings. Chapter 1 introduces the study by using a specific project in the research to demonstrate the key concepts of R&D organization management, leadership, teams, and customers in the context of innovation. Chapter 2 describes the study, and chapter 3 discusses the notion of leadership and proposes four specific roles. Chapter 4 examines the capacity for transformational leadership among the sample of R&D leaders. Chapter 5 presents an important dialogue concerning trust in the context of R&D leadership. Chapter 6 discusses the leader's openness to new learning as an important factor in team performance. Chapter 7 elaborates on team climate among four key dimensions. Chapter 8 focuses on the need for effective team communication. Chapter 9 discusses the effects of team structure and membership on project performance. The next chapters (10–13) shift the emphasis to factors more external to the team, such as organizational support for innovation and the expectations of customers. Subsequent discussions identify characteristics of terrific and troubled teams, and the final chapter brings together the key findings of the study and offers some future directions.
Here I summarize the key insights from this book that contribute to our understanding of leadership and the contextual factors that create the conditions for high-performance R& D teamwork.
Leadership. Mann and his colleagues identify four leadership roles: knowledge builder, team builder, stakeholder liaison, and standards upholder. They extend their discussion to transformational leadership—being able to inspire and stimulate team members to perform beyond normal expectations. Interestingly, project leaders were asked to self-assess their transformational leadership qualities and performance, and this was compared to the views gained from their team members. The resultant feedback demonstrated whether or not leaders were well calibrated and actively seeking greater self-awareness and self-monitoring. Their elaboration of leadership draws on the notions of learning, trust, and mutual respect.
Contextual factors. The leadership discussion is complemented by a discussion of team, organization, and manager, in which Mann and his team emphasize the leader's role in facilitating the conditions for innovation.
First, the team factor discusses the importance of a positive team climate for improving innovativeness, especially effective communication, team size, and structural and membership stability for project continuity.
Second, the organization factor examines the organizational setting and context from the perspective of organizational support for innovative R&D. Mann identifies three organizational support factors: (1) organizational encouragement for innovation; (2) availability of resources (e.g., staff, equipment, facilities, time, access to information); and (3) employee empowerment, or autonomy (p. 212).
Third, the manager factor refers to the role of the research manager, who may play a significant role in project team selection. This manager's role can include being a mentor, champion, and advisor to teams and their leaders. Such roles are central to R&D team performance, as these managers are often involved in negotiations with senior executives for scarce resources and are responsible for monitoring team performance. However, Mann cautions that the research manager is a threatened species as organizations increasingly adopt flatter structures for effective coordination and control or simply to pursue cost cutting and downsizing initiatives. He favors encouraging this role and its significant contribution to the success of project teams and overall corporate R&D performance.
Terrific and troubled teams. Later sections of the book unfold a useful characterization and comparison of terrific and troubled teams. Terrific teams have (1) leaders who capably perform the roles of knowledge builder, team builder, and stakeholder liaison; (2) a leader with a transformational leadership style; (3) clear project objectives agreed to by all team members; (4) good task allocation and coordination; (5) high trust between team and leader; (6) a positive team climate in which ideas can be freely exchanged; and (7) team members who are team players (p. 283).
In comparison, troubled teams exhibit (1) leaders deficient in key role capabilities; (2) leaders who felt out of depth in a difficult situation; (3) flawed leaders with attitude problems; (4) unclear team objectives and goals; (5) poor team climate; (6) personality clashes within the team; (7) key skills or resources lacking; and (8) changing demands and expectations (p. 284).
The book ends with a brief consideration of future directions in the organization of R&D in terms of globalization, interorganizational innovation, virtual teams and the onslaught of new technologies.
Released:
October 2, 2013, 11:07 am |
Updated:
November 20, 2013, 9:52 am
Keywords:
PDMA Blog
1516551987
Feedback:
0 Comment(s) — Latest:None