Book Review: Why People Buy Things They Don't Need: Understanding and Predicting Consumer Behavior
By: PDMA Headquarters on Oct 02, 2013
Book Review: Why People Buy Things They Don't Need: Understanding and Predicting Consumer Behavior
By: Pamela N. Danziger. Chicago: Dearborn Trade Publishing , 2004 . 291+xi pages
Review by: Steve Guerin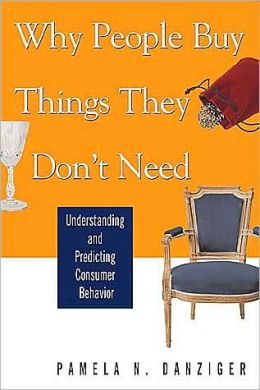 This is an intriguing read, and the author is a recognized expert in consumer marketing and psychology. The content aptly answers the question posed by the title. Her goal in writing the book could not be better said—or stated more gutsy—than in the last chapter: "We need to learn how to get people to buy more of the things they don't need" (p. 266).
The book's basis is survey research of spending habits augmented by demographics, industry snapshots, retail sales, and case examples. Part 1 (four chapters) introduces the background of why people buy things and outlines 14 justifiers that gives customers permission to buy something not needed; part 2 (four chapters) delves into what people actually buy, using 37 distinct categories of products; and part 3 (two chapters) discusses the future of discretionary spending using trends in demographics, education, consumer markets, the retail landscape, and other factors. The author proposes a series of strategies in the last chapter.
Marketers of consumer products, brand managers, product developers, and senior management would benefit most from this thought-provoking book. By gaining insight into what drives consumers to buy, the book may help readers to think about how they address the emotional aspect of a purchase.
Pamela Danziger puts the power of consumers in a potent perspective in the introduction:
You will also discover a new way to look at your customers, not as a point on a data graph, but as real, complex, irrational but strangely predictable human beings who love and fear and strive to feel pain. They are wonderful. They are frustrating. They are awe-inspiring. They are fascinating. Moreover they are our customers. We desperately need them. And we must respect them. That is why you as a business and marketing executive need this book, because without the consumer your business is destined to become history. (p. xi)
The author starts by providing a simple answer to the challenging question posed by the title of chapter 1, "Why Do People Buy Things They Don't Need?" by exclaiming, "Because they do need!" (p. 1) and later, "The act of consuming, rather than the item being consumed, satisfies the need" (p. 1).
Consumer spending in the United States has played a long-standing key role in the economy, historically representing 62 to 77 percent of the gross domestic product. Furthermore, discretionary spending plays a large role in personal consumption expenditures—41.8 percent in 2000. "In sum, consumers and their discretionary spending—on wants, not needs—make a surprisingly large contribution to the nation's overall economy" (p. 6). Danziger concludes, "On the one hand, consumers are not logical, and what they want, desire, and dream of owning is not logical. On the other hand, they need logical reasons to justify the purchase of products they don't need" (p. 30).
The author conducted a quantitative telephone survey of a statistically representative sample of 1,000 U.S. households in 2000, 2001, and 2003. The 2001 survey was conducted in late August, before the September 11 tragedy; consequently, the 2002 survey was cancelled. She makes many references in the book to the impact of 9/11 on the purchase of specific products, categories, and on selected trends.
Danziger studies four types of discretionary spending/purchases:
Utilitarian: practical, functional, useful; things perceived to make life better in meaningful, measurable ways
Indulgences: life's little luxuries bought without guilt
Lifestyle luxuries: practical things but are "more than is needed" (p. 6)
Aspirational luxuries: purchased for the pure joy of ownership
Figure 3.1 (p. 25) presents and extensively discusses an interesting "discretionary products matrix" that "… universally describes discretionary spending for American consumers at every income level and life stage." This matrix is a positioning diagram, with the four types of discretionary purchases positioned against four values: extravagant, emotional, practical/necessity, and physical/material.
The author also conducted a psychographic study of the typical American consumer. Five segments emerged when examining the attitudes and motivations that drive consumers to purchase discretionary items: self-expressives (28 percent), careful indulgers (23 percent), impulsives (18 percent), conflicteds (17 percent), and bargain hunters (15 percent). From this she creates profiles; for example, bargain hunters are the least highly motivated consumers of discretionary items—deriving little pleasure and not impulsive. You may be sending the wrong marketing messages if you are unaware of such traits.
Chapter 4 details the 14 justifiers: "For things consumers don't need they give themselves 'permission' to buy by stacking various rationally based justifiers in favour of the purchase" (p. 59). The top five justifiers (with percentage of respondents indicating it as important) are quality of life (89 percent); pleasure (84 percent); beautify home (83 percent); education (83 percent); and relaxation (82 percent). At the bottom is status, with only 30 percent.
Chapter 6 deals with personal luxuries; chapter 7 with entertainment, recreation, and hobbies; and chapter 8 with home furnishings and home decor. In all, the author examines 37 product categories in these three broad areas. One example in the sporting goods and exercise equipment category illustrates the real value of the information:
Men buy more actively.
This category skews toward a more youthful consumer, although purchase incidence is strong through age 54.
White and Hispanic households buy more actively than blacks.
Rising income and education levels favor purchase.
Households with children buy more often.
Part 3, "The Future of Discretionary Spending," considers how to maximize opportunities over the horizon. For instance, the "… overall consumer economy will polarize" (p. 247), with the generational waves of the Boomers and the children of Boomers—Millennials—at the upper and lower levels, respectively, and with Generation Xers in the middle. This will affect discretionary spending and has a corresponding affect on household ownership, household sizes, income, and educational attainment. Future consumers will be more educated, ethnic groups will need separate marketing, the Internet will rise as a source of products, and consumers will crave reality.
Chapter 10 puts it all together by providing some concrete strategies. One example is to appeal to customers who are in motion, or who have recently bought and will make another purchase on the same visit or shortly thereafter. Another example is to translate the brand into the "why": If you do not understand why people buy your brand, then it is only hit and miss that the brand will connect with the consumer.
The book is chock full of juicy tidbits of data, observations, quotes, and other items to support a particular point. Some useful examples related to product development or positioning are the following:
Regarding using competitive intelligence in new products: "This approach to new product development is a guarantee of product mediocrity as the cycle of competitor copying competition turns back on itself in an endless loop" (p. 17).
Regarding pricing: "The higher the price, the harder consumers must work to find justifiers to give permission to make the purchase" (p. 81).
Regarding positioning a product: "Hallmark doesn't look at itself so much as a greeting card company as a company whose job it is to support and enhance relationships between people" (p. 86).
Regarding proliferation of venues to purchase products: "… Consumers can find the product—any product—they need in so many new and different places, the shopping equation is reduced to one thing: What kind of shopping experience do I desire" (p. 99)?
Regarding the experience of buying products: "From things to experience, that is the motto for the future for marketers and retailers that sell things people don't need" (p. 255, italics in original).
Why People Buy Things They Don't Need is easy to read, and I consider it a "must have," reasonably priced addition to the bookshelf of the marketer, product designer, and retailer, keeping in mind that it is but one tool in the product development arsenal. The underlying assumption that marketers have been missing the boat by not understanding why people buy could be viewed as inflammatory; however, one might ask, "Who has done the kind of research the author has done?" About the only real limiting factor about the book is that it is geared toward consumer products, but marketers and product developers of industrial and business-to-business products can nevertheless gain much from the book.
Released:
October 2, 2013, 10:59 am |
Updated:
October 30, 2013, 12:12 pm
Keywords:
PDMA Blog
1516532127
Feedback:
0 Comment(s) — Latest:None