Book Review: The PDMA ToolBook 2 for New Product Development
By: PDMA Headquarters on Oct 02, 2013
Book Review: The PDMA ToolBook 2 for New Product Development
By: Paul Belliveau, Abbie Griffin, and Stephen M. Somermeyer, eds. Hoboken, NJ: John Wiley & Sons, Inc., 2004. 546+xxii pages.
Review by: Preston G. Smith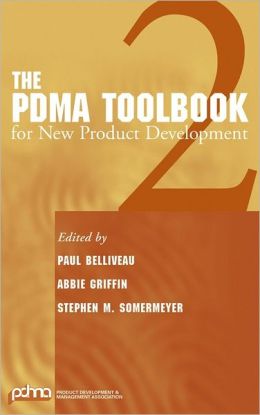 The PDMA ToolBook 2 for New Product Development, like ToolBook 1 (Griffin, 2002), is an authoritative, methodological examination of selected new product development (NPD) tools. Those who liked ToolBook 1 will also enjoy ToolBook 2. Both books were written by experts and provide relevant and clear direction on how to use NPD tools. ToolBook 2 has 35 contributing authors; five of them also appeared in ToolBook 1. The editors of ToolBook 2 are the same three individuals, and they skillfully blend contributions so that there is a consistent style across the 33 chapters of the two books. Both books have good indexes, which is particularly important in an anthology.
ToolBook 2 has 17 chapters grouped into four parts. Most of the chapters describe the tool in a step-by-step fashion and provide examples to assist the reader with application. Some are common, basic product development tools that people ought to know, and some are emerging methods. This review highlights an exemplary chapter for each of the book's four parts. Selection criteria used were the tool's relevance, potential power across a broad cross-section of professionals, and the author's apparent front-line experience with contemporary product development issues.
Part 1, "Organizational Tools," provides an enterprise perspective to NPD. The strongest chapter seemed to be chapter 2, "Bringing Radical and Other Major Innovations Successfully to Market: Bridging the Transition from R&D to Operations." This chapter describes a transition function for facilitating the transition activities of research and development (R&D) project teams, business unit interfaces, and senior management. The results are a decrease in project uncertainty and an increase in the likelihood of business unit adoption. The chapter provides self-scoring assessments to help the reader understand key dimensions of transition readiness.
The other chapters in part 1 extend the enterprise perspective. These chapters include the daunting challenge of "Achieving Growth through an Innovative Culture,""Turning Technical Advantage into Product Advantage,""Enhancing Knowledge Creation for Breakthrough Innovations,""Virtual NPD Teams," and "Codevelopment Partnerships."
The editors of ToolBook 2 recommend that all six chapters of part 1 should be read in their entirety. We agree with their assertion that "Model behavior by leadership [presumably the top management] is an important factor to any organization's performance" (p. 1). However, part 1 at times seems a bit superficial, probably borne of ambition to address fundamental, strategic issues in a limited amount of space.
The four chapters of part 2, "Tools for Improving the Fuzzy Front End," provide, overall, the strongest of ToolBook 2's four parts. We particularly liked the chapter titled "The Birth of Novelty: Ensuring New Ideas Get a Fighting Chance," which describes the approach SWIFT: strengths, weaknesses, individuality, fixes, and transformation. This chapter can help developers identify and focus product development efforts. NPD teams can use SWIFT to evaluate, develop, and strengthen highly novel concepts generated in the fuzzy front end of the NPD process.
The other chapters in this part are compelling as well. The chapter on "The Voice of the Customer" is one of the most complete, yet compact, tutorials to be found on the topic. The chapter on "Ethnographic Needs Discovery" provides a useful way to connect to the customer. The chapter on "Shifting Your Customers into Wish Mode" is a useful tool for discovering opportunities.
Part 3 is titled "Tools for Managing the NPD Process," and the chapter on "IT-Enabling the Product Development Process" is the chapter that best fits the stated focus. The chapter describes both a maturity model for information technology's use in NPD and a project management approach for accomplishing it.
The remaining three chapters of part 3 are interesting additions for product innovators. "Establishing Quantitative Economic Value" tackles a challenge for developers, especially as organizations adopt more agile development methods. "Integrating a Requirements Process into New Product Development" provides a process to facilitating cross-functional ownership and monitoring of requirements throughout product development. "Toolkits for User Innovation" promotes the benefits of shifting need-related design activities to users. Interestingly, these chapters cover voice-of-the-consumer (VOC) subject matter, and one could easily argue that they would fit equally well in part 2. We return to this point about conceptual organization at the end of the review.
Three chapters make up part 4, "Tools for Managing the NPD Portfolio and Pipeline." Managing an NPD portfolio is all about making choices: which projects are in, which are out; the level of resources from project to project; and how all projects fit together in light of an organization's capability and strategy.
The process described in "Product and Technology Mapping Tools for Planning and Portfolio Decision Making" will help anyone interested in understanding the usefulness of mapping as a planning tool. Maps utilized in an automobile producer example were both high level and strategic, as well as tactical—involving logic that is more complex and detailed. Implementation can begin at a very modest level and continue to build on existing maps as the organization builds competence in the use of their application.
Part 4 is rounded out by the chapter on "Decision Support Tools for Effective Technology Commercialization," which describes six attributes that characterize an effort as a technology development project or a product development project. The authors say that differences have managerial implications for time-to-transfer technology and its relationship to product launch timing. A chapter on "Implementation of NPD Portfolio and Pipeline Management" describes five levels of organizational maturity in the use of portfolio and pipeline management. A team charged with improving organizational performance would first diagnose the current maturity level, then articulate a value proposition for improvement, and finally create and execute an improvement plan.
Overall, the chapters that comprise ToolBook 2 offer sound contributions to product development professionals. All chapters offer useful methods and concepts for individuals, teams, and organizations to advance NPD abilities, and the tools apply to most organizations most of the time. Even if your organization embraces only a few of the book's tools, the exposure to the many possibilities is time well spent.
This second PDMA toolbook is a worthy continuation of the series. The metaphor of a book as a toolbox is attractive. The total set of product development tools numbers in the thousands and could easily overwhelm an individual or organization. Presumably, there will be a continuation of the ToolBook series, and the editors should address some conceptual weaknesses in organizing the tools. From the emphasis on VOC, it seems that VOC tools are the most important of all NPD tools. One reason for this impression is that part 2 ofToolBook 2 is titled "Tools for Improving the Fuzzy Front End (FFE)," but the chapters only focus on VOC tools. Many novices mistakenly assume that the FFE includes only the customer-market dimension instead of also including the technical development dimension. As was previously noted regarding part 3 its tools also cover VOC-related ideas, thus reinforcing this impression.
Both ToolBook 2 and ToolBook 1 provide an NPD glossary. Though valuable as reference, the glossary does not clarify the role or use of NPD tools and seems out of place. Omission of a general NPD glossary from future ToolBooks is recommended.
Professionals generally agree that NPD has several major themes—including the notion that NPD is a process—and integration of efforts is one key to achieving good results. Perhaps these notions should become foundations for structuring future ToolBooks. Alternatively, as was done in ToolBook 1, the editors could follow the approach of organizing by who uses the tool: senior managers—who may look at portfolio and process elements—functional managers, project leaders, and subject matter experts, as they did in ToolBook 1.
Released:
October 2, 2013, 10:49 am |
Updated:
October 30, 2013, 11:49 am
Keywords:
PDMA Blog
1516552104
Feedback:
0 Comment(s) — Latest:None