Book Review: The PDMA Handbook of New Product Development
By: PDMA Headquarters on Oct 01, 2013
Book Review: The PDMA Handbook of New Product Development
By: Kenneth B. Kahn, George Castellion, and Abbie Griffin. Hoboken, NJ: John Wiley & Sons, Inc., 2005. 625+xiii pages
Review by: Preston G. Smith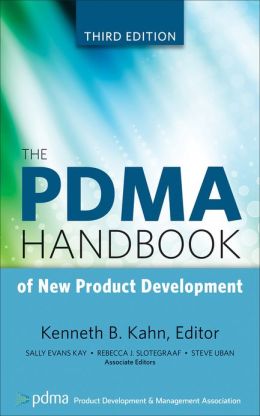 The editors of the second edition of the PDMA Handbook have "put together a guidebook to help practitioners make improved decisions when traveling through the difficult landscape of new product development" (p. ix). The second edition contains much that is new and much that reflects the changes to the new product development field. Like the first edition, it will be a valuable resource to new product development professionals across functions, industries, and geographies.
In the mid-1990s when the first handbook was published (Rosenau et al., 1996) the paradigm of a linear phase–review product development process was being elaborated by the invention and dissemination of tools for listening to the voice of the customer (VOC), product selection, market segmentation, and effective launches. The first edition mentions portfolio in only one chapter and does not mention those knotty and boundary-crossing issues such as platforms, roadmaps, or product lifecycles at all. In the first edition, PDMA president Al Page could claim with confidence that "the thirty chapters [of the handbook] present a complete picture of the knowledge needed for effective product development" (p. ix).
Although the second edition has been updated to address the complexity of product development knowledge, the editors follow the same roughly linear structure of the first edition. The six parts of the second edition are
Part One: Before You Get Started
Part Two: Organizing the Development
Part Three: Getting Started
Part Four: Doing the Development
Part Five: Finishing the Job
Part Six: PDMA Research on NPD
The 36 chapters cover a wide variety of subjects, and the detailed table of contents will help readers find the chapters that meet their needs. However, the quasilinear structure is a bit confusing. A more helpful organization would begin with the chapters describing innovation as a process to manage the aggregate of new product projects to fit with and to enhance organizational goals. Such chapters include Robert Cooper's "New Products—What Separates the Winners from the Losers and What Drives Success," which presents both project and organizational success factors; Marvin L. Patterson's "New Product Portfolio Planning and Management"; Paul O'Connor's "Implementing Product Development," which presents an enterprise-wide, front-to-back architecture of innovation O'Connor developed with one of the authors of this review; and "Process Ownership" by W.M. Watson. Other chapters elaborating on this organizational focus, which is almost entirely missing from the first edition, are chapter eight in part two—Peter Koen's "Innovation in Large Companies: Approaches and Organizational Architecture," which promises to provide "an overview of the overall approaches and organizational architecture to innovation in large corporations" (p. 111)—and Greg Evans and Patrice Gausselin's "Technology Management."
Stephen Markham and Patricia Holahan's "Influence and Politics in Product Development" also contributes to an appreciation of new product development as an organizational issue. Their key point—that the product development process itself is a political entity—links to the issues of process ownership and process design. "Too often," the authors tell us, "product developers see the product development process as just a … logical means to develop products" (pp. 146–147). But the product development process is much more than this. Management cedes control to product developers because it values their role in "react[ing] early to the business environment" and in "keep[ing] new revenue streams before the organization" (pp. 146–147).
After presenting the systemic view of product development, the editors might have collected those chapters dealing with specific projects and with the development process itself, including George Castellion's "A New Product's Development Strategy: Formulation and Implementation." In light of how the second edition is organized, this chapter discussing strategy for a single product seems out of place appearing before the chapter discussing the portfolio approach to strategic product planning.
In this group is a revised chapter on "Service Development" by Thomas Kuczmarski and Zachary Johnston. The authors present a Stage-Gate view coherently linked to an overall organizational strategy for service development. We found it interesting, especially since it ended with the notion that often we are trying to develop not a product or service alone but a "full experience" (p. 106). However, we missed any reference to authors who have pioneered this approach, such as Pine and Gilmore (1999).
We also appreciated the inclusion of the topic of geographically distributed new product development (DNPD). Many of the handbook's readers will be dealing with this issue, either as a mandate from the executive suite or as a common-sense, if complex, approach to finding capacity and capability and to lowering cost. The authors, two McKinsey consultants, ask us to imagine how we might design DNPD for our firms if we had a clean sheet of paper. Their framework helps us see what categories of advantage and risk belong on that sheet, but these issues are so complex and still so little understood that it is hard for such a chapter to do justice to them.
The "Getting Started" part includes four—count them, four—chapters on understanding customers. The first edition contained one, "Obtaining Customer Needs for Product Development," by Abbie Griffin. In the second edition that chapter appears again, mostly unchanged, except that Griffin no longer refers to "great controversy … as to whether firms should actively involve customers in the process of product development or whether customers and their input should be ignored" (Rosenau et al., 1996, p. 153). Evidently that question has been settled: the second edition has chapters on qualitative, ethnographic, and contextual customer research and on quantitative research focusing on gathering input from customers. In addition, three more chapters in the "Doing the Development" part focus on industrial design and human factors engineering. And many other chapters extol the virtues of a customer-centric culture and customer-friendly processes. Evidently, the customer has become an important person in new product development (NPD).
On a topic as complex as VOC, it might have been useful to provide an overview chapter of current approaches instead of the methodology-specific chapters contained in the current handbook. Some common truths exist about understanding customers, along with some difficult questions that must be addressed no matter what particular approach is selected. An overview chapter would underscore such topics as the need to go beyond what customers say they want, as well as the value of having members of a cross-functional team participate in the gathering of customer information. Such a chapter could also discuss in more depth the critical question: What kinds of approaches to VOC work during what parts of the product development process? Brian Ottum, "Quantitative Market Research," provides a sketch of quantitative tools (p. 283), but the new and even the seasoned product developer would benefit from a more careful listing of the various VOC methodologies and their utility at different points in the process. Finally, is it not time to stop calling VOC "new" (see, for example Chris Conley, "Contextual Research for New Product Development," p. 247)? The handbook should provide the opportunity to move beyond the "invented here" syndrome to a more appreciative, broad, and ecumenical account.
While we are on the subject of VOC, the chapter authors throughout the handbook miss the opportunity to provide insight into how Six Sigma methodologies can be and are embedded into the overall product development process. Many of the readers of the second edition will be working in companies that have implemented a Six Sigma process, and many companies are seeking to extend the use of Six Sigma beyond quality to top-line growth. For example, we would have appreciated a discussion of how the voice of the customer processes fit into the "Define" stage of Six Sigma.
It is a virtue of both editions of the handbook that authors have license to pursue topics in their own way, though this virtue also makes the gathered knowledge more difficult to understand and use. Cross-referencing enables the reader to find more on a particular subject; for example, in "Winning Product Review Approval," Robert Lonadier points us to the chapter on politics in NPD and to the chapter on gate decisions. In many cases, however, authors do not link their points to other chapters; the definition of terms also is too inconsistent to make this possible.
As companies such as Caterpillar wrestle with issues of nomenclature and process ownership, the definitions given in the "PDMA Glossary for New Product Development" (pp. 572–614) are concise and helpful. Yet in all of part one there are no clear answers to such basic questions as "What is product development? "When does it start?""What is 'in scope,' and what is 'out of scope'?" Throughout the handbook terms such as platform are used without definition, and different authors seem to have different understandings of many terms.
Many chapters include a generous list of references, and many readers will appreciate that some chapters also include Web addresses. In contrast several chapters—including "Winning Product Approval" and "Distributed Product Development"—provide no references, and other chapters are similarly skimpy.
So, does this book belong on your bookshelf? If you work with new products, you bet it does. It provides comprehensive and current information on almost everything facing product developers today and pointers to more about the subject as well. Will it solve all of your problems or tell you how to interview customers or run a successful launch? No. That is not the intention of the handbook. Its purpose is to improve the product developer's ability to be effective "when traveling through the difficult landscape of new product development" (p. ix). This landscape is evoked by Markham and Holahan: "Product development decisions usually represent change for an organization… . [P]roduct development professionals must learn to help the organization cope with uncertainty … and solve critical problems" (p. 156). The handbook will help product developers to be confident they are working from the best available knowledge and to gain the wisdom to see the really important questions.
We cannot conclude this review without expressing our sincere thanks to the volunteers, in particular the editors, who put in literally countless hours to make this volume a success. They did it because they love the field of product development, because the growth of new knowledge in the field is of intense interest to them, and because they are connected with and supported by relationships that span institutional and geographical boundaries. They are among the heroes of innovation—those who see the potential of the future and are willing to commit their lives to moving all of us in that direction.
Released:
October 1, 2013, 1:36 pm |
Updated:
October 30, 2013, 2:07 pm
Keywords:
PDMA Blog
1516550799
Feedback:
0 Comment(s) — Latest:None