Book Review: Product Leadership: Pathways to Profitable Innovation
By: PDMA Headquarters on Oct 01, 2013
Book Review: Product Leadership: Pathways to Profitable Innovation
By: Robert G. Cooper. Cambridge, MA: Basic Books , 2005 . 288+xv pages.
Review by: Laurence P. Feldman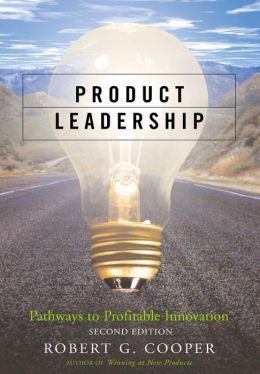 A few books should be read by anyone involved with new product development (NPD), including—and perhaps especially—chief executive officers. Product Leadership is one of them.
Robert Cooper has followed a program of new product research and consulting over the years that, supplemented by the work of others, has resulted in the development of a widely used, research-based, process-oriented approach embracing virtually all phases of the product innovation process. Just as important, he has the knack of presenting his findings in a readable and understandable fashion.
The book is structured around four aspects of the product innovation process, competence at which determines the quality of new product performance in a business:
A clearly articulated product innovation and technology strategy for the business
Resource commitment and portfolio management
An idea-to-launch (Stage-Gate) process
Establishment of the right climate and environment for innovation.
The element uniting the treatment of all four is the specification of best practices with respect to aspects of each of these and their association with success. For example, in (1), after identifying six ingredients of a product innovation strategy, Cooper points out that only 31% of firms in the bottom third of performers understood the role of new products in stated business goals, compared with 59% of firms in the top third. Such comparisons, based on his extensive research, appear throughout the book.
Although on the whole this book is worthwhile, there is unnecessary repetition and a few areas that were either omitted or deserved fuller treatment. For example, product life cycle analysis provides an underlying rationale for (2) but was not mentioned.
Much of Cooper's research involves tangible products as opposed to services, but no mention is made of any distinction in the application of the NPD process he outlines. In addition, in (3) some differences in sources of market-based versus technology-based innovation are likely to have a differential impact on the application of the process he has outlined. Market-based innovations, in the sense that they are more likely to be related to past experience with similar products, are associated with different levels of risk, which lends itself to stage-gate decision making. Technology-based innovations, which are more innovative, are more likely to be accompanied by a high degree of uncertainty, making the establishment of "go–no-go" criteria more difficult. Despite, or perhaps because of, this the unique problems of companies relying on technology-based NPD receives sparse treatment.
These shortcomings notwithstanding, Product Leadership provides a measured, comprehensive view of the NPD process and an insight to those practices most closely associated with its successful management.
Released:
October 1, 2013, 1:31 pm |
Updated:
October 30, 2013, 12:09 pm
Keywords:
PDMA Blog
1516551124
Feedback:
0 Comment(s) — Latest:None