Book Review: Resolving the Innovation Paradox: Enhancing Growth in Technology Companies
By: PDMA Headquarters on Oct 01, 2013
Book Review: Resolving the Innovation Paradox: Enhancing Growth in Technology Companies
By: Georges Haour. New York: Palgrave Macmillan , 2004 . 153+xi pages .
Review by: Mehmet Berk Talay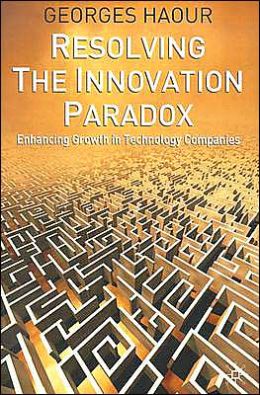 Innovation—the creation of new ideas and enabling them with new technologies, novel designs, and best practices with an intention of getting a useful and commercially successful output—is regarded as the primary driver for companies to attain and sustain competitive advantage in today's global environment. Benefits of innovation for the companies include accelerated productivity gains, long-term economic growth, increased customer and brand equity, differentiated products, and spillovers. Georges Haour argues that despite its acknowledged significance in the competitive superiority of companies, innovation is rarely a top priority on the agenda of companies. Then how can such an "innovation paradox" exist when practitioners, academics, and government officials all concur that innovation and being innovative are essential? Haour explains the paradox by suggesting that innovation processes are intrinsically myopic and onerous and thus require long-term psychological and financial perseverance. But companies' top management (chief executive officers in particular) opts to focus on short-term achievements to improve stock performance and their own compensation.
Resolving the Innovation Paradox is aimed at top- or mid-level managers who want to diminish the embedded perplexities within and to streamline the new product development (NPD) process of their companies. Haour is a professor of technology management and innovation and also director of executive programs for managers from technology companies worldwide at IMD in Lausanne, Switzerland.
In his book, Haour evaluates some innovation management tools (e.g., technology-business mapping, quality function deployment, S-curves), which in his opinion "do not constitute a panacea in any way, but they help mobilize the experience and knowledge available in the various parts of the firm … [and] catalyze the dialogue between the technical and business functions, offering a forum in which to organize and synthesize the information and judgment on a specific business issue in a systematic way" (p. 48). However, Haour prefers adistributed innovation system, wherein a technology company extracts full value from its innovation activities by
granting the right to use its innovations (i.e., licensing)
finding a partner so that a firm can engage in projects that are costly or are out of the company's core competence
selling abandoned innovation projects and thus obtaining revenue even from an unfinished project
spinning out ventures as separate companies
innovation mining, in which a company discovers and acquires a technology complementary to its own
Highlighting the fact that global licensing revenues reached $142 billion in 2000, the author encourages top-management support and a task force for scanning the company's licensee network to identify prospects. He also advocates co-development of R&D projects because it can decrease costs and risks for all participating companies (as well as increasing the effectiveness of these projects). However, he also acknowledges the complexity of managing a group of partners, which may cause inefficiencies during the course of the project.
Canceling projects is not uncommon among R&D companies. A change in corporate strategy or a competitor's innovation may render a project unattractive; the project then becomes a sunk cost. In such a case, the company should seek other opportunities to extract revenue from that investment. For instance, it can identify potential buyers, which requires thorough and up-to-date intelligence about the industry. Since time depreciates the value of any innovation, companies should be swift in deciding to sell and then in searching for potential buyers.
Spinning out ventures is the fourth way of creating value in the distributed innovation system. Haour argues that for the parent company, transforming R&D projects into independent companies may be a good way of exploiting the project's value. Moreover, using the parent company's existing customer portfolio—and sometimes even its facilities—spin-offs may overcome some problems typically faced by start-ups.
Finally, innovation mining can create value from R&D investments. In this synergistic approach, the company "seeks out a technology complementary to its own, so that the resulting ensemble presents a much higher value than the separate components" (p. 86). This search necessitates extensive expertise about the business potential of the innovation and experience to distinguish a value-adding component. Companies without such an expertise can outsource this task to agents specializing in a specific industry.
Because highly motivated technical employees are critical to a highly innovative organization, the author offers specific suggestions for
being supportive in integrating new hires into the company
adopting a "walk-around" management style, in which the managers regularly but informally monitor the progress of projects, as well as act as a "coach" (e.g., ad hoc "meetings" in the laboratory or by the photocopying machine)
striving to make at least some of their workers "researcher–entrepreneurs," who will combine "technical know-how with a vision of how they want to change the world, seek to change and challenge the status quo" (p. 118)
supporting diversity by seeking employees from different national backgrounds, which not only will enrich innovation through different perspectives on the same subject but also will "provide access to widely different external networks" (p. 123)
A distributed innovation system comprising networked companies can stimulate innovativeness and diminish the risks. Systematically expanding the network' s envelope and adding an entrepreneurial broker function to R&D's responsibilities potentially changes the architecture and the source of innovation. In tandem with Haour's model, Chesbrough (2003) highlights the fact that due to factors such as the increased mobility of a skilled work force, decreases in the shelf life of a technology due to the accelerated time to market, and the existence of myriad of alternatives for customers and suppliers, companies should consider external resources for innovation. On the other hand, innovation scholars like Swan and Allred (2003) warn that such cooperative innovation projects may result in external dependence, functional mismatches, and coordination difficulties, as well as the gradual loss of internal design, manufacturing, and other knowledge-based capabilities, not to mention the risk of leakage of both technical and marketing know-how to competitor firms through suppliers, especially at the design stage. In a similar vein, Vargo and Lusch (2004) cautioned that knowledge is now the fundamental unit of exchange, and hence all companies strive to protect their knowledge-based assets. Thus, sharing of knowledge and innovation resources may jeopardize a company's future, should the partners behave opportunistically.
Collaboration is at the heart of the emerging paradigm of innovation. Despite its abovementioned risks, companies have to seek opportunities ceaselessly outside the firm's boundaries to leverage its innovation capabilities. Focusing on the resources located outside the firm, Haour provides a compendious overview of methods and a systematic recipe for managers highlighting the requirements (e.g., top-management support, motivated employees) and alternatives to consider (e.g., spinning out ventures, selling out cancelled R&D projects) for improving the efficiency and effectiveness of their innovation capabilities. This book can open your horizons to additional ways to make best use of your R&D investments by looking outside the firm.
Released:
October 1, 2013, 1:20 pm |
Updated:
October 30, 2013, 1:51 pm
Keywords:
PDMA Blog
1521581833
Feedback:
0 Comment(s) — Latest:None