Book Review: Lateral Marketing: New Techniques for Finding Breakthrough Ideas
By: PDMA Headquarters on Oct 01, 2013
Book Review: Lateral Marketing: New Techniques for Finding Breakthrough Ideas
By: Philip Kotler and Fernando Trias de Bes. Hoboken, NJ: John Wiley & Sons, Inc. , 2003 . 206+xvi pages.
Review by:Jeffrey S. Pinegar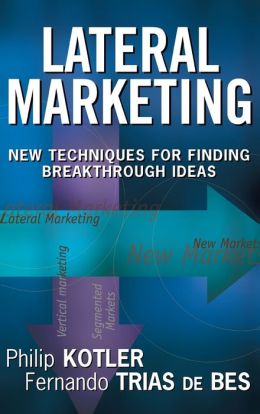 In an age of globalization, technology advances, increasingly impotent advertising, and expanding consumerism, with competitive intensity and market turbulence on the rise, it is increasingly difficult for companies to remain competitive. Therefore, new product development is as important as ever, for we know "only through the creation of new products in demand in the marketplace can most manufacturing companies sustain their growth and profitability in the long term" (Booz, Allen & Hamilton, 1982, p. 24). Unfortunately, incumbent firms tend to fail in the face of breakthrough disruptive innovations rather than to create these breakthroughs themselves, because their existing processes fail them (Christensen, Anthony, and Roth, 2004; Christensen and Overdorf, 2000). So, how does one go about identifying potentially successful new products for a marketplace that is hypercompetitive and supersegmented? Philip Kotler and Fernando De Bes's book Lateral Marketing offers hope.
To fully appreciate lateral marketing one must first understand what Kotler and Trias de Bes mean by "alternative, vertical marketing," a term used to refer to the classic marketing process of (1) segmenting the market, (2) selecting a target segment, and (3) crafting the marketing mix so that it appeals and is distinct in the minds of those in this target market segment. The result of the repeated application of this process is hyperfragmentation and the proliferation of niche products, which serve ever-shrinking segments with ever-shrinking profits. The recent introduction of Diet Cherry Vanilla Dr. Pepper is a perfect illustration of the perils of vertical marketing. Did the introduction of Diet Cherry Vanilla Dr. Pepper contribute to any new customers, revenue, or profits? Kotler and Trias de Bes, however, are not advocating for the replacement of vertical marketing; they offer lateral marketing as a complementary technique to be used to break out of a cycle of repeated segmentation that has become destructive.
Lateral marketing offers an alternative to vertical marketing. It is based on the work Edward de Bono (1999) in the field of creative thinking in general and lateral thinking specifically. (The work of de Bono is so integral to Lateral Marketing that Kotler dedicates the book to him.) Rather than repeatedly dividing up the market into finer and finer segments and developing products that are more highly correlated with the needs of this smaller and increasingly homogenous group, the lateral market process creates new connections in an effort to identify alternative markets and applications.
The lateral marketing process can be summarized in three steps: (1) pick a focus; (2) produce a lateral displacement to create a gap in a logical thought process; and (3) consider new ideas for spanning the gap. The focus can be at the market-definition level, product level, or the marketing-mix level. If the focus is at the market or product level, a displacement creates a gap, which promotes birth of new markets or product categories. Alternatively, focusing on the marketing mix (pricing, promotion, place) leaves the market and product connected and leads to the generation of new subcategories.
For the second step—producing a gap through lateral displacement—Kotler and Trias de Bes refer to six strategies proposed by de Bono for creating lateral displacements:
substitution
inversion
combination
exaggeration
elimination
reordering.
Each of these strategies may be applied to a focus level to generate a nonlogical gap. For the third step of the lateral marketing process, a new connection must be made to close or cross the gap created in the previous step.
To illustrate the process, consider the popular Apple iPod. Since its original introduction there have been at least three subsequent generations and a new product line, the iPod Mini. All of these product introductions are the result of traditional vertical marketing. The products are a little bit bigger, a little smaller, or more colorful; they have a longer-lasting battery or hold a few more songs. Rather than continuing down this path, which leads to supersegmentation, Apple could apply the lateral marketing focusing at the product level. To stimulate a lateral displacement, ask de Bono's six questions:
Substitute it: iPod replaces radio (rather than replacing CD players).
Invert it: Use iPod for recording music rather than just playing music.
Combine it: iPod works as a recorder as well as a player, or even as a satellite radio receiver.
Exaggerate it: iPod with better sound quality than a CD.
Eliminate it: iPod that does not need a cradle or cable to connect to a computer or does not need a computer at all.
Reorder it: music goes from iPod to the computer.
After creating potential lateral gaps, in the third step the gaps are bridged with new innovative breakthrough product concepts. In this case imagine a product that functions like TiVo (a type of digital video recorder) for satellite radio, recording multiple channels in high-fidelity sound quality and permitting the user to time-shift the schedule. In addition, favorite programs could be uploaded to a computer over a wireless network and archived.
Kotler and Trias de Bes illustrate wonderfully the relative simplicity of the lateral marketing process with language that is easily understood by a broad audience. Part of the fluidity of this book is the tone in which it is written. It artfully avoids being bogged down with difficult technical terms and impractical, "fluffy" language; it is not padded with chapter after chapter of case-study exploits from a lifetime of consulting. Kotler and Trias de Bes tie up the book with a plan for implementing lateral marketing and a simplified framework of the process. Like all books on creativity, this book suffers from some examples that seem to lack creativity. However, we must remember that despite great tools, creativity remains hard work, and it is probably a bit much to ask Kotler and Trias de Bes to illustrate every point with a breakthrough idea. If you have already read the books on creativity by de Bono, Michael Michalko (1991), or Arthur VanGundy (1998) and can apply them in a new product development context, this book offers you very little.
Other marketing professionals, however, could gain new skills from this book.
Jump to…
Released:
October 1, 2013, 1:01 pm |
Updated:
October 30, 2013, 2:15 pm
Keywords:
PDMA Blog
1516551073
Feedback:
0 Comment(s) — Latest:None