Book Review: Beyond the Core: Expand Your Market Without Abandoning Your Roots
By: PDMA Headquarters on Oct 01, 2013
Book Review: Beyond the Core: Expand Your Market Without Abandoning Your Roots
By: by Chris Zook. Boston: Harvard Business School Press, 2004. 214+xi pages
Review by: Preston G. Smith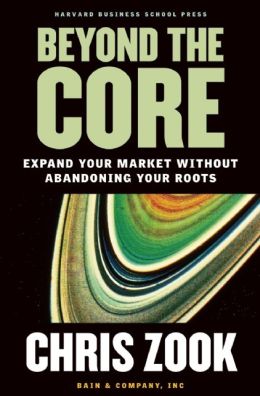 Chris Zook's Beyond the Core is the follow-up to his 2001 Profit from the Core, which argued that the source of many failed growth strategies is wrong-headed diversification away from the company's core business. There he examined three strategies for leveraging the core business: (1) strengthen and defend the core; (2) grow through adjacencies; and (3) redefine your core business for new growth opportunities. The current book focuses on the second strategy and considers questions that arise when the core has been fully exploited and growth-hungry companies must look beyond their cores for success. Zook states that companies that successfully push beyond their core businesses into adjacent areas can find this growth. Indeed, Zook states, "companies that outgrow their core competitors for extended periods often do so because they have more success at moving into new adjacencies around the core" (p. 165).
The objective of the book's adjacency strategy is to foster profitable growth with minimal risk by leveraging the core business's customer base, brand equity, supply chain, sales force, product development, manufacturing, marketing infrastructure, and other factors to serve more customers while keeping incremental costs in control. Therefore, adjacencies can be based on products, geography, value chains, channels, customers, or repurposing a core competency.
Three principles characterize successful adjacent moves. First, they must be of significant size or lead to a sequence of related adjacency moves that provide sufficient growth potential. Second, they must be "bolted on" to a strong core business since adjacencies leverage and reinforce the core simultaneously. Third, adjacency moves become more risky as one moves farther from the core. Zook addresses this risk issue by introducing the "new math of profitable growth," which is a repeated sequence of small, adjacent moves that he contends comprise the most powerful long-term growth trajectories (p. 7).
Zook is a director at Bain & Company, and his book seems to be addressing chief executive officers (CEOs) and senior management, who are the customers of his consulting practice. His recommendations are based on substantial proprietary Bain research, which includes the database from the first book (8,000 companies over 14 years), three global surveys jointly sponsored by Bain and The Economist Intelligence Unit, analysis of 12 paired comparisons of 24 matched companies, and 100 profiles of companies with the best growth records, from which 25 CEOs agreed to personal interviews.
Although Zook has been heralded for breakthrough thinking, the foundation for his insights is not really new. Adjacency strategies are essentially an operationalization of Ansoff's (1957)"product-market expansion grid" that is foundational to every marketing management course. Ansoff's strategy for gaining market share by penetrating current markets with current products is Zook's strategy for growing the core business. Introducing new products into current markets is an adjacency strategy that leverages existing brand equity, the marketing, and distribution channels. Likewise, repositioning current products into new markets is an adjacency strategy that leverages the brand, existing product development, the supply chain, manufacturing, marketing, and perhaps the distribution channels to develop these related markets. Zook does not venture into Ansoff's last and riskiest quadrant of diversification where new products are targeted at new markets.
Zook observes that most companies believe they have rigorous criteria for evaluating growth opportunities. Zook debunks this assumption and offers three evaluation success factors. First, the best adjacencies build on and reinforce the core. A strong core is the launch pad for growth initiatives beyond the core. In Zook's paired sample, the fastest growers adhered steadfastly to this tenet. Second, adjacency strategies should be targeted at the most robust profit pools. Mapping the profit pool is a critical task. It depends on crisp segment definitions, sound forecasts, and good cost and pricing data. Few companies do this well, but Zook does not provide much insight on how to accomplish it. Lastly, the adjacency move should enable the company to attain market leadership-equivalent economics, especially in terms of its long-term cost structure. Zook presents several examples of companies that have successfully met these growth criteria (Vodafone, Dell, UPS, P&G, Tesco, Cardinal Health, Staples) and those that have not (Sainsbury, McKesson, Marconi, Eckerd Drug). Hopefully, these case histories are prescriptive for CEOs who need stronger evaluation criteria.
Relentless repeatability, like that of Ben Hogan's golf swing, is the secret sauce for successful adjacency strategies that achieve leadership economics (p. 35). Having a repeatable formula for expansion is the key to growing rapidly in low-growth markets. Repeatability drives productivity improvements through learning-curve effects, reduces complexity, lowers cycle time, provides strategic clarity, and increases understanding through practice. All of these factors have a felicitous impact on costs. Nike was able to use a repeatable strategy to target a sequence of adjacent athletic shoe markets from its running shoe core. First, it targeted basketball shoes, then tennis, baseball, football, cycling, volleyball, hiking, soccer, and eventually golf. Reebok, on the other hand, did not master the repeatability imperative, and Nike pulled away.
In Bain's survey of 138 executives, 65 percent indicated that internal organizational factors were the most important reasons for the failure of growth strategies (p. 142). A primary reason was inadequate management attention given to failing adjacency moves, which often meant that failures were allowed to run too long. Michael Dell organized the corporate reporting structure specifically to track these moves in order to apply more resources to successful moves or to cut poor moves. Zook addresses these organizational issues by offering guidelines for successful management. First, one must evaluate linkages to the core by analyzing shared economics, shared culture and people systems, and shared decision-making. Next, one should consider a range of options for combining with or separating from the core.
It is instructive to contrast Beyond the Core with other growth strategy books—specifically, one that precedes and one that follows Zook's work—in order to provide perspective on evolving management thought. Competing on the Edge by Brown and Eisenhardt (1998) might seemingly be focused on similar beyond the core issues with similar recommendations for growth strategy. This is not the case. Where Zook cautions companies about risky growth strategies that go too far beyond the core, Brown and Eisenhardt focus on the unpredictable and embrace the notion of major change. They state that competitive advantage is found on the edge between structure and chaos where true innovation begins. Their "edge" is beyond Zook's core.
Kim and Mauborgne's (2005)Blue Ocean Strategy advocates moving from profit pools in the existing market space to new value oceans. Rather than trying to penetrate existing markets or to develop adjacent products or markets, they recommend that companies create an uncontested market space where competition is irrelevant. Blue oceans are advantageous places where demand is unchallenged and growth is rapid and profitable. Technology is linked with elements customers value in order to free the company from an industry's boundaries. Dell's mass production, combined with direct sales over the Internet and product configuration per customer specifications, created a new market space. Conversely, "red oceans" occur where existing firms fight over market share in their core and adjacent markets and products rapidly become commodities, as competition turns bloody. In Kim and Mauborgne's study of 108 companies, only 14 percent of business launches are categorized as blue ocean. However, they account for 38 percent of revenues and a staggering 61 percent of profits. Red-ocean line extensions and other adjacent strategies were on the losing end of these results. Clearly, from a Kim and Mauborgne perspective Zook is cruising in the red ocean.
A prominent limitation of this book is its lack of an actionable, systematic approach for executing an adjacency move or replacing an old commoditized core with a dynamic new one. Indeed, Zook does not define what the core actually is in this book.
Apparently, the book's conclusions stem from the study of very large companies and may not be applicable to small and medium-sized businesses. Many of the companies in the database are most likely Bain clients and probably are not selected randomly. The CEOs who agreed to be interviewed may have different experiences with Bain than those who did not agree. In any case, Zook appears to have used a convenience sample for the executive interviews and case studies, which brings the representativeness of his findings into question. He does not reveal the research design, methodology, data, or actual results of the analyses. Indeed, we have no readily verifiable assurance that Zook is not marshalling results that fit his criteria for success.
Perhaps the biggest limitation of the book is its lack of attention to the potential for disruptive innovation, competitors' strategy, and changing consumer tastes for negating core and adjacent strategies. The bias is toward internal development rather than growing through external means, such as partnerships and acquisitions. Strategists must integrate both of these growth options in order to pursue advantageous opportunities.
Released:
October 1, 2013, 12:56 pm |
Updated:
November 20, 2013, 12:39 pm
Keywords:
PDMA Blog
1516551207
Feedback:
0 Comment(s) — Latest:None