Book Review: Simply Better: Winning and Keeping Customers by Delivering What Matters Most
By: PDMA Headquarters on Oct 01, 2013
Book Review: Simply Better: Winning and Keeping Customers by Delivering What Matters Most
By: Patrick Barwise and Sean Meehan. Boston : Harvard Business School Press , 2004 . 195+xiv pages.
Review by: Mary C. Drotar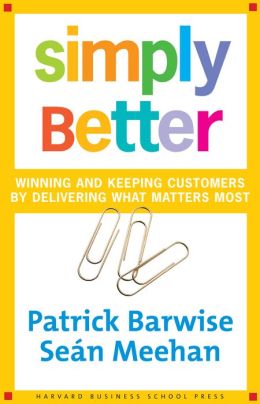 Marketers are now required to become increasingly customer focused across all functions of their organizations. Both Simply Better and Marketing as Strategy present a strong case for this marketing transformation, though they take very different approaches. Simply Betterproposes a return to the fundamentals, while Marketing as Strategy proposes major transformations that help "managers go beyond best practice to next practice" (p. 10).
Simply Better carries two major themes. The first is the contention that competitive advantage does not depend on uniqueness of the product/service but rather depends on giving customers what matters to them most. The second theme contends that companies often fail, not in the choice of strategy but in its execution.
Author Patrick Barwise is a professor of management and marketing at London Business School, and Sean Meehan is Martin Hilti Professor of Marketing and Change Management and director of the M.B.A. program at IMD, Lausanne. The authors claim that their book is based on scholarly work from published academics and input from the executive community. The book draws heavily from examples of Hilti, a manufacturer of professional construction products. Experienced managers represent the target market for Simply Better.
Barwise and Meehan take a counterintuitive approach that positions a new brand head-on to major market players. They encourage the reader to "consider this approach, but to be prepared to address many different issues before they proceed" (p. 15). This is quite different from Clayton Christensen's disruptive approach of first commercializing in small emerging markets (Christensen, 1997). The authors also speak against conventional wisdom in stating that unique selling propositions do little to create sustainable competitive advantage. They believe that "customers rarely consider uniqueness when purchasing a product or service, but rather consider if the category of the product or service meet their needs" (p. 17).
In addition, they emphasize market immersion as one of the most effective practices senior executives can take. The authors provide Hilti as an example of a company that takes the practice of immersion seriously. Executive board members go into the market at least 50 days a year to listen to their customers. According to the authors, this has led to Hilti's success in discovering new markets and products.
The authors also state the importance of complementing primary data with an understanding of the competition. They provide an approach that gains insight into your competitors' minds and some examples of developing a dynamic competitive analysis that all members of the organization contribute to daily, as opposed to a stagnant competitive report that is written annually by the strategy department. This was one of the most insightful sections of the book.
While Barwise and Meehan believe that out-of-the-box thinking is imperative for advertising, they believe it is detrimental for innovation. For example, the authors state that "Target's strategy didn't emerge from out-of-the-box thinking, but rather from the ability to execute both in operations and great branding and communications" (p. 115). The authors state that marketing should take a broader view that aligns the whole organization to meet customers needs better. They propose that functional marketing needs a home. However, they believe that it is imperative that the role of marketing promotes ubiquitous customer focus throughout the entire organization.
Barwise and Meehan believe that the "out-of-the-box approach represents the 1990s, and the return to fundamentals is today's big idea" (p. 169). Fundamentals include (1) total quality management; (2) understanding and delivering on customers' priorities; (3) delivering value on product categories versus differentiated products and services; (4) providing generic category benefits for which customers are willing to pay; (5) out-of-the-box thinking on advertising; and (6) market immersion to understand your customers.
Simply Better demonstrates that many companies are still far from meeting the basic needs of their customers. According to the American Customer Satisfaction Index (ACSI), aggregate satisfaction is lower today than in 1994 (p. 9). These statistics make for a convincing argument that companies are far from providing the basics in meeting customer needs.
Too few examples are provided to illustrate the benefits of some major points within Simply Better. For instance, the merits of a strategy for new businesses to face major competitors head-on are illustrated by the success of only a single company, Orange. The authors also appear to depend unduly on the company Hilti for providing examples to support their approach. Overall, I appreciate the alternative approach the authors take, and I recommend this book to readers who suspect that they are forgetting the importance of business fundamentals.
The major premise of Marketing as Strategy is that marketing has lost its strategic role within the organization. According to a U.K. study, "companies revealed that just 18% of executives rated marketing's strategic effectiveness better than good, while 36% rated it as fair to poor" (p. 2).
Nirmalya Kumar, the author, is currently professor of marketing, director of the Centre for Marketing, and codirector of the Aditya V. Birla India Centre at the London Business School. Marketing as Strategy draws on over 15 years' personal experience in research, teaching, and consulting.
Kumar believes it is important for marketers to break from the tactical four Ps (product, price, promotion, place) and to adopt a more transformational, cross-functional approach in understanding the entire value chain. Marketing as Strategy is organized by chapters that correspond to each of seven organization-wide transformational initiatives. Kumar indicates that "all seven transformations may not apply to all firms, but at least one will apply to every firm" (p. 9).
Kumar's seven transformational initiatives are:
From Market Segments to Strategic Segments: Strategic segments can be found by using Kumar's "Three Vs" framework: the valued customer (who to serve), the value proposition (what to offer), and the value network (how to deliver).
From Selling Products to Providing Solutions: Kumar highlights that companies facing commoditization have two main strategic options: they become either a low-cost provider, or a solutions provider. He proceeds to describe a process for taking a solutions approach to selling. This begins with a customer problem, proceeds through customer process mapping and educating customers about total cost, and finishes with the organization's transformation for solutions selling.
From Declining to Growing Distribution Channels: The author reviews channel migration strategies and channel migration processes. The distribution strategy audit is particularly useful in determining both the quantitative and qualitative perspective of a company's distribution network.
From Branded Bulldozers to Global Distribution Partners: Brands are having a difficult time managing the increasingly powerful and professionally managed retailers. Kumar investigates the organizational and cultural necessities for suppliers to transform from branded bulldozers to global distribution partners.
From Brand Acquisitions to Brand Rationalization: The book highlights brand rationalization as a critical path to higher profitability and growth. Kumar provides an excellent brand rationalization process, including a series of important questions to help a company determine if they have too many brands.
From Market Driven to Market Driving: Kumar indicates that one achieves radical business innovation through market driving. He characterizes market drivers as visionary, creating new markets and redefining categories, rather than focusing on obtaining market share in existing markets. This section describes the distinguishing features of "market-driving" companies compared to traditional "market-driven" companies. There follows an analysis of the various dimensions of marketing strategy and a description of a market-driving transformation process for established firms.
From SBU Marketing to Corporate Marketing: In many organizations, marketing has been assigned at the strategic business unit (SBU) level.
Kumar indicates the strategic importance of marketing in the appointment of chief marketing officers (CMOs). The CMO can view the products, brands, channels, and customers as potential exploitable platforms across business units.
If some of these transformations intrigue you, I recommend this book to gain a fuller perspective. Kumar usefully illustrates his seven transformational initiatives for marketers with numerous examples, processes, charts, and matrices. He also provides valuable end-of-chapter checklists and key-point summaries. This is a thoroughly enjoyable and useful reference in a field of rapidly growing importance.
It is interesting to note that Simply Better and Marketing as Strategy are both published by Harvard Business School Press and that Barwise and Kumar are both professors at the London Business School. In addition, both books strongly propose transformations in marketing and taking more of a holistic view across the organization. The similarities between the two books stop there. The authors take very different approaches in transforming marketing. Simply Better emphasizes the importance of meeting fundamental category needs, while Marketing as Strategy advances to the next level of marketing best practices. If you are planning to transform, or are in the midst of transforming, your marketing department, I recommend that you read both books to gain differing perspectives.
Released:
October 1, 2013, 12:51 pm |
Updated:
October 30, 2013, 2:16 pm
Keywords:
PDMA Blog
1521581985
Feedback:
0 Comment(s) — Latest:None