Book Review: Next Generation Product Development
By: PDMA Headquarters on Oct 01, 2013
Book Review: Next Generation Product Development: How to Increase Productivity, Cut Costs, and Reduce Cycle Times
By: Michael E. McGrath . New York : McGraw-Hill , 2004 . 379+xix pages.
Review by: Paul A. Szulewski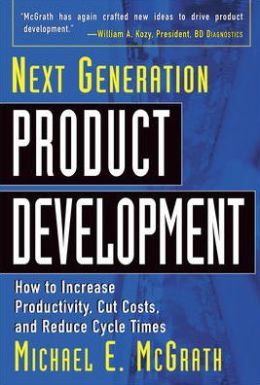 In his fifth book, Next Generation Product Development (NGPD), Michael McGrath gives us a look into his crystal ball at the next generation of product development best practices. McGrath dubs the next generation the Research and Development (R&D) Productivity Generation, in which the two main themes are resource capacity improvement and inclusion of the whole enterprise in product development decision-making. This emerging generation is now under way and is enabled by a new breed of enterprise management information systems. These systems are, in McGrath's opinion, key to and requisite for experiencing the predicted R&D productivity gains. He has a stake in the success of this new information technology (IT) niche as founder and chair of Integrated Development Enterprise, Inc. (IDe), a provider of web-enabled tools to support the growing information demands of the project managers and corporate decision-makers.
McGrath is a pioneer in product development practices. Product and cycle-time excellence (PACE) is a phase review new product development (NPD) model codeveloped by McGrath (McGrath, 1996) that has been rolled out to over 200 organizations since its introduction in 1987. In the previous rendition of PACE, the Time-to-Market (TTM) Generation, the key motivator was faster time to market. This generation focused on individual projects, and according to McGrath, three areas of improvement characterized it: phase-based decision process, the core-team organizational model for project teams, and the application of standard development practices across all projects. While the TTM Generation focused on individual project excellence, the R&D Productivity Generation will concentrate on the bigger picture: the portfolio of the entire enterprise. The author notes that "the maturing of the TTM Generation coincided with an historic downturn in the economy" (p. 20). This event in corporate America's history is probably the most important factor that forced companies to try to do more with less and to look to different strategies to increase production without adding headcount.
The book begins with a look back to previous generations of product development to set the context for the next generation. The author begins with the Project Success Generation beginning in the 1950s, followed by the TTM Generation. Subsequent chapters cover various levels of detail on evolving best practices for resource management, capacity utilization, project management, portfolio management, collaborative development, project team structures, knowledge management, and product strategy. Each chapter provides the reader with McGrath's vision of future best practices, many of which are yet to be fully vetted with real industry experience.
For much of the book, McGrath is in concert with many other project management gurus including the importance of integrating enterprise financial management with R&D. Project financials are still a key indicator of a projects success or failure. Project managers and decision-makers alike can use real-time financial data to their company's advantage.
For the most part, McGrath aims at mature senior managers of large companies. His book is about decision-making in NPD, rather than detailed development. McGrath uses a hypothetical company throughout the book to illustrate the practices he introduces. Although this technique works well, it tends to make the chapters long and somewhat repetitive. Some readers might be put off by this device; however, when the reader gets through the forest of examples, there are definitely some nuggets of wisdom to be gleaned from this guru.
Following a popular trend, McGrath introduces a maturity model that integrates the three most important process areas for the next generation: project management, resource management, and product strategy and portfolio management. He uses this model to show the reader that achieving excellence in NPD is expected to be an evolutionary journey. Benchmarks and measurements along the way show an organization's continuous improvement within the model.
McGrath introduces a benefit model to quantify the financial impact of improvements in various areas of product development. This model helps a manager decide where to allocate precious improvement funds. It also provides quantitative evidence for functional and project managers to use for justifying improvements to the decision-makers. Although McGrath uses the model to illustrate its utility for his hypothetical company, it would have been better to use real data if it were available.
In the section on resource management McGrath provides an excellent rationale for focusing on this area as the "untapped opportunity for most companies" (p. 50) to increase productivity. He makes a point that a high level of utilization is not the same as being busy. McGrath provides some guidance here in pointing out the difficulty in measuring utilization. He suggests that measuring utilization based on assignment projections rather than from actual time collection is easier and better for looking forward. High utilization requires focus on the strategic objectives of the company. The next generation will be able to accomplish this if they follow the recommendations of the author.
This reviewer still has a few remaining questions:
Are enterprise information tools mature and robust enough to provide a return on investment? The Gartner Magic Quadrant for Project and Portfolio Management (a yearly review of tools in this category) shows an ever-maturing set of viable options in this tool-suite space. However, this reviewer's experience with a few of these tools suggests that they are still immature and expensive. Any return on investment analysis that is done needs to include the question of what the consequences are if we do not invest in this technology.
Are organizations ready for the cultural changes required to follow through and adopt these practices and use these enterprise-level tools? This is a tough question to answer, and McGrath avoids it. Cultural change is difficult, but the results can be dramatic. Cultures can change, but it takes time, often more time than one would plan.
Are these practices (and the requisite tools) viable for the smaller company? Smaller organizations tend to need less process and use fewer tools than larger companies. Small companies do not have the financial assets to invest in enterprise information systems. But small companies must grow and survive. Best practices and processes may be able to be tailored. Homegrown or low-end tools may be able to satisfy the needs of smaller companies.
Released:
October 1, 2013, 12:48 pm |
Updated:
November 20, 2013, 9:57 am
Keywords:
PDMA Blog
1521838119
Feedback:
0 Comment(s) — Latest:None