Book Review:Handbook of Market Segmentation: Strategic Targeting for Business and Technology Firms
By: PDMA Headquarters on Oct 01, 2013
Book Review: Handbook of Market Segmentation: Strategic Targeting for Business and Technology Firms
By: Art Weinstein . Binghamton, NY : Haworth Press , 2004 . 241+xviii pages.
Review by: Ruediger Klein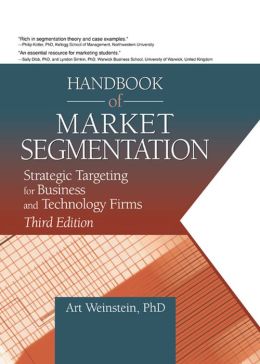 When a book appears in its third edition one can assume that it has sold well in its earlier ones. Thus, it seems surprising that this journal has not reviewed either this book or any other of the more than 100 listed on Amazon.com on the subject of market segmentation.
Market segmentation, with the objective "to analyze markets, find niche opportunities, and capitalize on a superior competitive position" (p. 5) is indeed a very popular management tool according to a recent study (Rigby, 2003) ranking fourth after such steadfasts as strategic planning, benchmarking, and mission and vision statements. A full 79% of the surveyed companies professed to its usage. However, the 2004 Comparative Performance Assessment Study (CPAS) (Adams and Boike, 2004) discovered that niche strategies overall may have moved slightly out of favor.
Be it as it may, the Handbook of Market Segmentation"was written to provide marketing/business practitioners and scholars (professors and students) with an informative, state-of-the-art guide to strategically segmenting high-tech and industrial markets" (p. xiii). It should enable one to define the research objective of a study, to navigate around common pitfalls, and to evaluate its outcome. However, the reader will not be able to conduct his own segmentation study from the knowledge contained in this book alone, since this book does not describe statistical procedures often used to uncover differences among customer groups (Wedel and Kamakura, 2000) as well as necessary market research techniques, such as survey design, focus groups, and interviews. The book has four major parts.
"Part I: Segmentation Planning" (chapters 1–3) provides an overview of market segmentation and niche marketing, market definition, designing segmentation studies, and using segmentation research. Chapter 2, on defining one's market, covers the often overlooked topic of setting a boundary on the market to segment, the equivalent of a market preselection.
Chapter 3 outlines a 10-point program for segmentation planning with such steps as establishing objectives, selecting segmentation bases, and knowing how the information will be used. While this 10-point program prescribes a common-sense approach, the author's view of research objectives as "a checklist of information needs useful for strategy development" (p. 37) does not help much in defining the research problem. The author could have developed further the tie between segmentation bases and specific strategic, tactical, or operational problems to be solved. However, strong points in this key chapter are the lists of potential segmentation roadblocks, criteria for segmentation viability, criteria for segment formation, and 20 common business segmentation bases.
"Part II: Business Segmentation Bases" (chapters 4–7) "details the major business segmentation dimensions, i.e., geographics, firmographics, usage, benefits, purchasing behavior, organizational psychographics, and buyer adopter categories" (p. xvi). It also covers the new North American Industry Classification System (NAICS), business census products, and a model for segmenting industrial markets. These chapters do an admirable job in explaining the various bases, their use, and potential data sources. One quip: there is no apparent link to the list of bases and their categories listed in chapter 3. For example, one does not find a category of segmentation bases focused on "Decision Makers/Decision Making Units" (p. 40) in Part II.
"Part III: Implementing Segmentation Strategy" (chapters 8 and 9) discusses target marketing, segment attractiveness, positioning, marketing strategy formulation in business markets, building a segmentation-driven organization, implementation issues, segmentation audits, and business segmentation challenges.
Chapter 8 on "Strategic Target Marketing," after a short description on market segment selection, contains a review of the marketing mix with limited connection to segmentation. The question of how one uses the outcome of a market segmentation study is so central to this topic that I would have liked to see recommendations on how to deal with acceptance problems, to promote adoption, and to make use of the collected data for product strategy development.
Chapter 9 on "Enhancing Segmentation's Value" is about improving segmentation practices in organizations. The author proposes a "segmentation audit," which apparently consists of a marketing audit with subsequent interpretation toward segmentation. I confess that the value of that approach eluded me as it seems feasible to audit just segmentation-related practices using similar criteria to those put forward in the "critical examination of one's segmentation practices" (p. 17) in chapter 1.
"Part IV: Segmentation Strategy Cases" presents six examples of business segmentation approaches and strategies from Collins Aviation Services, Dev-Soft, Dow Corning, Lexmark International, Pharmacia Corporation, and Sportmed. The selection of cases provides a wide variety of segmentation problems and allows the reader to apply the covered concepts helped by end-of-case questions and reading suggestions.
Segmentation is a useful tool to allow the firm to customize its products and services and by doing so to enhance their value to the customer. Choosing segments to target can be a key strategic consideration for the firm as a whole. The individual product manager also can use segmentation to improve product definition, pricing, and positioning. When so used, the segmentation bases become much narrower, and segments may be defined more clearly. It is not necessary to view segmentation as a corporate marketing tool alone.
Unfortunately, the author has fallen prey to seeing his subject as much more encompassing than may be justified in many companies. This is excusable in that authors on such subjects as pricing, product definition, project management, and a variety of other managerial topics have committed similar "crimes." However, it weakens Parts II and III, which could have benefited from a treatment of segmentation practices at the working or product management level.
While handbooks in other areas often make use of multiple authors to provide a balanced view, the author compensates by drawing heavily on outside sources, as evidenced by the seven pages of references for the main text, plus multiple reading suggestions for each case. He reproduces checklists and criteria from these references, which lead to authoritative coverage of the subject. The author also does not limit himself to presenting a balanced and comprehensive view of segmentation itself but strives to put segmentation into a larger context. Consequently, this handbook is well worth keeping near one's desk.
Released:
October 1, 2013, 12:45 pm |
Updated:
November 20, 2013, 12:29 pm
Keywords:
PDMA Blog
1516532124
Feedback:
0 Comment(s) — Latest:None