Book Review: Creating the Project Office: A Manager's Guide to Leading Organizational Change
By: PDMA Headquarters on Oct 01, 2013
Book Review: Creating the Project Office: A Manager's Guide to Leading Organizational Change
By: Randall L. Englund, Robert J. Graham, and Paul C. Dinsmore. San Francisco: John Wiley & Sons, Inc. , 2003 . 307+xx pages
Review by: Gerald M. Mulenburg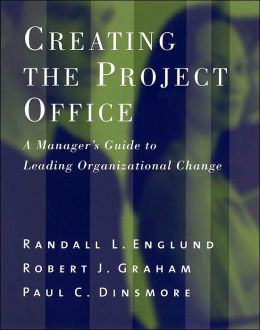 Project management is a natural framework for any product development endeavor, so improving project management in organizations is an important aspect of business success. Developing a project management office (PMO) to oversee all aspects of the project management function integrates project management and business processes in an intelligent and structured way that leaves project managers, team members, and support organizations free to focus on those things that they do best. And the PMO does much more—it monitors, adjusts, and improves those processes over time. However, there are some difficulties in accomplishing this valuable role. The PMO can be perceived as a danger to other business units by levying requirements on them that consume their scarce resources and by making visible some potentially embarrassing activities. This makes the first job of the PMO one of creating a place for itself by proving its value to the organization. This may be a difficult and daunting but valuable task, and it can be a life-saving activity for some organizations.
These two books describe the development of a PMO from two distinctively different viewpoints, that of a manager executive and that of a PMO implementer. Although discussing the same subject, their approaches meet the needs of these different audiences. A manager considering whether to implement a PMO is interested in reading about the importance of and overall approach to accomplish this task in order to understand what impact it will have on the organization. Creating the Project Office aims at that manager. The authors' metaphor of a journey with a number of specific steps through three well-defined areas is a compelling approach. It takes an executive view from the balcony in describing the PMO and its implementation. On the other hand, if a reader wants to implement a PMO at the working level, The Complete Project Management Office Handbook is a thorough description of how to do it. Its well-defined project management continuum and numerous tables and function models provide detailed guidance for anyone, from the novice to the experienced project manager, to determine where they are in the project-management-office continuum and how to achieve their objective.
In Creating the Project Office, the authors first define the project office as "… a team dedicated to improving the practice of project management in the organization [with a goal of] obtaining more value from projects, making project management a standard management practice" (p. xi). The authors assume that the book's readers will be involved in project management: "We write this book from the point of view of advising a small group of people, call them change agents, who are attempting to implement a project office" (p. 1, italics in original). The PMO provides value "… by ensuring that projects are performed within procedures, in line with organizational strategies, and completed in a way that adds economic value to the organization" (p. xii). The authors clarify that their use of the termproject office covers a variety of PMO forms, such as program office, project management initiative, program management office, project support office, or project management center of excellence. Their underlying philosophy of a project management office is to manage organizational change: "This is a book about improving organizational performance by implementing a project office system … as a core competency" (p. xi). This occurs through enterprise project management: "The enterprise approach to managing projects is a managerial philosophy based on the principle that company goals are achievable through a web of simultaneous projects, operational improvement, and organizational transformation" (p. 7). Although the authors' focus is on the enterprise project office, they emphasize that any type or size of project office can be an effective instrument in improving project performance.
They describe implementing a PMO as a journey along a twisted path of 11 steps through three environments that constitute the three parts of the book. The journey starts in a stormy environment, moves through a dangerous territory of lions and tigers and bears, and ends in a sunny paradise. These three environments are metaphors for the three phases of change: unfreezing (creating conditions for change) changing (making change happen), and refreezing (making change stick). The 11 essential steps for developing a PMO and what to expect along the way are detailed as chapters of the book within the three sections. Germane case studies and anecdotes throughout the book illuminate the concepts presented.
Part 1 initiates the change. Chapter 1 emphasizes building widespread project management acceptance by generating short-term wins, developing broad-based action, and consolidating gains to produce more change. Chapter 2 advocates creating a sense of urgency to help people suspend long-held beliefs. Chapter 5 concludes the section with tell-the-tale, which suggests gathering internal support by identifying where the pain is in the organization and then helping to alleviate it.
Part 2, "Making Change Happen," emphasizes moving from planning to doing. It advises following the four "Bs":
Be flexible: a plan is a metaphor not a law.
Beware: things seem easy—at first.
Be alert: opposition can arise at any moment.
Be ready: improvise and adapt to reality.
Chapter 6 warns about resistance when implementing change. A real danger lies in unintended consequences (often negative) that can happen during change efforts.
Part 3 concludes the journey by focusing on the period after implementation with the PMO now acting as the organization's cultural change agent to make the changes stick. Four key roles help to achieve sticking: (1) sponsors, who legitimize change; (2) change agents, who are responsible for planning and executing change; (3) targets, who are the ones who must change the way they work; and (4) advocates, who want to see change happen. Only when all of these roles are active can change become embedded in the organization. The authors conclude, in chapter 11, that "… there is no simple or secret answer. The journey is long and arduous …" (p. 277). They even suggest that the obstacles may be so great that it might not be worth the effort; some organizational cultures may be too strong to allow for creating the needed change.
Creating the Project Office includes some repetitive material across the chapters that I found a bit distracting. Chapter 10 is the climax and ties the earlier material together with definitive steps to follow in implementing the PMO.
The Complete Project Management Handbook is a great practitioner's book for anyone implementing a PMO and needing a detailed methodology for doing it. As a handbook, one can use it both as a beginning guidebook and as a continuing reference throughout the growth of a PMO. The author sees the key role of the PMO as "… a business integrator" (p. vii). The introduction of this book is a must-read, perhaps many times during implementation, to keep the larger picture in mind amid all the detail provided in the handbook. The book's practices follow the Project Management Institute's A Guide to the Project Management Book of Knowledge (PMBOK®) for all types of projects.
The book covers the entire range of project management maturity with five prescriptive stages of PMO competency using a competency-continuum model (a project management capability maturity model). The continuum extends from (1) a simple project office to (5) a center of (project management) excellence. Five facets of PMO management act across this continuum: methodology, infrastructure, resource integration, technical support, and business alignment. These constitute the five major sections of the book. All chapters have uniform subsections, which makes it possible to read the book following a certain subsection topic in all chapters. For instance, the last subsection in all 20 chapters addresses the smaller PMO.
One thing that would complement the Complete Project Management Handbook is a complete matrix containing all of the tables of activities across the PMO continuum as a map for the reader or PMO implementer. A similar matrix of all of the function model diagrams from each chapter also would be a useful addition.
In summary, there is little doubt that both of these books have an audience among both managers and implementers of PMOs. Creating the Project Office is an easy to read, informative, and realistic description of the difficulty and pitfalls involved for the executive considering implementing a PMO. The Project Management Handbook is a comprehensive resource for creating or growing a PMO. Both books aid in developing a PMO by guiding the executive or implementer in dealing with management of the organization and in providing the necessary details of how to get the job done.
Released:
October 1, 2013, 12:27 pm |
Updated:
October 30, 2013, 12:24 pm
Keywords:
PDMA Blog
1521581979
Feedback:
0 Comment(s) — Latest:None