Book Review: The Innovator's Solution: Creating and Sustaining Successful Growth
By: PDMA Headquarters on Oct 01, 2013
Book Review: The Innovator's Solution: Creating and Sustaining Successful Growth
By: Clayton M. Christensen and Michael E. Raynor. Boston: Harvard Business School Press , 2003 . 304+x pages.
Review by: Mark J. Deck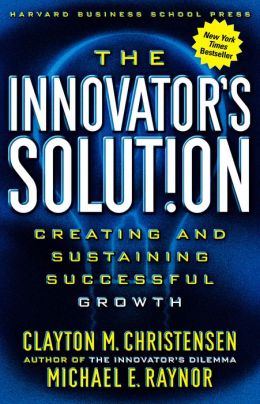 For those who have read The Innovator's Dilemma (Christensen, 1997) or those who have heard Clayton Christensen explain its theories, these two books serve to extend and to apply that thinking, making it far more useful to those involved in product and business innovation. For those new to this thinking, The Innovator's Solution provides a great overview of a well-researched and compelling theory that explains why launching new growth businesses is so hard while showing would-be innovators how to make the process of creating new growth businesses more predictable. Seeing What's Next takes the theory a step further and shows how to use it to analyze how innovation will change an industry.
If you are looking for a book on how to generate new ideas or how to manage the "fuzzy front end" at the project level, you will not find these very useful. These two books will be most useful to those involved in business innovation and strategy, although there is plenty that can be applied to innovation management as well as strategy for new products, product platforms, and product lines. Those involved in portfolio management or portfolio decision-making also should find the concepts useful. It might be helpful to think of these as addressing macroinnovation theory instead of microinnovation theory (like macro- and microeconomics). If you are hoping that reading these books will help you identify new opportunities that can be realized in 6 to 18 months, you also are likely to be disappointed. Many of the examples show that it can take a long time to realize fully the power of a disruption.
As indicated in Karen Graziano's January 1998 JPIM review of The Innovator's Dilemma, Christensen writes from the basis of a great deal of research, but the original theory relied perhaps too heavily on a lengthy example from the disk drive industry. In both of these new books, the examples are far more diverse, making the theory more meaningful and robust. Readers will find these two books to be well organized, with a deliberate "tell them what you're going to tell them, then tell them, then tell them what you told them" kind of style. The writing includes excellent comments and references, important because the authors synthesize contributions from many others along the way (such as Dorothy Leonard, Charlie Fine, and Geoffrey Moore). Noteworthy of both books are the various "litmus tests" offered up to help guide analysis and validation of disruption. I also liked the way these books try to establish clear definitions of terms. In particular, new product development (NPD) professionals would be served well to adopt the definitions of sustaining and disruptive and to avoid the mistake of calling all radical innovation disruptive.
If you are in a dilemma about which of the trilogy to buy, I found The Innovator's Solution to be the most valuable of the three and would recommend it as the starting point for NPD professionals new to this thinking or wanting to understand it better. Nonetheless, I found the additional concepts, summaries, and extensions of the thinking in Seeing What's Next to be useful. I have highlighted these concepts in the comments following, where I outline each book (beginning with The Innovator's Solution) with brief comments on chapters and themes I found most valuable.
Rather than begin The Innovator's Solution with repetitive rehashing of the original theory, it starts with a provocative look at how business theory should be developed if it is going to lead to predictability. I found those insights the most valuable part of chapter 1. Chapter 2 quickly reintroduces the original theory using a different industry (minimills in the steel industry) and goes on to extend that theory in an important way. My biggest problem with the original book was the way market disruption examples seemed to be portrayed as technology disruptions. For me, it made it more difficult to apply the thinking. I was pleased to see that Christensen had addressed this problem head on, adding a new dimension to his core theory, now differentiating between low-end disruption and new-market disruption.
From there on, the book is organized to answer a series of questions about how to beat competitors, what products to develop, what customers to target, what to insource versus outsource, how to maintain competitive advantage, and how to organize. Chapter 3 on products highlighted segmentation, and I valued the insights gained by taking a circumstance-based view that requires looking at the job the customer hired the product to do. This is essential thinking to establish a disruptive foothold in a marketplace. In the next chapter the key learning is that most successful disruptions are accompanied by business model innovation that includes all aspects of the value network, an important thread developed in later chapters. Chapter 5 went on to explain that product platforms and modularity are not always a good idea. Knowing when to take an integrated approach and when to go modular is an important addition to the current platform theory offered by McGrath (2001) and Meyer and Lehnerd (1997). Chapter 8 builds on this thinking by laying out a view of the strategy process that includes both deliberate and emergent strategy. I particularly liked how portfolio management was characterized as strategy rationalization.
I found this book to have very few drawbacks. The chapter on organization seemed weak relative to the others. For example, I found that the definitions of lightweight and heavyweight teams seemed to confound the issue of functional versus cross-functional. Still, the insights provided on leadership and the chief executive officer's (CEO) role were quite good. Finally, I would have preferred more insight into the linkages between this theory and that on technology, market, and product lifecycles. There seemed to be little mention of it, though those lifecycle forces would certainly be at work.
Seeing What's Next is clearly the more macro of the two, focusing much more on predicting industry change. That focus, while valuable from a strategy point of view, makes it less valuable to those focused on new product innovation. It is organized into roughly two big chunks with helpful "bookends" around them. One chunk is chapters 1 through 4, which present a theory to predict industry change by identifying signals, evaluating competitive battles, looking at strategic choices, and understanding regulatory drivers. The second chunk comprises "future scoping" several industries, including telecom, health care, semiconductors, aviation, and education. These two chunks are preceded by a simple recap of the key aspects of the previous book and are followed by a handy glossary of key concepts.
For me, the two biggest contributions of Seeing What's Next were the innovation motivation/ability framework and the chapter on competitor analysis. The motivation/ability framework shows how different combinations of motivation and ability have a great bearing on innovation. I felt that in addition to explaining innovation at a macro level, they were meaningful at the micro level (for instance, explaining perhaps why companies like 3M can drive more innovation by doing things to increase both motivation and ability.) The competitor analysis chapter was highly insightful because it seemed to synthesize many of the key theories of the two books and to apply them to analyzing competitors. As a learning tool for the reader, this helped me to internalize the concepts—precisely what the authors intended by writing this last book from the perspective of applying the thinking looking forward.
The drawbacks of this book are twofold. Its macro focus makes it less useful for product development, and it does not really add that much more to the thinking provided in The Innovator's Solution. Still, the concepts it did add, along with the thought-jogging application from a forward-looking perspective and the simple recap of all the critical concepts, have great value if it means that the concepts will be understood and applied.
From my perspective, The Innovator's Solution should be required reading for anyone responsible for business or product innovation and/or strategy. It is well worth the investment and should find itself well used over time.
Released:
October 1, 2013, 12:05 pm |
Updated:
October 30, 2013, 12:05 pm
Keywords:
PDMA Blog
1516551704
Feedback:
0 Comment(s) — Latest:None