Book Review: Organizing Business Knowledge: The MIT Process Handbook
By: PDMA Headquarters on Oct 01, 2013
Book Review: Organizing Business Knowledge: The MIT Process Handbook
By: Thomas W. Malone, Kevin Crowston, and George A. Herman. Cambridge, MA: MIT Press , 2003 . 619+xiii pages.
Review by: Steve Guerin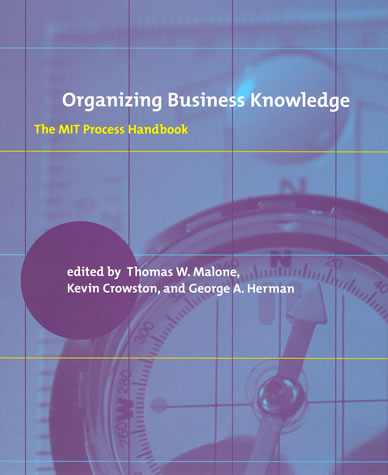 The MIT Process Handbook presents a systematic method of organizing and sharing business knowledge, in the broadest sense, proposes a set of fairly fundamental concepts to direct the analytical methodology, and provides a classification framework for organizing knowledge.
This book documents the considerable work of 40 researchers and industrial sponsors and includes consolidated references and a detailed index. The MIT Process Handbook project started in 1991 and has resulted in the development of an extensive, publicly available online knowledge base that includes a set of software tools to maintain and access this knowledge base.
The book is primarily of interest to academic researchers interested in knowledge creation and maintenance, but business educators, software developers, computer scientists, and consultants interested in best practices also will find the work useful. However, for the NPD professional, it is somewhat intimidating in its size and scope
Essentially, the work demonstrates an approach for developing a "… comprehensive framework for organizing large amounts of useful knowledge about business" (p. 221). The authors' focus was on creating three primary kinds of "entries:"
generic models of typical business activities (e.g., buying and selling),
specific case examples of interesting things particular companies have done, and
frameworks for classifying business knowledge.
The totality of the entries (5,928 as of July 2002) represents a repository of knowledge. Such a repository clearly must be organized properly to be accessed by normal search methods; a sample screen image of an entry is included to illustrate how they accomplished this (p. 223).
A very useful section (section 8.7) examines specific business processes, which are
Process Classification Framework, by the International Benchmark Clearinghouse;
Supply Chain Operations Reference, by The Supply Chain Council;
Lean Enterprise Manufacturing Model, by the Lean Aircraft Initiative consortium, led by MIT;
European Foundation for Quality Management EFQM model; and
Xerox Management Model.
In addition, they extract several models from marketing and product design books.
Readers will find many of the process diagrams (innovation and resource flow, for instance) and dependency and simplification diagrams in chapter 9, among others in the chapter, to be useful for comparing against one's own processes. For example, the "Reengineer business processes" chart (p. 276) identifies activities and resources required to perform this business process, in such an easily understood way that one could determine quickly if their reengineering methodology is comparable.
Later chapters are devoted to integrating software components, describing and redesigning processes, inventing new business processes using a process repository, generating new business process ideas, designing robust business processes, and managing process knowledge. However, most examples are related to service, purchasing, and human resource process areas. Chapter 19 presents the Product Workbench, an interesting means of mass customization of production processes, and the example used involves a hypothetical new financial product created by an account manager at a bank.
The Appendix discusses enabling technology, specifically the process interchange format (PIF), which is an outgrowth of The MIT Process Handbook project. This technology is a computer methodology to allow the sharing of process descriptions through a common descriptive format. The goal is to support maximum sharing of process descriptions across heterogeneous process representations.
Although it is limited in specific examples of product development and management, this book is intellectually challenging and advances several areas of process examination. The MIT Process Handbook should be viewed as a resource showing that a useful business knowledge base is feasible and can be expanded in terms of sheer volume, examples, and scope.
Finally, readers have the opportunity to contribute to the ongoing project through the Open Process Handbook Initiative on the project website (http://ccs.mit.edu/ph/). In particular, NPD professionals could suggest a content-user group for NPD practices and knowledge, which can be requested through the user group administrator.
Released:
October 1, 2013, 12:02 pm |
Updated:
November 20, 2013, 9:55 am
Keywords:
PDMA Blog
1516552166
Feedback:
0 Comment(s) — Latest:None