Book Review: Leading Pharmaceutical Innovation
By: PDMA Headquarters on Oct 01, 2013
Book Review: Leading Pharmaceutical Innovation: Trends and Drivers for Growth in the Pharmaceutical Industry
By: Oliver Gassman, Gerrit Reepmeyer, and Maximilian Von Zedtwitz. Heidelberg: Springer-Verlag , 2004 . 178+xi pages.
Review by: Robert R. Rothberg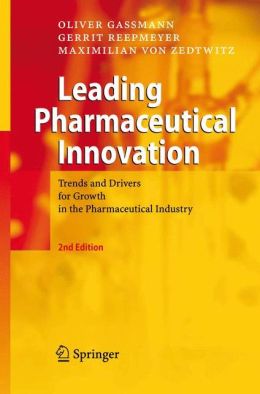 This book examines the international pharmaceutical industry with special emphasis on the current and emerging research methodologies now being employed for drug discovery. While the geographic frame of reference is implicitly international (i.e., North America, Europe, and Japan), the case studies and extended illustrations are drawn from the experience of Novartis and Roche, two Swiss-based firms. This should not be too surprising, however, given the Swiss affiliations and/or education of all three authors. On the other hand, given the important role played by these firms in what is becoming a truly global industry, this perspective is both refreshingly different and highly relevant to any study of the pharmaceutical business.
Leading Pharmaceutical Innovation is essentially a short summation of industry views on research and development and technological possibilities in this regard. The major chapters include a pair on innovation as the key to pharmaceutical success and the special case of Switzerland; three on pharmaceutical challenges (science and technology, pipeline management, and outsourcing and internationalization); and a pair of concluding chapters on "management answers" and the usual "future directions and trends."
What distinguishes this book from others on the same subject is its emphasis on empirical findings (53 figures, 20 tables) and an exceptionally good, if short, discussion of various research technologies such as bioinformatics, cloning, and combinatorial chemistry to name but three. The six-page glossary of industry terms, when used with its decent index, is a particular joy.
However, this short book does not address several important topics, including most if not all market-centered forces for change and innovation in this industry. For example, the authors do not address the pressures faced by the basic price-discrimination model of this industry in a world of government-specified formularies and centralized price negotiations. Nor do they mention servicing needs in Africa and other hard-pressed regions or servicing the needs of the poor and aged in wealthier nations. There is no mention of the relative absence of comparative studies of product efficacy or the rise of government research interest in this subject. Likewise, this book treats generics as an industry problem and ignores their implications for health care management and economics. In short, this is a book about technology, not about marketing or economics.
Despite these criticisms, inevitable in a book of this length with such a tight focus, I still recommend this offering to prospective managers and researchers in this industry and to others who might be interested in the future directions pharmaceuticals might take.
Released:
October 1, 2013, 12:01 pm |
Updated:
October 30, 2013, 12:39 pm
Keywords:
PDMA Blog
1516551382
Feedback:
0 Comment(s) — Latest:None