Book Review: What's the Big Idea? Creating and Capitalizing on the Best Management Thinking
By: PDMA Headquarters on Oct 01, 2013
Book Review: What's the Big Idea? Creating and Capitalizing on the Best Management Thinking
By: Thomas H. Davenport and Laurence Prusak with H. James Wilson. Boston: Harvard Business School Press , 2003 . 242+xi pages
Review by: Randall L. Englund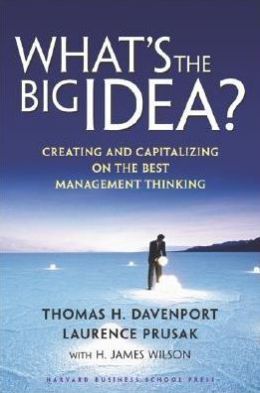 New product development vitally depends upon discovering "new" product ideas. Innovation and business in general require new ideas to be brought in, to be modified for the organization, and to be shepherded through to implementation. Thomas Davenport and Laurence Prusak are writers, researchers, consultants, and teachers who focus their attention on understanding the people who embrace all kinds of ideas and bring them to fruition, resulting in significant product and business improvement.
The authors introduce the role of "idea practitioners" and credit them with doing the real work to import and to implement new ideas into business. The book describes the thorough processes that idea practitioners use to achieve success where others fail. The authors also acknowledge and salute the gurus—people such as researchers, writers, theorists, and consultants who create new ideas. These two groups "form an ecology of ideas, with its own dynamics, that has powerful effects, for both good and occasionally ill, within most large organizations in the world today" (p. ix). A key contribution of this book is to bring more awareness and recognition to idea practitioners and to separate the faddish from the valuable ideas put forth by gurus.
The target audience comprises three groups—idea people, consultants, and managers. As it was for me, this book offers an opportunity for idea people to experience an epiphany—to discover they are not alone in being stimulated by ideas, in feeling frustrated about not being appreciated, and in learning steps to get their ideas implemented. Since ideas introduce change, copious examples offer stimulation about how to become a more effective change agent. Consultants may be inspired to read an articulate expression of their role as a conduit for spreading ideas and practices throughout organizations and to understand better who their contemporaries are and what they are doing. Managers gain an appreciation for valuable resources already existing within or outside their organizations and how to tap this wellspring of ideas for greater business impact.
The authors believe the subject of idea management is more important now than ever before because
The size of the idea management problem is increasing: more and more ideas, more idea creators, blurry lines between professions, and more channels for distribution.
The pace of idea generation has accelerated, and management attention to deal with new ideas increasingly is scarce.
Innovative business ideas have become more important to companies' products and services.
The opening chapter compares how General Electric avidly pursued new business ideas whereas Westinghouse, despite its product discoveries, languished, largely by an overriding focus on financial results instead of business innovation. GE does not just talk about ideas—it gives them a bear hug: they embed in the management system new ideas that become corporate initiatives, conduct intense learning sessions, and stick with the ideas instead of treating them as fads. The chapter describes ideas that improve internal business performance—such as ideas in the areas of knowledge, supply chain, or portfolio management—and product development ideas that aid the process of bringing new products to market by companies selling services, software, or tangible goods.
The authors' intent is to generate insights and to provide a set of tools and frameworks to help idea practitioners do their jobs, such as criteria for selecting which ideas to pursue, how to enlist others in idea-generated initiatives, and applying multiple points of view to achieve acceptance. The context that guides the authors is that ideas serve two basic roles: (1) improve organizational performance in areas such as improved cost, cycle time, financial performance, and market share; and (2) provide legitimacy by impressing people such as customers and investment analysts that the organization diligently is attempting to improve. Throughout the book the authors stress three objectives—improved efficiency (how things are done), greater effectiveness (what things are done), or innovations in products or processes (contributions)—as criteria; big ideas need to address at least one of the three objectives to be considered. Idea practitioners who determine what ideas make sense, modify them, and mobilize their organizations are the subject of chapter 2. These evangelists are heads of operational units and business functions, planners and strategists, and individual contributors. They manage people, budgets, projects, and processes, but they also "get things done through passion and persuasion more than power" (p. 13). Sidebars tell the stories of real people and the step-by-step means they employ to get ideas implemented.
The next two chapters discuss how ideas go wrong when they become faddish or go right when they become pervasive. A clue appears in the chapter subheading: "It's the content that counts" (p. 49). Fads occur when people indiscriminately apply ideas whose content does not fit the organization, treat the ideas as panaceas that can solve all problems, or talk about implementing but do not supply sufficient resources or commitment to make anything happen. Ideas whose content is selected carefully and is modified for the organization ultimately are more successful.
Extensive research and notes in the back of the book describe the key source of ideas—business gurus—who create business ideas for a living, and they explain how guru contributions are ranked. The authors advise readers to understand the source of new business ideas, cultivate relationships with a select few gurus, but also keep "gurudom" in perspective. The book goes on to describe how certain pressures help ideas become important and valued. One example is the uncertainty in how to make an organization more effective, efficient, or innovative. There are few, if any, scientific or verifiable rules and methods to guarantee success. The authors say this gap opens up a giant hole for idea sellers to fill. Gurus find buyers for their ideas through channels such as storytelling (narratives), the written word (publishing), education (training), and conferences (speaking). The book offers criteria such as translatability and timing to help idea brokers evaluate ideas and then describes an approach to selling ideas into organizations. A common theme is seed, select, and amplify.
Two chapters present detailed case studies of how ideas work in organizations: one that struggled with reengineering and another that succeeded with knowledge management. The book concludes by recording an interview with an outstanding idea practitioner; this interview provides a first-person detailed point of view about how he worked with the chief executive officer (CEO) to sell ideas, to break down boundaries, and to use experimentation as a way to avoid failures. Appendix A lists a select survey of business and management ideas; Appendix B provides a list of idea practitioners; and Appendix C scores the top 200 business gurus.
The authors consistently emphasize the importance of customizing ideas to the environment and culture. Credibility is a requisite characteristic that enables idea promoters to get their ideas across to others. People give greater credence to senior people who are great storytellers, because these people have lived through more events; have refined their stories to their essentials; and have gained the wisdom to emphasize what stories to tell, to whom, and to what effect. Idea promoters "should be serious, credible, earnest, and passionate … exhibit a 'sense of discipleship', and have a strong sense of direction for his or her own career and for what will make the organization successful" (p. 29). A critical success factor is to link the idea to something the organization already cares about and can understand easily. Develop resonance between ideas and organizational needs, and use the language of problems the organization is facing.
The book offers much practical advice for idea practitioners. Major change involves working on foundations, which is time consuming but critical. The authors suggest experiment first, and then scale up—people can afford to fail while experimenting. Also know when to get out of the way: where an idea starts out is less important than where it ends up. Successful practitioners use rhetoric with care and precision; rhetoric leads, and action follows. Note that just because an idea provides intellectual stimulation does not mean that it offers business value. Value becomes more probable when there is a critical mass of supporters, and that mass can be accumulated by listening to reactions and suggestions from critical individuals—the gatekeepers who make the difference between fighting widespread, internal resistance or achieving strong advocacy.
Initiatives run amok lead the authors to the conclusion that "senior executives in a company should maintain control of the project and involve employees in doing the work as much as possible" (p. 171). This means not to turn over implementation of new initiatives to consultants but rather to stay involved. Case studies demonstrate common premises from change management: people who do the work will be much more likely to adopt new processes if they have a hand in designing them; if people and their desires and behaviors are not paramount in any new business approach, the approach probably will have a tough time succeeding.
Much like the quality movement, the authors suggest that management embed idea-related activities throughout an organization rather than establish an "idea management" function. Leaders need to ensure that the presence and respect of idea practitioners is pervasive. Demonstrate through support and recognition how the value of these mature, wise, productive, and respected individuals is an incredibly valuable resource. A role of managers is to state organizational values clearly because these basic values set the boundaries for practitioners to explore ideas.
A distraction in this book is that Davenport and Prusak's role in the idea movement often appears in the narrative. Graphics or charts are in short supply, but stories and examples abound. This is not a book about generating or managing new product ideas; instead, it covers how ideas in general come to fruition through people and supportive processes.
Released:
October 1, 2013, 11:54 am |
Updated:
October 30, 2013, 12:12 pm
Keywords:
PDMA Blog
1516551293
Feedback:
0 Comment(s) — Latest:None