Book Review: Strategy Maps: Converting Intangible Assets into Tangible Outcomes
By: PDMA Headquarters on Oct 01, 2013
Book Review: Strategy Maps: Converting Intangible Assets into Tangible Outcomes
By: Robert S. Kaplan and David P. Norton. Boston: Harvard Business School Press , 2004 . 454+xviii pages.
Review by: Ralph Wood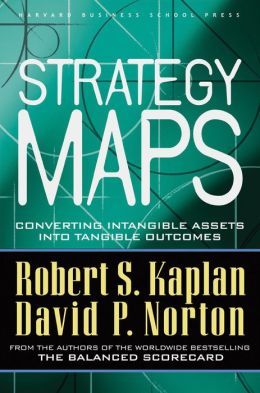 A strategy map helps an organization visualize its strategies for creating value, and the strategy mapping methodology defined by authors Robert Kaplan and David Norton is an evolution of their well-tested balanced scorecard (BSC) approach to strategy (Kaplan and Norton, 2001). Their latest book takes the reader on a three-part tutorial of strategy maps—overview, value creating processes, and intangible assets—before describing, in part IV, how to build and to customize a strategy and strategy map for your organization. They illustrate each subsection of the tutorial with one or more case studies, and the book concludes in part V with a collection of case studies from a cross-section of organizations.
Strategy Maps aims at leadership teams, who should find enough information, tools, procedures, measures, and real-life examples to be able to create winning strategies (and strategy maps) for their own organizations. What makes this book stand out are the detail, linkages, and associated measures provided with each of the BSC perspectives—(1) financial; (2) customer; (3) internal; and (4) learning and growth—as well as the numerous case studies used to illustrate key points. This reviewer was disappointed with the disproportionate representation of service-sector organizations in the case studies. However, a competent leadership team in a product or system (OEM) business should be able to "connect the dots" easily for themselves by using the generic material presented in the first four parts of the book.
Product development enters the strategy map in the context of "innovation processes," which share the internal perspective of the BSC with three other value-creating processes: "operations management processes,""customer management processes," and "regulatory and social processes." Innovation processes consist of the following: identify opportunities, manage the research and development portfolio, design and develop new products and services, and bring new products to market. Most leaders of product development will find nothing new in the exposition on innovation processes, although there are references to several of the important thought leaders in this area.
In keeping with the notion of a strategy map, and what some product development leaders might recognize as novel, the authors develop links (always with objectives and measures) between innovation processes and objectives in the other BSC perspectives. However, it is curious that the authors have not discussed the integration opportunities that exist within the internal perspective; that is, product development cannot be isolated from operations management, customer management, and regulatory and social processes, but nothing in the strategy mapping process precludes these connections.
Leaders of product development organizations will do well to study this book and to construct their own strategy maps. Complementing this undertaking with the advice contained in Bossidy and Charan (2002) should ensure that an organization's strategy map will become a reality.
Released:
October 1, 2013, 11:45 am |
Updated:
October 30, 2013, 2:09 pm
Keywords:
PDMA Blog
1516550587
Feedback:
0 Comment(s) — Latest:None