Book Review: Creating an Environment for Successful Projects
By: PDMA Headquarters on Oct 01, 2013
Book Review: Creating an Environment for Successful Projects
By: Robert J. Graham and Randall L. Englund. San Francisco: Jossey-Bass ,2004 . 307+xxvi pages.
Review by: James W. Sloane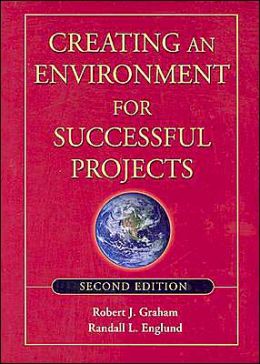 The main theme of this book is that successful project environments in organizations are created and are maintained by upper management. This focus on upper management naturally reveals best practices at a high organizational level.
Since project management is an essential methodology underlying successful product development, this book can be an excellent reference for product development leaders at several levels. Most directly, it explains what upper management must do to produce products that satisfy stakeholder needs. In addition, this kind of information is invaluable to development team leaders, as it helps them understand what upper management needs to do to develop products successfully. It also can serve development team leaders to assess their current organization in terms of a supportive environment.
In chapter 1, "Leading the Change to a Project-Based Organization," the authors criticize upper management for their failings to implement organizational change effectively. The authors offer a solution later in the book, by suggesting that an "upper-management team" decide on what, when, and how organizational change should take place.
There are two major components to creating environments for successful projects: upper-management authenticity and integrity and upper-management alignment and agreement on strategy. Without authenticity (upper management means what they say) and integrity (they do what they say they will do), people lose faith in organizational improvements. If the "messenger" of poor project performance or failure is punished repeatedly, upper management loses the trust of people. They must be willing to listen to mistakes they have made with an open mind and learn from them. "Hanging a scapegoat merely ensures that the reasons for failure will never be discovered: the same mistakes might be made again and again. Upper management will not be trusted until it sees that people who discuss 'mistakes' are no longer made the scapegoats" (p. 282).
Upper-management alignment and agreement on organizational strategy is key to development of environments that breed successful projects. This alignment is achieved by establishing councils or boards that represent departments across the organization and work with project managers, helping them understand the system of projects. "These councils or boards exercise leadership by articulating a vision, discussing it with the project managers, asking them their concerns about and needs for implementing the strategy, listening carefully to them, and showing them respect so that they become engaged in the process" (pp. 45–46).
The upper-management "team" idea is a good one, but in many organizations, these people are mostly self-indulgent, wondering, "How's my stock option package doing?" or "I've got the best approach to our new product offering, why doesn't marketing get it?" It is hard to say how effective the authors proposed solutions would be in these kinds of environments. Many of the shining examples of success are from Hewlett-Packard, one of the most forward-looking companies in Silicon Valley. Companies in this category of project and portfolio maturity are rare.
The book is organized around 10 concepts represented by pieces of a puzzle that, when assembled, establishes an environment conducive to successful projects. Some of the important puzzle pieces are "The Change to Project Based Organizations,""Strategic Emphasis for Projects,""Organize for Project Management," and "Develop a Learning Organization." I like the metaphor, but these concepts are difficult to implement and would take years to emerge as driving forces in the organization. So if you are looking for fast ways to improve product delivery right now, this book will not help.
The authors discuss some excellent organizational best practices and provide steps to achieve them. One organizational practice is linking projects to organizational strategy as a way to avoid "suboptimization." This happens when project leaders hoard resources, become secretive about their project, and act independently. This frequently prevents other projects from being successful. Unfortunately, the authors do not provide motivational approaches to guide teams away from this behavior.
However, they do say that prevention comes from communicating organizational strategy to all, so that they understand the total system of projects. Individual project managers then see how their self-interest decisions impact the strategic goals of the organization. Also, upper management must tell project leaders that the resource pool will be managed by them and not by individual projects.
Another best practice discussed is the use of "core teams"—project members who stay on the project from beginning to end and, according to McGrath (2004, p. 361), represent a "hub-and-spoke project team model, with a small inner team empowered to coordinate all project activities of the extended team. Inner team members are drawn from different functions, with a project manager facilitating the team." This practice has been shown to reduce cycle time, to improve quality, and to enhance effectiveness. "Experts at Motorola claim that one of the fastest ways to improve quality is to focus on reducing cycle time. They found that when they focused on cycle time, defects were reduced at a much faster rate then when they focused on defect reduction alone. This is because core teams reduce hand-offs from one department to another, reducing the information loss and quality decreases such hand-offs might otherwise cause" (p. 116). In support of their core-team execution effectiveness claim, the authors quote Hewlett-Packard employee Ellis: "The teamwork and alignment of the members of the core team is critical. … The project team and management group will look to this group to provide leadership. The extent that we get 'out of our silos' [see chapter 5] and act as a team will play a large factor in success or failure" (p. 119).
An important organizational best practice is the concept of a dual career ladder. Some people are forced into leadership roles for which they are unsuited or are uninterested. It is typical of upper management to assume that a high-technical performer can and should lead projects and departments. They assume that understanding the project technology is the most important attribute for the leader. Frequently, this is how they became management, and they see it as a natural career progression. "Research points to the enthusiasm of the project manager as a key criterion for project success: the project manager not only must want to be a project manager but must want to manage the project in question. David Packard, a co-founder of HP, stated as part of the corporate objectives in 1961: 'A high degree of enthusiasm must be encouraged at all levels; especially the people in important management positions'" (p. 191). The newly appointed leader finds a world of personalities, agendas, and conflicts with which they are not equipped to deal. Those lacking enthusiasm for management and leadership—and certainly those not trained—should have an alternate, satisfactory career path. This is covered well in chapter 7, "Selecting and Developing the Project Manager," where the authors provide lists of competencies, identified from research, that distinguish outstanding project managers. A few of these are "sense of ownership and mission,""relationship development," and "strategic influence" (p. 192).
At the end of every chapter is a box called "The Complete Upper Manager." These list successful upper-management best practices or personal characteristics. They are very useful for understanding upper management's influence on successful project environments. You can use these lists to measure your environment and thus to improve it.
The closing chapter, "Creating an Environment for Successful Projects in Your Organization," provides a seven-step implementation process including "Developing Senior Management Support,""Develop Upper Managers' Abilities in Managing Project Managers,""Make Project Management a Career Position," and "Develop a Project Learning Organization." The authors close the final chapter with an architecture metaphor. "Organizations advancing along a project management maturity model toward enterprise project management can be viewed as a pillars-to-arches evolution" (p. 283). Development of the arch by the Romans opened up building construction to wider possibilities. What the Romans conceived, they could build.
This is the authors' call to upper management: Create an environment for successful projects, and you can deliver whatever you build.
Released:
October 1, 2013, 11:43 am |
Updated:
October 30, 2013, 12:44 pm
Keywords:
PDMA Blog
1521581896
Feedback:
0 Comment(s) — Latest:None