Book Review: Innovating at the Edge: How Organizations Evolve and Embed Innovation Capability
By: PDMA Headquarters on Oct 01, 2013
Book Review: Innovating at the Edge: How Organizations Evolve and Embed Innovation Capability
By: Tim Jones. Boston, MA: Butterworth-Heinemann , 2002. 350+xiv pages
Review by: Michael A. Stanko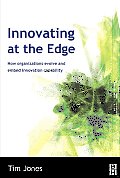 A helpful guidebook for the innovation practitioner, Tim Jones' work provides a straightforward review of various product innovation concepts. Along the way he offers numerous insightful, well-presented examples of the innovation process.
Throughout this work, Jones briefly reviews many concepts key to a practical understanding of innovation. He uses revealing examples from leading companies to illustrate these concepts (exemplar companies in square brackets):
Product strategy (offensive, defensive, imitative), p. 24 [Sony]
Quality (brief discussion of Six Sigma), p. 36 [GE]
Project selection and stage gates, p. 45 [Dow Chemical]
Product champions, p. 51 [Honda]
Technology transfer, p. 57 [Xerox]
Mass customization, p. 117 [Dell]
Virtual collaboration, p. 235 [Covisint]
One of the strengths of Jones' work is its very strong readability, particularly for a book in this genre. This is accomplished mainly via his unpretentious writing style and bountiful use of graphical outlines and point form. Further, Jones skillfully explains several fairly complicated constructs in an easily digestible manner. His discussion of stage gates (p. 46) becomes particularly tangible as the first gate is explained using the example of Marconi Corporation's approach to this particular managerial decision point.
Jones consistently finds a way to break down concepts into easily digestible steps, which should make this book useful to engineers making their way into innovation management and to beginning students of the innovation process. However, there is not much truly new content introduced in this work, and the concepts are presented at an introductory level, which together combine to limit this book's value for the seasoned manager or academic reader (with a notable exception as a teaching tool). Experienced managers will find little enlightenment in the "Ten Innovation Myths" (e.g., Myth 1: Innovation does not impact the bottom line; Myth 3: Innovation is only relevant to a few industries; and Myth 9: Innovation cannot be managed.)
This book would serve a useful purpose in introducing new product development in undergraduate and M.B.A. classes (and to provide meaningful real-world examples for instructors at these levels). All the traditional examples are here: Sony, Polaroid, Nike, Snapple, Xerox, Intel, etc., which definitely would be useful in ensuring that students and newly appointed managers are exposed to this sort of material early in their new product development-related careers.
Interestingly, Jones occasionally uses examples from companies well outside the technology sector. For instance, a small European lingerie firm (Zara) serves well as an example of a traditional company succeeding through innovation in design and production (p. 84). Examples such as this usually are mapped neatly to managerial concepts. In this case, the discussion of the importance of "Speed to Market" flows smoothly into the Zara example.
My chief criticism of this book is the scope creep that is at times evident. Jones' coverage at points extends to an overview of the entire marketing function. Examples of this scope creep include a discussion of branding and customer behavior in part 2. Earlier on, his discussion of organizational design (matrix organizations in particular) strays from his primary focus on innovation. Jones spends only a few pages near the conclusion of the book discussing "embedding innovation" in organizations, which I feel is the most significant learning that innovation practitioners will take from Innovating at the Edge.
In his concluding section, Jones describes the stages through which an organization must progress on its way to embedding innovation. He discusses similarities that this initiative would have to other organizational change programs, mentions some of the supporting tools, and covers associated metrics. The five steps of embedding innovation are as follows:
Evaluation: "Understanding current company and industry performance, identifying opportunities and assessing benefits" (p. 268).
Focus: "Prioritizing action against corporate reality and defining the scope of the desired improvements, the targets and success criteria" (p. 287).
Design: "Defining the changes that need to be introduced to deliver the defined improvements in the strategy, process and organizational arenas" (p. 295).
Implementation: "Piloting, evaluating and rolling out defined changes across the organization and its partners to realize the improvements" (p. 306).
Review: "Assessing progress against the defined targets and criteria, evaluating both success and failure, and capturing key learning and insights" (p. 316).
To summarize, Jones provides a valuable, but not entirely fresh, overview of concepts surrounding innovation. Innovating at the Edge uses tangible examples throughout, making this book very suitable for beginning practitioners and students of the innovation process.
Released:
October 1, 2013, 10:58 am |
Updated:
October 30, 2013, 2:05 pm
Keywords:
PDMA Blog
1516532126
Feedback:
0 Comment(s) — Latest:None