Book Review: Project Management ToolBox: Tools and Techniques for the Practicing Project Manager
By: PDMA Headquarters on Sep 26, 2013
Book Review: Project Management ToolBox: Tools and Techniques for the Practicing Project Manager
By: Dragan Z. Milosevic. New York: John Wiley & Sons , 2003 . 584 + xvi pages.
Review by: Paul Shaltry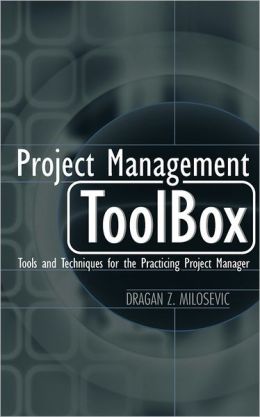 Many firms think of their product development in terms of project management. Others are moving toward enterprise-wide views of projects—sometimes called a project management office or enterprise project management. This review covers three recent offerings that address project management in contexts broader than just a single project, and each touches on product development applications.
The theme that unifies these books is the strategic and competitive value that project management can offer. Each, in its own way, supports building and using project management capabilities systemically in an organization.
In Project Management ToolBox, Dragan Milosevic uses the toolbox metaphor, presenting and explaining more than 50 useful tools and techniques along with their applications, advantages, and disadvantages. Moreover, he advocates that from this toolbox, a toolbox aligned with one's own organizational strategy can—and should—be constructed. Milosevic, a professor and consultant, built an easy-to-use book. The preface includes a super graphic to understand the framework and elements of the book at a glance. Getting at the tools should be quick for any reader. Moreover, he presents the tools in project process sequence: initiation, planning, implementation, and closure.
Furthermore, Milosevic provides a whole chapter and four appendices dedicated to selecting and to customizing a project management toolbox. In addition, the book offers examples from the author's consulting experience, including many from product development. The first chapter, Strategic Role of the PM Toolbox, is the only one that hints of being theoretical. It offers a thoughtful explanation of how an organization's project management toolbox supports competitive strategy. The author emphasizes that the tools should support a project management process capable of delivering projects with speed, repeatability, and concurrency, which he defines as the ability to deliver multiple, typically interdependent, projects simultaneously. Getting the right blend of tools supporting strategy is what the book is about.
Chapters 2–15 describe the tools in practical ways so that even if they are unfamiliar, judgments can be made about the application to one's organization. For example, chapter 4, Voice of the Project Customer, includes customer roadmap, the focus statement, sample selection, discussion guide, quality function deployment, concluding remarks, and references. Each tool presentation is structured consistently: What is the Tool?; Constructing the Tool; Utilizing the Tool; and Summary and Tool Check. Chapter 16 is the aforementioned one about building a toolbox in terms of project size, project family, and project type, including real-world examples. Appendix C illustrates PM Toolboxes for new product development (NPD) and manufacturing environments.
The author recognizes that a possible shortcoming of the book is its limitation to tools for project management deliverables, excluding interaction with specific technical tools and deliverables associated with industry-specific project life cycles. This is a book that a builder of project strategies or a manager of projects can use for reference for a long time.
The second book, Building a Project-Driven Enterprise, by Ronald Mascitelli, takes a different slant on the toolkit approach than does Milosevic, but the goal remains to optimize project capability enterprise-wide. Jolt beliefs about project management and NPD practices by reading Mascitelli's treatment of lean principles and practices. The author, a consultant and trainer, challenges thinking on every front. This is a book for experienced project managers but ones willing to examine their habits. It is a solid tutorial that can be used to improve project value at the team, division, or enterprise levels. Set up in yet another "toolkit" metaphor, the book is lively and refreshingly humorous.
With heavy influence from the Lean Enterprise Institute, Mascitelli offers five guiding rules:
Precisely specify the value of each project.
Identify the value stream for each project.
Allow value to flow without interruptions.
Let the customer pull value from the project team.
Continuously pursue perfection.
He goes on to weave his case, starting with positing an operational definition of value (work for which the customer willingly pays) and how value lives or dies encased within the project framework. Timeliness of information, minimizing transaction costs, defining work standards, and leveraging the lessons of information theory all are addressed thoughtfully to build a context in which he presents his 12 methods of lean project management.
In the next part, under the banner of "A Toolbox for Speed and Efficiency," he opens his approach to the 12 methods with the refreshing caveat that "lean methods are not best practices, at least not in the traditional sense…" (p. 88). Rather, the methods and countermeasures showcased here "are transferable, adaptable work skills that can reduce waste in virtually any industry…" (p. 88). Mascitelli claims without hard evidence that his methods have proven successful in project environments of dozens of companies across various industries. His methods are:
Testing for Customer Value
Customer-Defined Deliverables
Urgency-Driven Stand-Up Meetings
Real/Virtual Project Room
The "Waste-Free" Design Review
Staged-Freeze Specifications
Visual Communication
Standard Work Methods
Risk Buffering and Critical Core
Dedicated Time Staffing and Superteams
The Reservation System
The Value-Added Scorecard
While each method can stand alone, there is synergy to be had, he maintains, in combining and tailoring ones that will offer value in each situation. The book illustrates where the methods fit in the typical project lifecycle, which helps in getting a sense of application at a glance. His methods are value-oriented, waste-reducing approaches to proven project management techniques.
The author shows how to use the 12 lean methods in a product development environment. Chapter 7, Creating a Lean Product Development Process, offers suggestions on how to treat familiar elements such as fuzzy front end, requirements, and stages and gates. This book is worth reading because it will help in thinking about what is going on at the project level as well as at the organizational level.
The third book, The Portable MBA in Project Management, by Eric Verzuh, is aimed at senior project managers and functional or general managers who lead "project-based organizations," which he defines as any organization where at least 20 percent of budget or revenue comprises projects. Verzuh has included some previously published works from other authors, including Robert Cooper and Neal Whitten. So, here a reasonable sampling can be found of "(t)he latest principles and strategies, as well as new applications of tried and true strategies," as the book's cover proclaims. While none of the content is product- or industry-specific, there are useful examples, concepts, and issues addressed that pertain to the new product development environment, such as project selection.
Four main sections organize the book's 14 chapters. Part 1 argues the case for project management as a strategic strength and includes an enlightening piece on leading change to a project-based organization by Bob Graham and Randy Englund. This section is a good grounding in project management as a strategic capability. Part 2 grapples with the practical details of project management under the banner of "The Project Management Discipline." The familiar elements of project selection, scheduling, estimating, and resource allocation are addressed, along with stakeholder satisfaction, risk management, and quality management. Jack Meredith and Samuel Mantel's coverage of project selection, though lengthy, fits the NPD environment. Verzuh's treatment of the often-neglected control factors associated with stakeholder management is robust. Part 3 covers project team performance, offering pieces on basic attributes of high-performance teams, discipline and leadership, and working in the virtual environment. Whitten's contribution stands out in this section as a "mirror" to check project leadership behavior. In Part 4, Verzuh attempts to pull useful works together on Managing the Project Based Organization. Cooper's contribution, Stage-Gate™ New Product Development Processes: A Game Plan from Idea to Launch, should be familiar to experienced NPD professionals.
The book's preface and section introductions attempt to explain why the topics are included. Nonetheless, the book has a hodge-podge feel of old and newer project management topics, which by the author's own admission tend to be broad rather than deep. Still, the book is worth reading to become more familiar with the essential details of project management and application of approaches for running a successful project-driven organization.
These three books offer rich, current views on the theme that project management, when properly tailored and applied systemically across an organization, can offer competitive business advantage.
Released:
September 26, 2013, 10:44 am |
Updated:
November 20, 2013, 10:03 am
Keywords:
PDMA Blog
1516532096
Feedback:
0 Comment(s) — Latest:None