Book Review: What Great Brands Do: The Seven Brand-Building Principles that Separate the Best from the Rest
By: Stephanie Richards on Aug 16, 2016
What Great Brands Do: The Seven Brand-Building Principles that Separate the Best from the Rest by Denise Lee Yohn. Jossey-Bass: San Francisco, CA (2014). 251 + vii pages. US$27.00 (hard cover).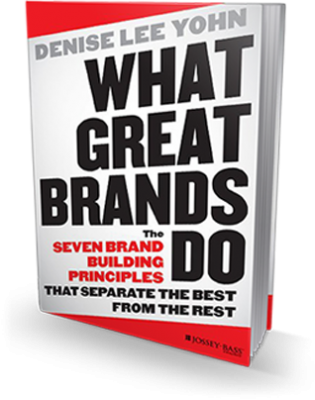 Written by Denise Lee Yohn, "What Great Brands Do: The Seven Brand-Building Principles that Separate the Best from the Rest" identifies seven principles of building a brand that are interdependent on one another, resulting in a holistic approach to building a business as a brand . Yohn, a consultant, speaker and writer with over 25 years of experience helping organizations develop their brands, lays out principles that emphasize in order to build a great brand, an organization must equally respect the importance of the employees of the company, the consumer of the product and the community in which they operate. Useful tools are provided to facilitate the growth toward building a great brand, and case studies are highlighted illustrating how organizations with great brands are so successful. Targeted for business leaders, owners and managers, the book seeks to teach how brand building drives growth and management of a business to influence the business' culture, core operations and customer experiences. Building a great brand begins with corporate culture, developing core values of the brand and then engaging the employee and aligning the external stakeholders to the brand platform. Chapter 1, "Great Brands Start Inside," highlights the importance of corporate culture driving the business – great brands know the important link between company culture and customer experience.
Planning what the brand will do, or not do, to become a great brand is outlined in the next three chapters. Great brands are always engaged with building relationships with the consumer through the emotional connections that are made with products and services. When a consumer is emotionally connected, they have long-term loyalty and satisfaction, and they become your best advocate for your brand. The process of developing an emotional connection begins with empathic research, observation and interviews with consumers to understand their needs and desires. This fuels product innovations and brand extensions, thereby differentiating yourself and forming long-term relationships, expanding and creating new business opportunities. Selling doesn't need to happen when the consumer is the voice of the product, service and brand.
A brand's self-confidence is established in the markets they serve when aligned with its purpose and values. When the brand is able to connect with the consumers, the need to follow trends and chase customers does not exist. Following trends is the simplest and most direct way for any business to raise short-term revenue. However, doing what remains unique to the brand is what creates the loyalty and long-term relationships with the consumers. Great brands differentiate themselves when they are: First to market, they own an attribute and specialize.
As great brands work to execute brand strategy, they know who they are and commit to their values and mission. The customer is factored into the brand, product and service. A great brand sweats the small stuff at every touchpoint of the design to create a memorable customer experience, which in turn creates long-term loyalty. By defining their values and attributes, they build their brand on their long-term image and engage with their most-trusted consumer base. The commitment to their strategies deliver long-term value and sustainability, and they become influential in positive social change.
Finally, there's a bonus Eighth Principle that pulls the other seven principles together into "Brand as Business." When a brand is able to pull the seven principles together successfully – having a strong corporate culture, avoiding selling products, ignoring trends, refusing to chase customers, sweating the small stuff, staying committed and creating shared values with customers – the brand becomes one that is cohesive and integrated.
Stephanie Richards, NPDP
Released:
August 16, 2016, 7:30 am
Keywords:
PDMA Blog
1518951224
Feedback:
0 Comment(s) — Latest:None