Book Review: The Lean Machine: How Harley-Davidson Drove Top-Line Growth
By: PDMA Headquarters on Oct 09, 2013
Book Review: The Lean Machine: How Harley-Davidson Drove Top-Line Growth and Profitability with Revolutionary Lean Product Development
By: Dantar P. Oosterwal. New York: Amacom, 2010. 254 + xvii pages.
Review by: Katherine Radeka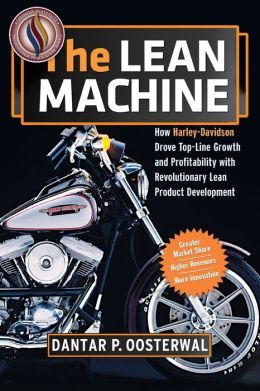 The three books in this review all approach the concept of "lean product development" in ways that are so different that reading all three books at once might leave a reader confused about what exactly lean product development is. The truth is that the field of lean product development is both broad and deep. The four authors have had different vantage points in their product development teams' lean journeys, so it is not surprising that their approaches vary so much.
Two of the books, The Lean Machine and Innovative Lean Development, come from people directly responsible for spreading lean ideas into their companies' product development groups. Ronald Mascitelli, the author of Mastering Lean Product Development, is the person who has probably conducted more workshops on lean product development than anyone in the field, at least in North America.
Lean product development is the use of systematic problem solving to eliminate waste and increase the value delivered from product development. In May of 2007, the Product Development & Management Association's Visions published "What is Lean About Product Development" (Radeka and Sutton, 2007), which concluded that lean product development practices broke down into four major schools of thought:
Lean Toolbox: The use of lean manufacturing tools in product development. This approach has been proven to have only limited use in the 5 years since that article was written, and none of the books in this review take that approach.
The Toyota Product Development System: Tools taken from Toyota's approach to product development. This is the approach represented best in The Lean Machine.
Lean Principles: The application of foundational principles in lean like flow, pull, and waste elimination. Ron Mascitelli, the author ofMastering Lean Product Development, has long been a proponent of this approach.
Design for Lean: The application of lean ideas to improve product designs so that they are less wasteful and deliver more customer value. This is a secondary focus of Ron Mascitelli's book.
Innovative Lean Development is an interesting synthesis of all four schools, including the appropriate use of methods from lean manufacturing, especially management methods.
All three of these books contain valuable insights for people interested in understanding how systematic problem solving applies to the kinds of problems that product development managers need to solve, what waste looks like, and how to deeply understand value from a customer and business perspective.
The Lean Machine describes Harley-Davidson's journey into lean. Harley-Davidson was an early adopter of the Toyota Product Development System, and the book is strongest in the second half, where Oosterwal describes meeting Allen Ward, the lead researcher into Toyota's product development methods, and then trying to figure out how to adapt those methods to the specific problems that Harley-Davidson needed to solve.
In chapters 8–16, Oosterwal outlines the lean product development practices that Harley-Davidson used. These chapters provide the best descriptions in the literature to date that show how trade-off and limit curves, set-based design, and integration events work in the context of a full-scale product development program. The final chapter outlines the impressive results that Harley-Davidson achieved: the ability for the same set of engineers to deliver more than four times the number of new motorcycle models into the market.
Unfortunately, Oosterwal takes seven chapters to get there, describing some other approaches that Harley-Davidson attempted, and then abandoned. The means that Harley-Davidson used to arrive at lean product development might be interesting to organizational development researchers, but a busy product development manager may lose patience with Oosterwal before he gets to the meat of his story.
The book would be much stronger if he had condensed that part of the story into a single chapter, and then expanded more on the "left turn" that his company took after encountering Allen Ward. Still, the book is worth the time if one simply skims the first chapters for background.
The other major weakness is that Oosterwal attempts to confuse things further by relabeling lean product development as "knowledge-based product development," and he depicts his view of lean product development as the only true view. The authors of the other two books would strongly disagree.
The authors of Innovative Lean Development, Timothy Schipper and Mark Swets, are also industry practitioners, although they do not write directly of their company's experience. They mention that the insights in the book arise from their efforts to speed up the delivery of IT systems. After proving them out, the authors have moved these ideas into their company's product development organization.
This book provides the most comprehensive view of lean product development of these three books, especially the differences between lean product development processes and typical product development processes. The authors do not mention the trade-off curves and set-based design frameworks that received detailed treatment in Oosterwal's book, but they do describe a useful framework for incorporating lean learning cycles, visual management, and value stream mapping into product development.
Schipper and Swets spend most of the book describing how to run a product development program using rapid learning cycles and systematic problem-solving methods. The biggest sources of waste in most product development programs are the loopbacks that occur late in development, that fire off rework to change the product's design, and that require retest in order to fix a problem that should have been discovered much sooner. Rapid learning cycles help ensure that product development teams uncover these problems earlier, when they are easier to fix.
The authors provide a step-by-step plan for implementing rapid learning cycles in early product development. The illustrations and sample documents show what this process looks like in action. Additional chapters describe how to integrate rapid prototyping, reusable knowledge capture, and visual management into this system to eliminate the wastes of reinvention and excess project management overhead.
Like The Lean Machine, this book is not the definitive survey of lean product development that it claims to be. It would also have been a stronger book if the authors had been able to incorporate more real-world stories and examples from their company's lean journey. Still, this is the book to hand to a new product development program manager who needs to figure out how to make lean work for him or her.
Mastering Lean Product Development covers a much broader scope than the other two books. It begins with a discussion of lean approaches to product portfolio management, and concludes with chapters that focus specifically on lean design. In between, Ronald Mascitelli describes a framework for lean product development that is driven by key events: market requirements, project planning, risk mitigation, learning cycle (integration), cost optimization, and design review.
Mascitelli describes these events in sufficient detail that an adventurous, experienced product development manager could give them a try. For each chapter, he lays some theoretical background on one of them, and then provides a simulated example to show how it works in practice. He even provides a typical agenda for each of these events.
This book covers the field of lean product development more thoroughly than the other two books. The main weaknesses are the chapters on visual management and the lean transformation suggestions at the end. Visual management is simply the use of visual planning boards to replace traditional project management tracking methods. It is not complicated enough to require 30 pages of explanation. The biggest conceptual hurdle people have with visual management is just the idea that one can run a multimillion-dollar business with whiteboards and sticky notes (or virtual equivalents), and for that, a person often needs to see for themselves how a team uses visual planning boards.
The final chapter on lean transformation is a slim guide to a topic that is worthy of a book on its own. Lean product development itself is not that difficult to understand. It boils down to "find problems quickly and fix them systematically so that they stay fixed." The practices and tools of lean product development simply help product developers find and fix problems. The difficulty is that most corporate cultures are set up to do the opposite: keep problems hidden as long as possible, and then apply quick fixes that do not fix root causes, so the problems keep coming back. The suggestions in Mascitelli's final chapter hint at this difficulty but do not provide good solutions.
If a product development manager wants to know whether or not lean product development is worth doing, then The Lean Machine will provide inspiration and a real-world example. If a product development organization is ready for practical advice, Innovative Lean Development includes enough details to help a product development team kick off some experiments with rapid learning cycles that can provide experience and momentum for a comprehensive effort. Mastering Lean Product Development provides a model for what a fully implemented lean product development system might look like. Eventually, a dedicated lean product development champion will want to have all three on the shelf.
The message that comes through from reading all three books is that lean product development is a bigger field than any one book can adequately cover. At the end of the day, each company that tackles lean product development will have to decide what lean product development looks like for them.
Released:
October 9, 2013, 8:49 am |
Updated:
November 20, 2013, 10:29 am
Keywords:
PDMA Blog
1521426958
Feedback:
0 Comment(s) — Latest:None