Book Review: Generation Blend: Managing across the Technology Age Gap
By: PDMA Headquarters on Oct 04, 2013
Book Review: Generation Blend: Managing across the Technology Age Gap
By: Rob Salkowitz, Hoboken, NJ : John Wiley & Sons, Inc. , 2008 . 243+xv pages.
Review by: Kelly L. Frey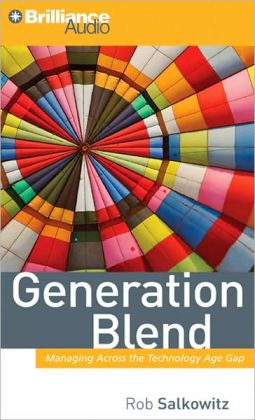 Generation Blend explores the sociology of the American workplace with reference to age demographics. The book defines three basic generational groups (Baby Boomers, GenXers, and Millennials) and attempts to explain each group's approach to the workplace. The goal is to enlighten corporations on how best to integrate individuals from each generation into the present-day workforce and to adapt to the very real differences required in training and management of each age group. The basic premise of the book is that (1) Millennials grew up with diverse/pervasive digital technology and in an environment of constant stimulation, both of which are reflected in their view of the workplace and career expectations, (2) GenXers' disengagement makes them problematic, especially as they age into management positions within U.S. companies, and (3) Baby Boomers have created current management structures that will be unsustainable as organizations become more digital and disseminated. The book is at its best when it concentrates on statistics with respect to the aging workforce and the very real impact that aging will have on the American economy.
The book begins with a general statement of organizational dynamics that is particularly insightful. "Organizations derive their unique value from people. The living culture of the workplace is shaped not by impersonal economic forces, but by the values of the people who participate in it" (p. 1). The book is best understood in the context of the general age dynamics of the international workforce. Sobering statistics highlighted by the author include the following:
Baby Boomers (defined by birth years 1946 to 1962) currently make up 45% of the U.S. workforce (p. 64).
A wave of retirements may carry away 60 to 70% of public-sector workforce in the United States by 2012 (p. 23).
Subreplacement birthrates in Europe provide the grim forecast that, as of 2050, "most adult Europeans will have no living relatives" (p. 21).
In his later work, Young World Rising (Salkowitz, 2010) (which deals specifically with age demographics on an international level), the author points out that of today's top global business contenders only India will be able to sustain its workforce curve in the foreseeable future (with China being relegated to the same graying-of-the-workforce as its U.S. and European competitors).
While providing caveats to broad generalizations based on age in Chapter 3, the author devotes a chapter to each age group in the current workforce.
Chapter 4 deals with "Older Workers," a demographic that includes members of the Silent Generation (birth years 1925–1945) and Baby Boomers (birth years 1946–1962). "Silents" distinguished themselves through their "methodical, diligent work habits, often in service of a vision of persistent, progressive social evolution" (p. 66). They are cast as the "vanguard of changes later credited to Boomers, such as the Civil Rights movement, the sexual revolution, feminism, and consumer advocacy" (ibid.). Their legacy is the "tolerant workplace" (ibid.). Although as a Boomer I would take exception to these general statements (having grown up in some very intolerant times dominated by the Silent Generation), the author does give some personal representatives of this age group that did provide inspiration for these efforts (e.g., Martin Luther King, Jr., Robert Kennedy, Bob Dylan, Gloria Steinem, Cesar Chavez, Ralph Nader, Hugh Hefner). Baby Boomers (whose 16-year range begins with the postwar surge in family size and ends with the introduction of the birth control pill and decreased birthrates), "marched through life with a sense of certainty and entitlement" with a distrust for institutions and a penchant for "radical transformation" (that apparently gave rise to "management by buzzword") (p. 69). Boomers are nearing their career peaks in business, and as "management" their personal styles and values have "set the tone for organizational culture, and their view of the world defines the strategic priorities of their organizations" (p. 70). But perhaps the largest cultural divide between these two groups and their younger contemporaries is that they grew up "predigital" (prior to personal computers becoming utility devices in the workplace). As a result, the author posits that individuals in this demographic may be less competent with, and experience more anxiety with respect to, increasing levels of workplace technology than younger people. As careers are extended (by economics and choice), many of the Baby Boomers may reenter digital work spaces where substantial technical training (consistent with their age-related abilities) will be required.
Chapter 5 deals with Millennials (birth years 1981–2000, and referred to as the Class of 2000, Generation Y, the Digital Generation, and Echo Boomers). With the rise in birth rates since 1980, this age demographic is 80 million strong (larger than the Baby Boomer population). Salkowitz points out that, in addition to entering the general workforce in real numbers, the first Millennial doctors and Ph.D.s will begin their professional careers this year. While characterized as optimistic, moral, socially aware, globally conscious, and bright (p. 93), this group also has some detractors. A full 50% of this generation comes from single-family homes, and they see their place in any specific company or position as transitory (with estimates that the average Millennial will change jobs 10 times during their working career) (p. 113). Therefore, this group seems to gravitate toward jobs that will allow them to develop portable skills and see work as "something you do" rather than "somewhere you go" (p. 110). This is a diverse group (with 1/3 classified as non-Caucasian), but a sober group (literally the lowest incidence of college freshman drinkers since 1966). Though only two years old, the book shows its age with respect to some of the characterizations of this generation's attitude in the era prior to the Great Recession of 2008. Prior to 2008, 72% of this group reported that they thought they could find another good-paying job relatively quickly and easily and displayed a relative amount of impatience and entitlement. Recent reports, however, put this group at the top with respect to percentage of unemployment, with real dollar reductions in income in the 6–7% range (and 1 in 7 still living at home or looking to family for financial support and over 20% no longer even looking for employment). The two-year gap (and changing economy) since the 2008 publication date may have skewed this group's attitude a bit more toward the somber.
Chapter 6 on GenXers (birth years 1963–1980) does not provide a very optimistic note for employers. Salkowitz points out that this generation was at the "nadir of American post-war academic achievement and the highest incidence of measurable social pathologies throughout the first quarter of their life cycle" (p. 133). They were raised to work harder for less (p. 144) and prefer the most brutally simple path from point A to point B (p. 151). Basically they feel that they are "on their own." But the major management issue with this group is that they generally assume that their values are shared by everyone around them (p. 152). This assessment is particularly troubling as the GenXers (now in their 30s and 40s) begin to take over management responsibilities in companies across America. Salkowitz points out that their approach is "well-suited to a global free market that picks winners and losers on the sole basis of performance" (p. 150) but perhaps not the best management approach across organizations that have to be sensitive to an increasingly multicultural, demographically diverse workforce.
The book also includes two case studies: one on successful technology education techniques for older workers and one on scenario planning by 18–23 year olds. The scenario planning case study in Chapter 8 may be of specific interest to product development professionals. However, that case study is a bit superficial, and, given that the case study is one from Microsoft and that the book is part of the Microsoft Executive Leadership Series, the objectivity and the conclusions drawn may be in question. Similarly, the case study in Chapter 7 from the Older Adults Technology Services (OATS) on successful technology education techniques for older workers is presented without the disclaimer that the author is on the board of that particular nonprofit organization (so there may be questions with respect to whether that evaluation is advocacy or an objective evaluation of performance).
Generation Blend is the first in a series of three books by Salkowitz. The second and third are, respectively, Listening to the Future(Rasmus and Salkowitz, 2008) and Young World Rising (which deals specifically with age demographics on a global level). The target audience for this book is more general public and management executives than it is product development professionals. That said, the book's approach and content will be of interest to any product development professional designing products or services for target customers that span multiple age groups.
Released:
October 4, 2013, 11:04 am |
Updated:
November 20, 2013, 11:42 am
Keywords:
PDMA Blog
1518909082
Feedback:
0 Comment(s) — Latest:None