Book Review: Conquering Innovation Fatigue
By: PDMA Headquarters on Oct 04, 2013
Book Review: Conquering Innovation Fatigue: Overcoming the Barriers to Personal and Corporate Success
By: Jeff Lindsay, Cheryl Perkins, and Mukund Karanjikar, Hoboken, NJ : John Wiley & Sons , 2009 . 284+xix pages.
Review by: Teresa Jurgens-Kowal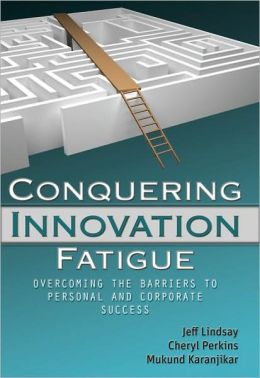 A set of guiding principles intended for (1) entrepreneurs and innovators, (2) corporate leaders and strategists, and (3) policy makers and influencers, Conquering Innovation Fatigue defines nine factors that hinder creative transformation of ideas into profit. Divided into three sections, Part One of the book conceptually introduces the nine innovation fatigue factors. Part Two, comprising the bulk of the text, delves deeply into causes and examples of these fatigue factors, and, finally, Part Three offers a handful of suggestions and solutions as energizing factors.
After defining innovation as to "translate a new concept into economic value" (p. 4), the authors categorize innovation fatigue factors related to (1) people fatigue, (2) fatigue in organizations, and (3) external fatigue.
Each of these three categories of fatigue is then further classified into three levels: (1) threats (to intellectual property or trust); (2) barriers to collaboration; or (3) flaws in judgment or behaviors.
Part One wraps up in Chapter 2 with a somewhat complicated model called the Horn of Innovation. The authors stipulate that innovation processes can be simulated just as one would create music, specifically by playing the French horn. Readers that are unfamiliar with the intricacies of this brass instrument may struggle to gain the full intent of the analogy.
Chapters 3 through 17 detail personal voyages of individuals, as they seek to bring ideas to reality, encountering innovation fatigue factors in each of the three categories and at each of the three levels. These chapters sample real people's experiences with innovation fatigue and offer case studies describing historic inventors' challenges as they, too, faced innovation fatigue.
Fatigue factor 1, theft and exploitation, discusses concepts like the fear inventors have of corporations stealing their ideas. An example is presented of corporate inventors (where employer owns the patents produced within the organization) who may believe they have recognition stolen from them through the invalid practice of managers and other noninventors adding their names to patent applications for the sole purpose of political gain within the company. Chapter 5 describes the second fatigue factor, inventor deficiencies, where inventors may overvalue their discovery and be forced to sell a patent for less than they view as equitable. The authors close this chapter with the sage advice, "Keep expectations rooted in reality" (p. 55).
Fatigue factor 3 concludes the discussion of innovation fatigue in the people category with a discussion of the "Not Invented Here" syndrome. The authors show examples of decision makers in larger organizations finding it easier to say "not now" than taking the risk that is always involved in radical innovation. This concept easily leads into Chapter 7, where the first of the organizational fatigue factors is presented. Fatigue factor 4, breaking the will to share, is described as a silent killer of innovation. "Energizing and engaging senior innovators must be a priority for corporations to maintain their competitive edge" (p. 77).
Learnings from Hewlett-Packard's (HP's) patent strategy are presented in Chapter 8 as a case study of fatigue factor 4, breaking the will to share. HP's Boise division was a prolific contributor to the company's U.S. patent portfolio from 1993 to 2003, at which point the process for filing disclosures eliminated a critical personal touch by moving the patent department to a remote location. HP's merger with Compaq further diverted attention from the Boise division, and the authors demonstrate innovation fatigue through this change in culture of the company.
Continuing this theme with fatigue factor 5, fundamental flaws in decision making and vision, the authors propose that reorganization is a symptom of revision, not vision, and a singular focus on process and metrics may lead to long-term innovation failures. Here, the spotlight on financial metrics is shown relevant to innovation fatigue as well as the danger of looking only at cost. The authors hypothesize that returns with research and development (R&D) investment for any firm will provide a longer term benefit than a "do-nothing" scenario (p. 97).
Chapter 6 describes the phenomenon of open innovation fatigue with an interesting example of the British Navy's battle against scurvy. Failing to recognize open-source inventors, the British Navy fought scurvy for over 200 years. Meanwhile, inventors using empirical methods were dismissed since they failed to possess the right credentials. Eventually, a Scottish physician, with appropriate connections, was able to demonstrate to the British Navy the benefits of eating citrus fruit to reduce the risk of the dreaded disease.
Chapters 12 through 16 discuss the fatigue factors associated with external influences. First, patent pain is described as fatigue factor 7, showing that changes in patent laws and weaknesses of enforcing patent infringement can lead to decreased invention efforts. Next, regulatory pain and challenges in policy, regulation, and law is presented as fatigue factor 8. The authors propose that artificial barriers presented by the business world and costs created by regulations can siphon R&D investment until innovation is nearly completely stifled by rules of law. Further, fatigue factor 9 describes university and industry barriers to innovation primarily through interpretation (or misinterpretation) of the 1980 Patent & Trademark Law Amendments Act, which may make universities somewhat unattractive partners for privately and corporate-sponsored R&D efforts.
A case study from the pulp and paper industry is presented in Chapter 17 to tie together these external fatigue factors. The case study is laced with personal anecdotes from one of the authors and cautions that mature industries (like pulp and paper) are at risk of decline if they fail to invest in innovation for the future.
The final section of the book, Chapters 18 through 24, offers a few concepts to guide an individual inventor to develop a holistic intellectual asset portfolio without relying solely on patent protection. Some useful financial metrics for innovation are offered in Chapter 22 before the authors conclude with regulatory suggestions for governments in Chapter 23, "Guidance to Government and Policy Influencers."
Finally, Chapter 24 offers what to do to actually conquer all of this innovation fatigue by offering five energizing factors for each role: individual inventor, corporations, and policy makers.
With the numerous personal stories from the authors' own experiences, this is not a tome to be read from cover to cover. Taken individually, each chapter offers some pithy advice captured through the unfortunate innovation efforts of historic and contemporary inventors. Approaching Conquering Innovation Fatigue as you would a newspaper, each idea, or fatigue factor, is self-contained in just 10 or so pages, allowing readers to quickly identify what may be holding them back from personal innovation success. Quoting the authors, "That's what innovation is all about: believable real solutions to real problems that make life better for real people" (p. 177).
Released:
October 4, 2013, 11:02 am |
Updated:
October 30, 2013, 2:26 pm
Keywords:
PDMA Blog
1519041648
Feedback:
0 Comment(s) — Latest:None