Book Review: The Leader's Guide to Lateral Thinking Skills
By: PDMA Headquarters on Oct 02, 2013
Book Review: The Leader's Guide to Lateral Thinking Skills: Unlocking the Creativity and Innovation in You and Your Team
By: Paul Sloane, London : Kogan Page , 2006 . 183+viii pages.
Review by: Carla L. Kuesten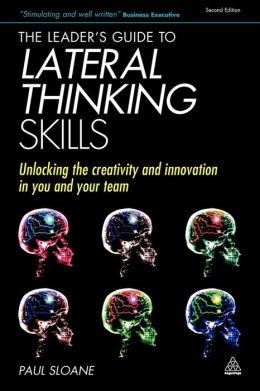 Professionals leading and contributing to innovation will appreciate this well-written, easy-to-read guide for creating and sustaining an entrepreneurial organization. Sharing numerous examples, processes, tools, and techniques, author Paul Sloane captures the challenges facing those within organizations and provides inspiration to apply the traits and principles of a lateral leader. Sloane distinguishes the conventional command and control leader from the lateral leader and explains how the lateral leader is better equipped for the rapid and discontinuous change required in today's world.
Sloane explains throughout the book that lateral leadership is about motivating people (the greatest asset) and enabling the organization to be more agile and innovative. Sloane tells us lateral leadership starts with a shared vision, develops through effective communication, and delivers by empowering staff to be creative and entrepreneurial. Lateral leaders show that they trust in their people and enable them to seize the opportunities, think creatively, and take entrepreneurial risks. This book is most about creativity but is applied as a style of leadership that inspires and lifts others to reach for full creative potential; Sloane encourages individuals to abandon standard modes of operation, to do away with resistance to change, and to always be prepared to "get different" (pp. 4–5). With this book Sloane nudges those who might be considered stodgy, staid conventional leaders (those who give orders, treat staff as subordinates, are critical, or use their own ideas and promote themselves) to consider a more lateral leadership style, which includes soliciting suggestions, delegating, treat staff as colleagues, looking for ideas from everywhere, using lateral thinking, and sharing exposure with the team.
Scattered throughout the book are 19 fun lateral thinking puzzles—to challenge the reader's creative problem-solving skills. These puzzles require thinking differently and using fresh approaches to solve each one. The answers are given at the end of the book (in case you get stuck).
The book's introduction throws down a challenge to organizations—incremental improvement in business is not enough. The best way to create value is to innovate ahead of competition. To accomplish this companies need to harness their greatest asset—their people—as explorers and entrepreneurs. The key elements of creating an innovative, entrepreneurial organization are introduced early: vision; culture; empowered people; metrics; creativity; and selecting good ideas for prototyping, analysis, and roll out.
Chapter 1eludicates the need for innovation and reveals that today's world requires a different style of leadership: lateral leadership. This leadership style necessitates thinking and leading in a creative and inclusive way. Lateral thinking is defined as thinking that seeks new ways of looking at a problem rather than of proceeding by logical steps. Lateral thinking is a term created by Edward de Bono (1970) to describe a set of approaches and techniques designed to find radically new approaches to problems (p. 8). Sloane makes the distinction between creative thinking (introducing something new, a new idea) versus lateral thinking (introducing a new approach).
In Chapter 2, Sloane spends a good deal of time contrasting conventional and lateral leaders—in fact, he provides a table defining differences between the styles. The conventional leader is easily recognized as a goal-orientated, decisive person who is well suited to a structured environment. Old-school management might adhere to "rules of conduct" for effectiveness and a "win it" perspective for achievement (Sloma, 1978, pp. 6, 125–126)—more in keeping with the conventional leader's style. In contrast, lateral leaders adopt a different approach to reaching goals—they are much more focused on the creativity and innovation of the team. Lateral leaders delegate more and focus on empowering the team to make vision a reality. Successful leaders combine qualities of conventional and lateral leadership, knowing when to focus on efficiency and when to focus on vision, coaching, and inspiration.
Chapter 3 contains an organization innovation index survey—17 items rated on a five-point agree/disagree scale. The principles in this book could be applied to raise this innovation index. We are told that transforming corporate culture is one of toughest management challenges but are encouraged by the fact that innovation can be developed, encouraged, and managed within the corporation. Sloane uses Chapters 6 through 17 as guided discussions for thinking strategically—laterally. A few highlights from each chapter are summarized as follows.
Chapter 6 challenges your assumptions—they may be false or dated assumptions that are no longer true. It closes with tips for challenging assumptions. Chapter 7 encourages one to ask searching questions, such as are we asking the right question? What if we reversed or restated the problem? What are the assumptions? One of most important creative skills is to learn the art of questioning—to challenge the most basic tenets.
Chapter 8 suggests it is worthwhile to take a different view to achieve major innovations. An approach would be visual brainstorming—Tony Buzan (1993) developed this idea into a concept called mind mapping. Chapter 9 encourages individuals to combine the unusual to become creative. The vast majority of ideas are not original but are derived from something else. Force combinations to come up with new ideas.
Chapter 10 advises adopting, adapting, and improving by gathering inputs from unrelated settings, discussions with people with different backgrounds, different environments, and analogous fields. Adapt ideas that worked in one environment and use them in another. Chapter 11 recommends breaking the rules and challenging conventional wisdom: Recognize unwritten rules, and determine which are essential and which boundaries can be broken. Change the rules of the game to gain competitive advantage.
Chapter 12 points one to analyze first—analyze, prioritize, and focus on key issues one at a time; generate many ideas from these; evaluate and select the best ideas; and implement one or more for each issue. Chapter 13 advocates increasing the yield—to be creative you need to generate a large number of ideas before refining down to a few to test. Quantity works (p. 82). Evaluate is the message from Chapter 14. Evaluation criteria should be used to prune your ideas, eliminating many routine or infeasible ones. Synectics groups recommend using NAF criteria: Is the idea Novel, Attractive, and Feasible? If so, it's likely a good idea. Promising ideas should be analyzed further and moved through prototyping.
Chapter 15 emphasizes implementation, which should be speedy with careful measurement so lessons can be learned quickly. High reward and low risk—those innovations that are easy to implement and promise big payback—are deemed the best ones.
Chapter 16 persuades one to welcome failure. This chapter begins with a quote from Herman Melville: "It is better to fail in originality than to succeed in imitation" (p. 95). People need the freedom to experiment and to fail; chances of success will require lots of initiatives. The lateral leader encourages a culture of experimentation.
Chapter 17 promotes using the team approach. Teams are generally more effective at generating and refining ideas than is one single individual. Inspire a climate of creativity—where every idea is welcomed.
Sloane, independently and with others, has written many books on lateral thinking—including those with the brain-busting, Mensa kind of puzzles. So, if we were to solve all the intriguing, mind-challenging, creative, lateral thinking puzzles Sloane has to offer, would we be a lateral leader? No.
To develop lateral leadership and to fulfill creative potential requires three building blocks: vision, culture, and process. It is by carefully selecting the best ideas and then prototyping them that creativity can be turned into innovation. A strong finish for this book covers complete directions for a 12-phase lateral leadership workshop designed to inspire characteristics and skills of the lateral leader (Chapter 21). This two-day workshop is recommended as the initial action to inspire characteristics and skills of the lateral leader. The workshop includes creative exercises with specific business-oriented activities, strategies, goals, and objectives. It also includes a follow-up session weeks later to review the summary and action list. Completing this successfully requires the senior team's commitment to innovation.
Appendix 1 includes a description of A–Z, a total of 26 valuable tools and techniques for generating creative ideas. Appendix 2 provides solutions to the lateral thinking puzzles Sloane uses to tease the reader throughout the chapters. Unfortunately, these solutions are not tied to the creativity techniques he offers, which would have strengthened the practical utility of this book.
This is a very accessible book to those interested in applying lateral thinking skills to innovation challenges. The reader is left feeling empowered and confident knowing that lateral thinking and creativity techniques can be learned (not an innate talent held by a gifted few) and that by careful selection of the best ideas and prototyping them, creativity can be turned into innovation. Its simplicity may fool the quick reader—these principles and techniques must be endorsed by upper management, implemented, and continuously practiced to gain full benefit from the book.
Released:
October 2, 2013, 2:16 pm |
Updated:
November 20, 2013, 11:50 am
Keywords:
PDMA Blog
1519559433
Feedback:
0 Comment(s) — Latest:None